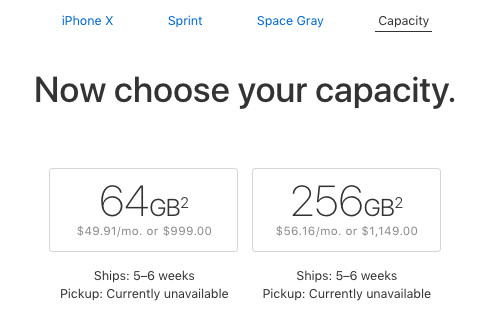 It's the morning after iPhone X pre-orders started taking place and as you might expect, the wait times are now teetering towards almost a two-month wait.
But how was the purchasing experience when it came to the moment of? Decently smooth, but not without some small hiccups. Although the Apple Store website didn't pop up at the promised time of 12:01 a.m. PT in a browser, it was working fine if you navigated to the Apple Store app using an iOS device. The order process was seamless and relatively quick, but even though things progressed rapidly, the shipment time would still slip to November 10 to 17.
As far as wireless carriers go, trying T-Mobile, the website and company's app failed to even publish an iPhone X order page, instead directing consumers to the iPhone 8, iPhone 8 Plus, iPhone 7 Plus, and iPhone 7. This continued for quite some time and the lesson learned from this, was that calling in, while it might be more tedious, is actually the right way to go. There was about a 10-minute wait time when calling in, but once connected, it took very little time for the representative to place the order and guarantee shipment of the handset by November 2 or 3.
If you are just rising from the comfort of your bed and reading this, chances are your attempts to secure an iPhone X won't result in an immediate delivery date and you might want to instead try your luck by heading to an Apple retail location on November 3, where they will have a limited supply available for sale.
Source: Apple