If you have qualified for a free upgrade to Windows 10, or you have already taken the plunge into Microsoft's latest offering, what apps should you install to help you with your day to day productivity - and more importantly, are they free?
Below, in no particular order, are the apps we think no PC should be without. All are free, but some offer paid-for premium options. They range from social software to system tools and we hope you find something new and useful for your shiny new Windows 10 installation.
ScreenCloud is an easy-to-use screenshot sharing application. Take a screenshot using one of the three hotkeys or simply click the ScreenCloud tray icon. Images save by default to ScreenCloud servers, and the ability to choose imgur or Dropbox, FTP and SFTP is also supported.
If you choose to upload your screenshot to the ScreenCloud website, a link will automatically be copied to your clipboard. You can share this link with your friends or colleagues via email or in an IM conversation. All they have to do is click the link and look at your screenshot.
2. 7-Zip (now with RAR support)
7-Zip is an open source file archiver with a high compression ratio. The program supports 7z, XZ, BZIP2, GZIP, TAR, ZIP, WIM, ARJ, CAB, CHM, CPIO, CramFS, DEB, DMG, FAT, HFS, ISO, LZH, LZMA, MBR, MSI, NSIS, NTFS, RAR, RPM, SquashFS, UDF, VHD, WIM, XAR, Z. Most of the source code is under the GNU LGPL license.
You can use 7-Zip on any computer, including a computer in a commercial organization. You don't need to register or pay for 7-Zip. Full feature set, including licensing details here.
CCleaner is a freeware system optimization, privacy and cleaning tool. It removes unused files from your system - allowing Windows to run faster and freeing up valuable hard disk space. It also cleans traces of your online activities such as your Internet history. Additionally it contains a fully featured registry cleaner.
Recuva is a freeware utility to restore files that have been accidentally deleted from your computer. This includes files emptied from the Windows Recycle bin as well as images and other files that have been deleted by user error from digital camera memory cards or MP3 players. It will even bring back files that have been deleted by bugs, crashes and viruses! Like all other Piriform products including CCleaner, Recuva is free for both commercial and personal use.
Ever notice how people texting at night have that eerie blue glow? Or wake up ready to write down the Next Great Idea, and get blinded by your computer screen? During the day, computer screens look good—they're designed to look like the sun. But, at 9PM, 10PM, or 3AM, you probably shouldn't be looking at the sun.
f.lux fixes this: it makes the color of your computer's display adapt to the time of day, warm at night and like sunlight during the day. It's even possible that you're staying up too late because of your computer. You could use f.lux because it makes you sleep better, or you could just use it because it makes your computer look better.
Skype is software that enables the world's conversations. Millions of individuals and businesses use Skype to make free video and voice calls, send instant messages and share files with other people on Skype.
You can use Skype on whatever works best for you - on your mobile, computer or a TV with Skype on it. If you pay a little, you can do more – like call phones, access WiFi, send SMS and make group video calls. You can pay as you go or buy a subscription, whatever works for you. And in the world of business, this means you can bring your entire ecosystem of workers, partners and customers together to get things done.
The Skype modern app for Windows 10 was killed off, so you will need the desktop version if you use it.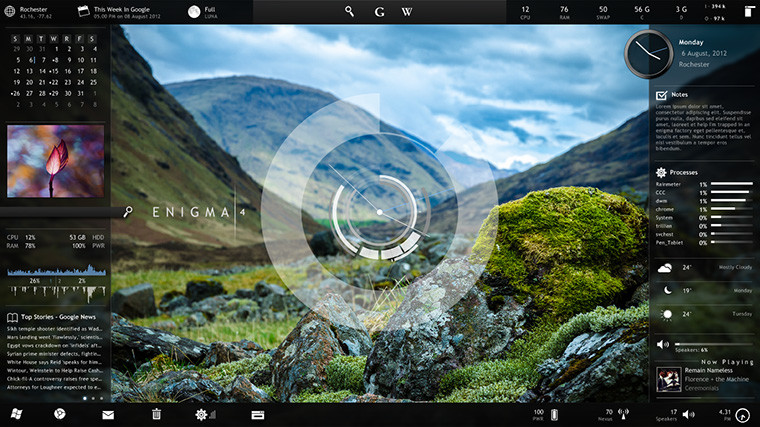 Rainmeter is the best-known and most popular desktop customization program for Windows. Enhance your Windows computer at home or work with skins; handy, compact applets that float freely on your desktop. Rainmeter skins provide you with useful information at a glance. It's easy to keep an eye on your system resources, like memory and battery power, or your online data streams, including email, RSS feeds, and weather forecasts.
Many skins are even functional: they can record your notes and to-do lists, launch your favorite applications, and control your media player - all in a clean, unobtrusive interface that you can rearrange and customize to your liking. Rainmeter is at once an application and a toolkit. You are only limited by your imagination and creativity.
Paint.NET is an image and photo manipulation application. Every feature and user interface element was designed to be immediately intuitive and quickly learnable without assistance. In order to handle multiple images easily, Paint.NET uses a tabbed document interface. The tabs display a live thumbnail of the image instead of a text description. This makes navigation very simple and fast.
Usually only found on expensive or complicated professional software, layers form the basis for a rich image composition experience. You may think of them as a stack of transparency slides that, when viewed together at the same time, form one image.
Many special effects are included for enhancing and perfecting your images. Everything from blurring, sharpening, red-eye removal, distortion, noise, and embossing are included. Also included is a unique 3D Rotate/Zoom effect that makes it very easy to add perspective and tilting.
Notepad++ is a free (as in "free speech" and also as in "free beer") source code editor and Notepad replacement that supports several languages. Running in the MS Windows environment, its use is governed by GPL License.
Based on the powerful editing component Scintilla, Notepad++ is written in C++ and uses pure Win32 API and STL which ensures a higher execution speed and smaller program size. By optimizing as many routines as possible without losing user friendliness, Notepad++ is trying to reduce the world carbon dioxide emissions. When using less CPU power, the PC can throttle down and reduce power consumption, resulting in a greener environment.
VLC media player is a free and open source cross-platform multimedia player that plays most multimedia files as well as discs, devices, and network streaming protocols. This is a new version of the port of VLC media player to the Windows 8.1 and Windows 10 platforms. It plays both audio and video.
VLC for Windows plays most local video and audio files, and network streams. The app has a media library for audio and video files, a complete audio library, with metadata fetching. VLC supports multi-track audio and subtitles, speed control. VLC supports all formats of video, including, FLAC, MKV, MOV, TS and Ogg.
Get VLC for Windows or get the desktop version.
This list is by no means complete, and if you think we missed an essential app that isn't already included with Windows 10 out-of-the-box please let us know by commenting below, especially if it is in the new unified Windows Store.