Weekend PC Game Deals is where the hottest gaming deals from all over the internet are gathered into one place, every week, for your consumption. So kick back, relax, and hold on to your wallets.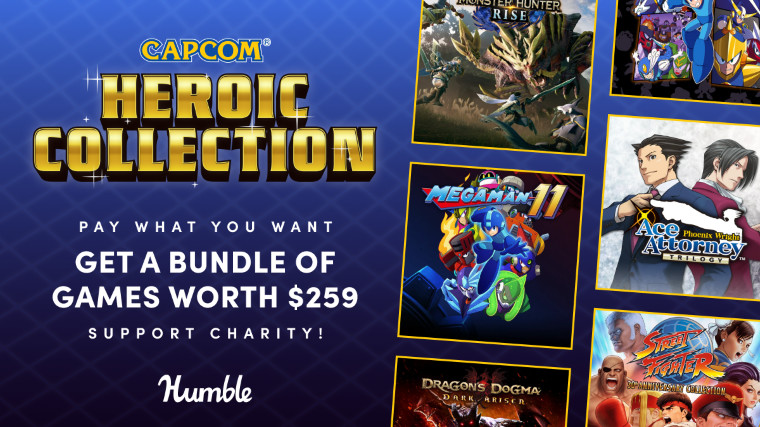 Humble expanded on its bundle collection this week with one that is packed with Capcom hits.
The aptly named Capcom Heroic Collection brings Mega Man Legacy Collection, Bionic Commando: Rearmed, Lost Planet 3 Complete Pack, and Strider in its first tier for just $1. Going up a rung to $10 kicks things into high gear, with it bringing Dragon's Dogma: Dark Arisen, Mega Man 11, as well as Mega Man Legacy Collection 1 and 2.
The final tier costs $30 and adds on Monster Hunter Rise, Street Fighter 30th Anniversary Collection, and Phoenix Wright: Ace Attorney Trilogy.
This charity bundle has 10 days left in its promotion at the time of writing, giving you plenty of time to decide on picking one of its tiers up.
Epic Games Store's double giveaways stream finally came to an end this week, and to top it off, it isn't even a game that's free this time. With The Sims' base game being free now, Epic is offering a triple pack of DLC to keep for hugely popular the EA and Maxis life sim.
The Sims 4: The Daring Lifestyle Bundle brings Jungle Adventure, a wilderness landscape to explore as part of a Latin American-inspired culture trip; Luxury Party Stuff, a pack of items, clothing, and fashion accessories for Sims looking to impress at their parties; and Fashion Street Kit, a clothing pack inspired by India to expand the wardrobes of Sims.
This DLC triple pack for The Sims will be available to claim until this upcoming Thursday, May 18. As for what's next, Epic is rearing to kick off another daily giveaway bonanza. While the upcoming freebie is being kept hidden for now, some hints point to the return of Death Stranding.
Free Events
Two massive games are free-to-play this weekend, giving you just a taste of what's possible in them.
Up first is Steam's contender for your time, which is Paradox Interactive's latest free weekend for Crusader Kings III. The game puts you in charge of a ruler in the Middle Ages and gives you the freedom to do almost anything in this grand strategy RPG.
Next up is a beta, but not just any beta, it's the final chance to try out Diablo IV before launch. Happening on the Battle.net launcher, this Server Slam event lasts until 14, sending you back to Sanctuary for a mad dash to hit the level 20 cap and receive a couple of beta-exclusive cosmetic rewards.
Big Deals
Quite an interesting gathering of games are discounted heavily this weekend, including IOI's Hitman franchise, Paradox-published strategy games, plus some recent hits like Stray, Sifu, Old World, Midnight Suns, and much more. Ubisoft has also kicked off a major sale on its own store, and it has brought the "LEGEND23" coupon code to remove an additional $10 from any game worth over $20. Epic may begin offering another coupon starting next week too.
With everything out of the way, here are our hand-picked big deals for this weekend:
DRM-free Specials
The GOG store's DRM-free deals this weekend are filled with handy high-profile picks from its staff members and a Focus Entertainment publisher sale. Here are some highlights:
Keep in mind that availability and pricing for some deals could vary depending on the region.
---
That's it for our pick of this weekend's PC game deals, and hopefully, some of you have enough self-restraint not to keep adding to your ever-growing backlogs. As always, there's an enormous amount of other deals ready and waiting all over the interwebs as well as on services you may already subscribe to if you comb through them, so keep your eyes open for those, and have a great weekend.
Neowin may earn a small commission from qualifying purchases.