A Windows 11 ISO leaked to the web earlier this week, bringing the ability for enthusiasts to try out the upcoming OS from Microsoft and get an early look at the changes, including some cool new wallpapers. In the few days that the build has been out, users have been giving the OS a spin and finding some quirks in it. One such interesting – and surprising – aspect was found by our reader Adam (warwagon) relating to the Windows 11 Home Out-of-box experience (OOBE) process.
The Redmond firm has constantly pushed for users to log in to their Microsoft accounts on Windows 10 when setting up a new device and has made it difficult for users to skip the sign-in process. The workaround on desktops was to unplug the ethernet cable and select the "I don't have internet" option to go ahead with a "limited setup" that allowed users to set up a local account. For Windows 11 Home users, however, that might no longer work – unless the OOBE experience is further tweaked in newer (and official) builds.
We tried this on multiple VMs and even on a physical machine and noticed that on the screen prompting users to connect to a Wi-Fi network, there is no "I don't have internet" option for users to choose from and go ahead with creating a local account. What's more? Unlike Windows 11 Pro, the "sign-in options" menu on the page succeeding the network connection page does not contain the "Offline account" option, leaving users with no other option but to log into (or create) a Microsoft account. This is the case even when users are not connected to the internet.
However, here's where Adam's simple workaround came in handy, which is both amusing and surprising; When Windows 11 Home prompts users to connect to a network, a simple 'Alt + F4' shortcut closes the prompt, and the screen proceeds directly to the local account creation page – something that is never offered to users in the usual process. This bypasses the entire Microsoft account login screen, which is a nifty little trick for those who want to avoid signing into their accounts during the OOBE process, especially in these early days when most installs of the OS are happening on virtual machines.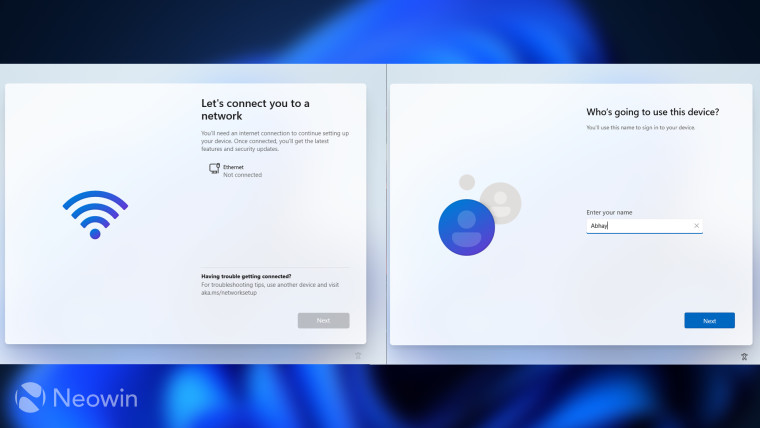 Of course, those who choose to log in to their Microsoft account can head into account settings and switch into a local account after setting up their device, but currently, there seems to be no other way to circumvent the limitation in the OOBE.
It is not clear if the absence of the option to set up a device without a Microsoft or an internet connection at all is accidental or has to do with the fact that this leaked build is ways from what will ship to customers. While still remote, there are instances where users might want to set up their devices when not connected to a network. For now, though, the only – and simple – workaround seems to be to use the 'Alt + F4' shortcut to bypass the network connection screen. Seeing as the OOBE is entirely new and different from that of Windows 10, it does seem intentional.
Microsoft will officially show off Windows 11 on June 24, with the general release expected to happen sometime this fall.
Thank you, Adam, for the brilliant find and video!