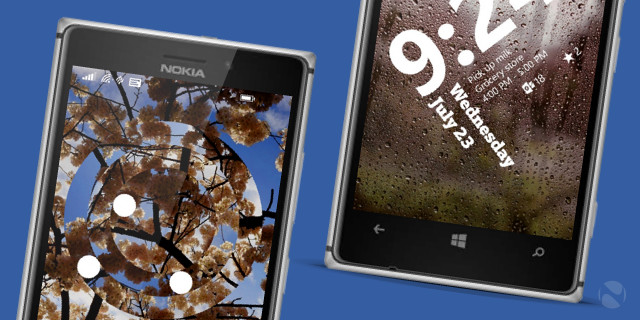 The second half of the year for Windows Phone fans is coming into focus and it looks like a slew of new devices will be arriving in the near future. Everything from high-end to entry-level devices will make their debut, providing a refresh to the current offering of Windows Phone handsets.
Starting at the high end of the spectrum, HTC is coming back into the Windows Phone game with a variant of their One M8 that will run Windows Phone 8.1 GDR1 as it is said to support VoLTE which will arrive with the first update to 8.1. The device is said to be arriving in August of this year - the 21st to be specific - for an off-contract price of $610, and likely on a two-year contract for $199. This will surely be marketed as a premium device when it launches and the specs should reflect that since it includes BoomSound and DuoCamera support.
Moving down the line a bit we will see a mid-range Lumia come out, in the 7xx class, likely called the 730 when it makes its debut. Specs for this device are said to include a 5in display, a Snapdragon 400, Adreno 305 GPU, 8MP camera on the rear and a 'selfie cam' on the front of the device. The codename for this Lumia is said to be 'Tesla' and it could include Pureview branding to help boost the appeal of the device.
There is another Lumia is in the works as well that will have a 4.7in display and a 5MP front facing camera, according to The Verge. The phone is said to be marketed as the ultimate selfie phone, and if the price is right, could be highly attractive to the tween/teen demographic. No pricing information is known about this device, yet, but it's likely safe to say that it will probably be in the mid-range, and not an entry level device. The codename for this phone is 'Superman' and should arrive later this year.
At the low end of the spectrum there is also the Lumia 530, which Microsoft has already announced. This phone features a 4-inch LCD with FWVGA (854x480px) resolution, a quad-core 1.2GHz Qualcomm Snapdragon 200 processor, 512MB of RAM, 4GB of onboard storage (along with a microSD slot, which accepts cards up to 128GB) and there is a 5 MP shooter on the back of the device. This phone will cost around $115 off-contract and will arrive in August.
And then there is LG, who had a device show up in AdDuplex data this month, and which appears to be finally coming back into the Windows Phone family. The phone, referred to as the D635, is running Windows Phone 8.1, has a 720P display and a 5in screen. Based on those brief specs, we would think that this is likely a mid-range phone. 
There are other rumored devices floating out there too, like the 3D Touch phone from Microsoft which reportedly had its 3D features axed but could still live-on without this feature. It's worth noting too that Samsung, who has released Windows Phones in the past, has not made any new moves recently. Seeing that we will be entering the holiday shopping season in the next couple of months, if Samsung is going to release a Windows Phone, we should start hearing about it soon.
But what will all of these new Windows Phone devices run? Well, most will ship with Windows Phone 8.1 GDR 1 (sometimes called Update 1) that will bring new features like VoLTE support as well as native folders. We have been hearing for a couple of weeks that the platform has hit RTM, and based on the leaks of HTC's device launching in August with the update, this aligns to Microsoft's shipping model for OS updates.
It's also worth pointing out that since Microsoft has made Windows Phone free, it has landed many new partners that will be joining the Windows Phone ranks for the company and could start shipping devices this year too. While these vendors may not have household names, they do have a several new devices in the works as well that will join the ranks of the Microsoft, HTC, and LG phones mentioned above.
Putting together all the pieces, it looks like Microsoft will have a healthy lineup of Windows Phones hitting the market over the next couple of months. The real key will be whether or not Microsoft is able to grow its market share with the help of all these partners - but it will be some time before that information becomes available.