Microsoft's Windows Phone operating system is a platform that has been an underdog and has been slowly carving it's own piece of the market share pie. With its latest release, well upcoming release that is, Windows Phone 8.1 builds upon Windows Phone 8 and brings many requested features like custom backgrounds and a notification center along with dynamic features like Cortana.
While the name only gets a .1 increase over Windows Phone 8, don't let this fool you into thinking that this is a small update. This release is significant in many ways and the underlying technology being introduced (Cortana) provides a leaping point for Microsoft to continue its differentiation of Windows Phone from iOS and Android.
Many of the new features to Windows Phone 8.1 can be found on other devices but Microsoft has fortunately studied the other options and built out similar features that allow for more flexibility and usability. So, even though the features are arriving later than the other platforms, they are well designed bringing significant benefits to the Windows Phone platform.
Previously with Windows Phone, notifications were a weak spot compared to other platforms. For example, if you had applications that were not pinned to your Start screen and received a notification for that app, it was a pain in the butt to figure out what app received a message unless you were staring at the screen as the message popped up.
The Action center provides more functionality than notifications and allows you to access common settings like airplane mode, Wi-Fi, Bluetooth and rotation lock as default. If there are other settings that you would prefer to have in the Action center, Microsoft has made it possible to change the toggles selections from a large list of items like VPN, camera, quiet hours, brightness and a few more.
Tucked away near the top of the Action center is the percentage of battery life remaining and the date as well; a shortcut to phone settings is located here too.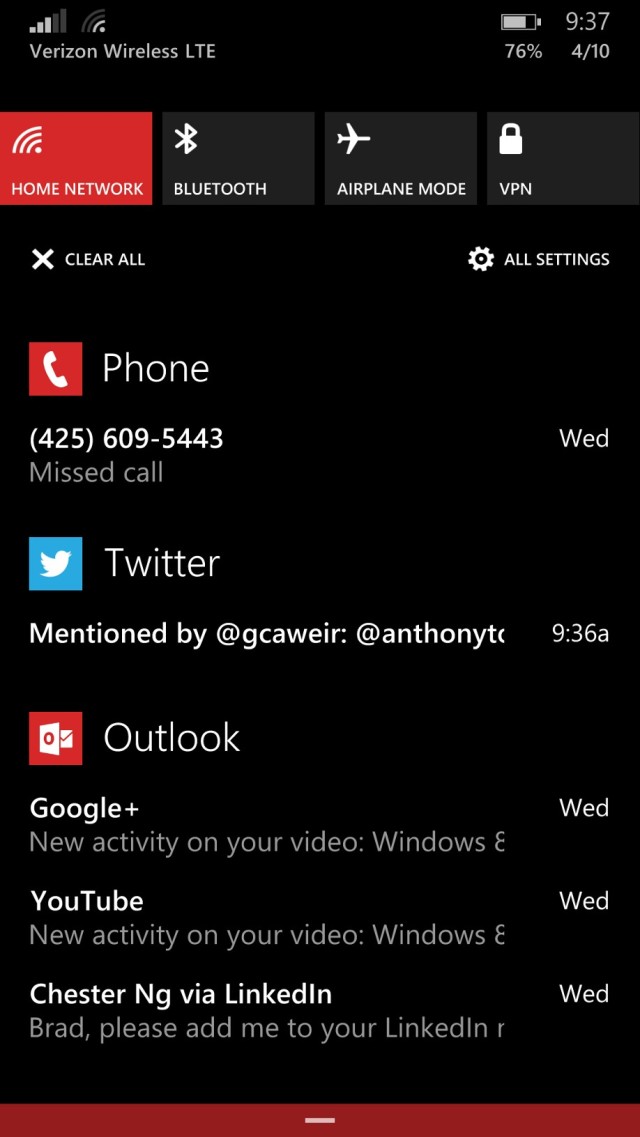 Notifications show up exactly how you would expect them too. Depending on what items you have opted to include in the center, Windows Phone will group them by type (Twitter notifications grouped together, emails grouped, etc.) and by tapping on the item, this will launch the application.
There is also a 'clear all' button for quickly removing all notifications, which is a nice shortcut tool but it is easy to accidently hit the button when tapping on the left most toggle (our is Wi-Fi).
In practice, the Action center is exactly what we hoped it would be and works well for its intended tasks. The ability to customize your shortcuts is handy and helps to make the platform more personal (Microsoft loves to promote that it has the most 'personal' OS).
Microsoft made a big deal out of the fact that they interviewed real personal assistants to help define how Cortana would help make our lives easier. The underlying goal for Cortana is to be the human side of Windows Phone and to anticipate your needs before they arise so you can spend less time on your phone and more time 'doing' whatever it is you need to get done.
When you first start up Cortana, you are walked through a wizard that helps the service better understand your personal preferences for food, what type of news you like to read and your personal interests. These are done to help Cortana hit the ground running, but the magic is really in the machine learning what goes on behind the scenes the more you use the service.
For example, let's say that you get coffee every morning on your way to work and Cortana can track this information. But on this particular day, you are traveling and when heading to your new destination instead of your office, Cortana knows that you probably want coffee and can make suggestion for locations along the route.
It's important to note that you have to give Cortana permission to view your content and locations, so for those of you who don't want to use these features, you simply never turn them on. Also, the platform is still in beta as Microsoft needs to hit scale with Cortana to help the machine learning algorithms to have enough data to start pulling in contextual scenarios which improves her capabilities.
One thing you will notice is that Cortana is quite good at transcribing your voice to text. Sure, it's not perfect, but she was getting it right more often than not and you don't have to talk at a slow rate either. During every interaction with Cortana, I would speak at a natural pace and only place emphasis on unique words (such as my wife's name).
Cortana can do quite a few things right now and of course, Microsoft will be adding more features with each new update for the platform:
Notebook. Similar to a real life assistant, Cortana has a notebook where she stores the stuff she's learned about you. When you search for something using Cortana and want her to track it, you can add the interest to your notebook. Cortana will also keep track of people and places that are important to you, as well as your quiet hours and reminders.

Interests. These are the topics that Cortana stores in her notebook which she can keep you up-to-date on. Categories include daily routine, finance, news, out+about (eat+drink recommendations), travel, and weather.
Suggestions. Each time you open Cortana home, you'll see "suggestions" tailored to you. These suggestions can either be cards with relevant information (such as news, weather or reminders) or questions she will ask to help fill out her notebook further. Your top suggestion will appear in the Cortana Live Tile.
Reminders. Cortana can set reminders based on time, location, or even tagged to a specific person. Your list of reminders can also be pinned to your Start Screen.
Scheduling. Setting up a calendar appointment on your Windows Phone is a breeze with Cortana. She understands context, like a text that says "Friday for lunch", and just a few taps later it's on your calendar.
Quiet hours. Cortana can filter out notifications and incoming communications at chosen times or when you are busy – but also makes exceptions for your 'inner circle', that is, people who are most important to you.
Type or speak. You can speak to Cortana naturally almost as you would with a real person. You can also choose to interact with Cortana using your keyboard.
To launch Cortana you have two options, you can click on the live tile or press the search button to open the application and engage with her.
Microsoft has done a good job with giving Cortana a voice that doesn't sound too robotic. It's not a perfect sounding voice but compared to the options a few years ago, it's a good start for the first iteration of the platform.
And I call Cortana a platform because of the potential for the tool with Microsoft allowing developers to tap into the service to enhance applications and the overall function of the tool; as a side note, the service will only be available in the US with the launch of the dev preview program.
In the current state, Cortana meets expectations for a platform that is still in beta. The voice transcription worked exceptionally well and for most items, Cortana responded appropriately. There were quite a few places when trying to compose a tweet it would open a text message or on random occasions, when asking Cortana anything, it would try to search my music library.
But, Microsoft gave us a heavy qualifying statement before using Cortana and noted that the platform needs scale to perform better and that won't happen until developers get their hands on the build and have been using it on a daily basis as well.
Overall, though, Cortana comes out swinging against the competition and it's a feature that will grow over time and it's future looks bright.
With Windows Phone 8.1, you can now create custom backgrounds instead of choosing a solid single color for a live tile. By selecting an image, it will become the background of the tile and allow you to further customize your phone besides selecting the accent color.
You can change backgrounds in the 'start+theme' section of the settings and the OS provides a cropping tool for you to select the portion of an image you want to be your background. It's a very simple process and takes only a few seconds to complete.
One issue with the background theming is that if an app does not support theme coloring, it will not work the custom backgrounds. So, if you use the official Twitter app for Windows Phone, it will stick out when you apply a custom background as that app does not support the feature.
The good thing here is that the live tile theming is something you will only find on Windows Phone and offers up a unique way to customize your device.
One of the more, 'why isn't everyone else doing it' features that arrives with the update is the ability to create custom lock screens. It's a simple little feature that allows you another dimension to customize your phone.
We will be curious to see how developers make use of this feature as there really are no limits for creativity here. We can already see lock screens that focus on pure productivity with loads of notifications showing up or, like the image above, unique unlocks that have more artistic appeal to them.
More so, seeing that the lock screen can become another personal attribute for the phone, it will make it easier to have the appearance that all Windows Phones look different from lock screen to home screen.
If you have dreamed of having Swype on Windows Phone, your dreams have come true, to an extent. With Windows Phone 8.1, Shape writing is a new feature for the OS and makes it easier to input text and once you get used to it, dramatically speeds up the input process.
It's very easy to use and all you do is press on the first letter of the word, then drag your finger to each of the next letters. By doing this, the OS can determine what word you were looking to write and input it in into the text field. The name 'shape' comes from the fact that each word has a unique shape to it that helps the system identify the word you were looking to write.
In short, we quite like it.  There are some rough spots such as trying to type the word 'if' generally gets changed to 'I'd' but with a bit of practice, we can tell that we are inputting text quite a bit faster with the new feature.
To no surprise, Internet explorer received some new features in the update including inPrivate browsing, reading view, unlimited number of tabs, and a high savings mode that reduces data while browsing 45-70%.
Of course, there are also performance optimizations under the hood and Cortana is integrated as well by allowing you to open pinned websites with voice commands.
Generally speaking, the updates to IE11 will not be as obvious as say, Cortana. That's because they are all enhancements to the browser and make surfing the web a bit easier. In use, the updated version of IE works like it did on Windows Phone 8. Meaning, it gets the job done, we had no issues with rendering or working with the browser in general and will likely be a frictionless app while using Windows Phone 8.1.
Microsoft has been the dominant player in the enterprise market for decades but with Windows Phone, it has been slow going to get companies to drop competing devices and make the move over to Windows Phone.
With Windows Phone 8, one of the key features that was missing was VPN. Thankfully, it has now arrived along with upgraded secure email that supports S/MIME and IRM (Information Rights Management).
Now that the basic enterprise features are built into the platform, it will make it easier for Microsoft to push its OS into the market it has traditionally dominated. Even though Microsoft has done well, traditionally, at integrating horizontally and vertically inside a corporation, getting the IT shops to switch their current phones to Windows Phone may not be as easy of a task.
But, since Microsoft already has the ability to integrate into existing enterprise solutions better than Google and Apple, thanks to writing the code, we should expect to see them make this the keystone for their marketing campaigns.
Baked into Windows Phone are a bunch of other time saving (and potentially wallet saving) features such as Wi-Fi Sense. The feature allows you to automagically login to trusted Wi-Fi hotspots around the world which can off-load some of your web usage to a local Internet connection rather than your carriers.
The tool can even input credentials on your behalf when you connect to these locations so that migration to local data providers is seamless to the end user.
Beyond Wi-Fi hotspots, the feature also lets you share your home Wi-Fi connection with friends and vice versa. There is an option in the Wi-Fi Sense settings to share your credentials with contacts so that when they come over, if they are using a Windows Phone and have the feature turned on, it will load the information needed to connect to your network.
Storage sense works exactly like you would expect and helps you manage the memory on your device. This feature will also allow you to move content from your internal storage to an external SD card too. It's a small feature but on low end devices that have SD card support, being able to move your apps on to an SD card is an awesome feature, and one we expect many users who purchase devices like the Lumia 630, to take advantage of it.
Volume controls have been separated too, there are now different levels of volume for ringers/notifications and your apps can have a different volume set as well. A small little improvement but the more tweaks to the OS the user can make, the better.
The calendar got an update as well that we are very happy to see (week view) as it makes using the built-in calendar much more user friendly.
Microsoft also broke apart Xbox Music, Podcasts, and Video apps into their open separate applications. By having their own apps, it makes it easier to find exactly what you are looking for with less searching. The downside is that if you are bored and want to browse all this media at once, you now have to check three separate apps.
Quite frankly, there are quite a few more tweaks and updates inside the OS that make navigating and using the OS a more fluid experience. There are also a number of tweaks to individual apps such as photos that provide improvements to the usability of the app but if we were to cover them all, this would read more like a documentary and less like a review.
What Microsoft has done with Windows Phone 8.1 is knocked off the list the key items that the Windows Phone community requested. The notification center was likely near the top of the user request list as it provides all applications a home for notifications and we welcome this feature with open arms.
Bundling the notifications with new shortcuts, makes Windows Phone feel more polished and helps to level the playing field when comparing feature lists to the competitors.
Cortana is the other side of the coin for large new features. It's a personal assistant who will become more personal over time. While the current iteration needs a bit of maturing, for a beta product, it's meeting expectations. Microsoft has a lot of room for expansion with Cortana thanks to its large ecosystem of platforms and this makes us quite excited about how the personal assistant will integrate with other platforms in the future.
As an OS, Windows Phone is growing up and is matching the established systems feature for feature.
Where Windows Phone struggles, still, is with the apps. I will argue that apps have come a very long way on Windows Phone and many of the larger developers are now on Windows Phone but it's not about getting the app on your device, it's about supporting the app for the long-term.
Take a look at Twitter, for example, it lags significantly behind the iOS app and even Google's app and this same story can said for other apps like Spotify and Uber, well, good luck finding a decent Uber app for the OS.
But, the situation is improving and as Microsoft keeps putting out quality builds of Windows Phone and is able to obtain market share, the app support gap will close; we are confident of this.
For Microsoft, Windows Phone 8.1 is another example of how the company can deliver on the expectations of the community and do so in a way that delights the end user but the real challenge ahead is to bring these new features to existing users. Currently, the easiest way to get your hands on a non-developer build of Windows Phone 8.1 will be to buy a new Lumia in the coming weeks. But for those of you with existing devices, you will have to wait until this summer.