Christmas time is big for games, not just software but the hardware side always sees huge sales at this time of the year. This year is no exception with some huge games released in the past week in the run up to festive period across not just consoles, but PCs too. This year we have compiled some of the best games and gaming hardware that you, your friends and your family might want to find under their tree, there is something for everyone here.
As a note of warning, If you want to save yourself some money this Christmas, if you can hold of buying any of these games until around the 20th of December, many will drop in price. Also if you are on a budget, don't knock picking up titles that are pre-owned as you can pick up games that are at least half the retail price this way. Remember if there are any games we have missed off the list that you believe people should take note of this Christmas, get commenting!
Update: We have added a number of other games and devices which we have received in the run up to Christmas: The NVIDIA Shield Tablet, The Talos Principle, Lara Croft and the Temple of Osiris and Tales from the Borderlands.
Xbox One
Forza Horizon 2: Forget any other racer on the Xbox One (and that includes Forza 5), Forza Horizon 2 is a superb racer and probably the best racing game on any of the next generation consoles. Released around the same time as DriveClub on the PlayStation 4, this game not only held its own, but smashed it off the road both graphically and with excellent gameplay.
Strangely though the game has either not sold quite as well as expected or there was a large group of gamers who decided to trade it in after a short time, if you just everything by pre-owned sections that is. Despite the great reviews it may have been released early enough to drop in price just after Christmas so it may be worth holding off of it for a little while.
Best Price: $59.99/£32.00 (Tesco in-store only)
The Xbox One has seen its fair share of poor exclusives, but luckily the good outweigh the bad
Sunset Overdrive: We have already reviewed Sunset Overdrive on Neowin and it still has a high place in our hearts, it makes a big change playing such a bright and fun game on a console at the moment and many hours can be lost just looking for all the little collectors items you can find around the map. Graphically it is also a good show-off title for the Xbox One, thanks both to the look of the city and the creature designs.
The humour is mixed though and I have met many people who just didn't find it funny at all, while others enjoyed the particular brand of comedy the developers were going for. As Anthony said in our review "Lots of pieces go into making a good game, but the most important aspect is whether it's fun to play, and "Sunset Overdrive" passes that test with flying colors. There are minor faults along the way, but you'd be hard-pressed to care much about them as you're grinding on rooftops and bouncing off cars while killing thousands of mutants and grinning at the game's irreverent humor. If you're the least bit interested in having fun and own an Xbox One, get "Sunset Overdrive."
Best Price: $59.99/£32.00 (Tesco in-store only)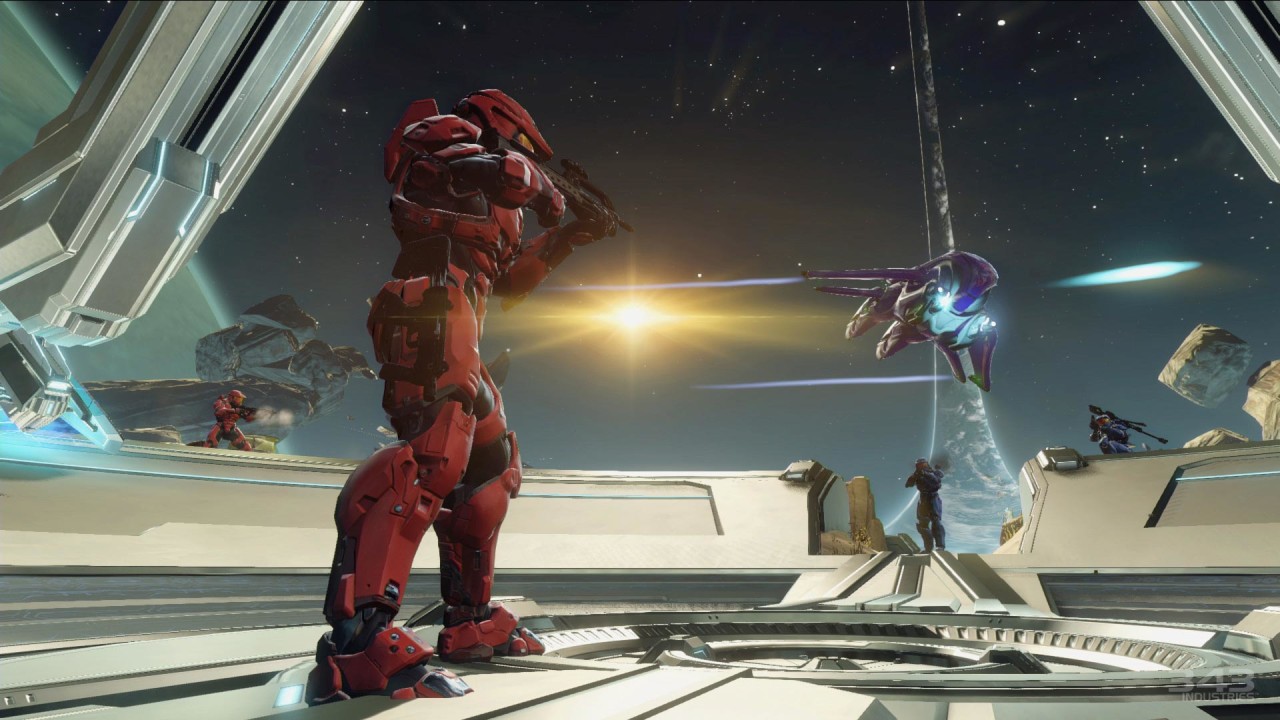 Halo: The Master Chief Collection: There is little needed to be said here. The Halo Master Chief collection is a superb set of the four main Halo releases. The best in the bunch is the newly revamped Halo 2 with brand new graphics and sound, it really does look superb at times, while Halo 3 and 4 get the bump up to 1080p and 60fps. Despite most of the titles originally being released some years ago, they really hold their own even now, especially the first couple of games.
Despite Halo 2 getting the full remastered treatment, the other games don't look bad either, with Halo 4 really being a stand out to me, mostly due to the fact that it pushed the Xbox 360 to its limits at the time it was first released. The only downside is that the whole collection does have multiplayer issues currently, but the developers are trying to fix them as fast as possible, but you won't find many better sets of games this Christmas period, especially with the hours you could lose playing through all four games.
PlayStation 4:
LittleBigPlanet 3: The create-your-own platformer is back and although the original developers are no longer on board the new team have done a decent job of keeping the game just as good as the previous two releases. If you are a fan of the formula you will still love LittleBigPlanet 3, just don't go into it expecting anything new or exciting as you won't find it.
One thing to note is that despite is being a very good game we have come across quite a few bugs in the pre-release version we tried out briefly, with many frame rate fluctuations and tearing clearly visible and on a game such as this, it shouldn't really be happening on a new generation of consoles, especially a first party title like LittleBigPlanet.
A lack of big exclusives has let the PlayStation 4 down towards the end of the year
The Last of Us: Remastered: There aren't many better games than this anywhere, it is a fantastic third person action-adventure game with one of the best written stories in years. Throw in some excellent graphics and some of the best voice work ever done and you have an almost perfect game.
The remastered version adds full 1080p support and a frame rate boost from 30 frames a second to 60 frames a second. The jump to 1080p makes a big difference during the gameplay sections as it really shows off some of the excellent character and texture work that Naughty Dog have put into the game. If there is any downside it is that sometimes because most of the texture work is so good, it can show up some very low resolution ones here and there, but believe me that is about as close to a complaint as I can find in the game and I've played through it three times.
If you know someone who hasn't played this yet, please make sure they do.
Velocity 2X: It might have been released a few months ago, but the platform/shooter is superb and easily a game of the year contender. It may not be that well known outside of the PlayStation console, but it was innovative, had great graphics, mixed puzzles with platforming and was very easy to control and to get into. If you haven't had the chance to try it out yet and you know something who is a big fan of difference looking titles, get Velocity 2X.
Best Price: PSN Only
Infamous: Second Son: It might be an old title, but it is still one of the best exclusive games out on the PlayStation 4 at the moment and can be picked up very cheaply now. Graphically it is still one of this generations show-off titles, even if it is a little easy to finish. If you ever played any of the previous Infamous games, you'll know the formula and nothing has really changed this time around, apart from the new characters and improved graphics.
If you don't want to shell out the full price for Infamous: Second Son, you can pick up the stand alone "Prequel" First Light which was also very enjoyable, it is likely to last you around 4-5 hours from start to finish, perhaps a little longer if you want to find all of the bits and pieces scattered around, which isn't too bad for the price, especially if you enjoyed the previous game.
PC:
Elite: Dangerous: it has been a long wait but the new Elite game isn't far off release. A big name title that has been kickstarted into life Elite Dangerous has huge space systems to explore and trade in. It will have hundreds of hours of gameplay to take part in, along with many new space ship designs to buy if you feel that way inclined.
Best Price: Direct from website only
It has been a good year for PC gaming with many great titles released and more still to come
Divinity: Original Sin: One of the best RPG's released this year, or any year in fact. There are hours of gameplay to be had here and a great story with loads of side quests to pick from. Graphically it is excellent too and works really well on a wide-range of PCs.
The combat in the game is played out as turn based and works perfectly, the range of characters you meet also help flesh out the whole experience. Once again a sign that when a kickstarter idea is started up by the right people, it can really produce great results.
Best Price: Steam Download
Football Manager 2015: It is still the best soccer/football game on the market and despite the mixed reviews for this version, it is still hugely popular amongst gamers. It's a simple premise, manage a football team and try to get as far with them or whoever you join as possible. Its one of the most addictive games I've ever played and I've been playing it since it was originally released on the Amiga!
Best Price: Various - change daily
Randal's Monday: Many people might not have heard of this one, but point and click adventure fans shouldn't miss it. It has some very funny dialogue, a good story and some great puzzles along the way as you help Randal relive his Monday over and over again. The voice work really makes a difference here too with some great stuff coming out of the cast. Graphically it might not be the most technical of games, but it has some great artwork and is full of character. Well worth checking out.
Best Price: $24.99/£19.99
The Vanishing of Ethan Carter: If you want to try out a game that is a little different to may others out there then this is the one to go with. The game has you playing the part of Paul Prospero, a detective who deals with the occult. Paul receives a letter from Ethan Carter, a boy who it turns out is in a lot of danger. The game takes place in Red Creek Valley, Ethan's home town where a murder has taken place and Ethan has vanished.
The Vanishing of Ethan Carter focuses on storytelling and it does this very well indeed, One thing you can say for the game is that is one of the best looking title ever released. Using the company's photogrammetry technology the game can sometimes look photorealistic.
Some people will moan that the four or five hours' worth of gameplay isn't what they would expect from a game, but it only retails at $19.99 and is one of the best looking games you will find on the PC right now. If storytelling is something you really enjoy from games and you like an easy game which doesn't tax your brain very much, then The Vanishing of Ethan Carter is certainly worth a look.
You can also read our full review too if you want more details.
Best Price: $19.99/£14.99
The Talos Principle: We have been lucky enough to have been playing a review copy of The Talos Principle on PC for the past week and have really enjoyed it. Despite being released by Serious Sam creators Croteam, the game is puzzle based and was written by Tom Jubert (FTL, The Swapper) and Jonas Kyratzes (Infinite Ocean).
The game contains well over 100 puzzles and get more and more complex as you go through the story. The whole game is played from a first person perspective and it looks gorgeous throughout, thanks mostly to the new Serious engine 4 which is being used. Some of the textures are superb and it can look photorealistic at times.
The puzzles are varied (up to the point I have reached anyway) with manipulation of lasers, turrets, scanners and the use of jamming devices. It takes a lot of mind work as you venture further, but the first hour of puzzles, while making you think, really help you not only get into the story, but also are not difficult enough to put anyone off too early.
Our full review will be coming soon, but its safe to say that this is in my view, the best puzzle game released since Portal and I really hope it sells well. I can't wait to get back to it.
Best Price: $40.99/£26.99
Multi-platform:
Assassin's Creed: Unity: This is one game that has been getting a lot of mixed reviews. I loved it however, especially as a huge fan of the series. That doesn't mean it is without its fault, it is hugely buggy not just on the Xbox One, but on the PlayStation 4 and PC too. Despite this, graphically it really can be seen as a next generation title, at times it can look breathtaking with some of the best architecture I have seen in years.
Gameplay-wise it is more of the same, although some of the stealth controls have been improved and there is the option of some co-op missions. It could have certainly done with a few more months refinement though and I can see it appearing in a few pre-christmas sales if you can hold out a little longer.
The end of season rush has seen a number of exceptionally buggy releases this year compared to others
Far Cry 4: Not much has changed in the new game apart from the setting, the same set of missions and side-quests are here, although everything has been spruced up graphically for the next generation versions. There is little to tell between the two console versions other than running at full 1080p on the PlayStation 4, while the Xbox One version 1440x1080p so the picture quality isn't quite as good.
If you have a beefy PC you'll get the best version of the lot, especially if you are lucky enough to have one of the latest GeForce cards, it certainly shined on our GTX 970 card with everything set to Ultra/Nvidia. Once again though, the PC version suffers from more than a few bugs, luckily the console versions seem to fair better here. If you want a game that will last you the whole Christmas period, its certainly one to check out.
Grand Theft Auto 5: It may have been released on the Xbox 360 and PlayStation 3 over a year ago, but there still isn't anything better open-world wise on any console currently. This next-generation make over really does make a huge difference to the game, not just graphically. The new release adds a feature that many gamers have been asking rockstar for, a first person view and it works brilliantly and really adds a new feel to the game.
The new 1080p graphics and improved textures, effects and density changes also look great across both the Xbox One and PlayStation 4 versions, with only the slightest of slow downs happening when there are loads of cars on the screen.
The story can't be faulted and neither can the length of the game or the variety of things to, if there was any complaint it would be that the load times can be a little too long at the start of the game, but if you are lucky enough to have the game on the Xbox One at least you can do suspend and resume, unlike on the PlayStation 4.
Alien Isolation: It may have been released over a month ago but Alien Isolation is an excellent game, especially if you are a fan of the films. The even better news is that a lot of places are already selling the game at a much lower price than it was available at launch.
As huge fans of the original film, Alien: Isolation does the best job ever of feeling like you are part of that experience. It is scary, looks exactly like the film did and has some good writing. As we have stated, the only let downs are the poor cutscene stuttering, awful lip-syncing and the iffy checkpoint system, but when you get everything else as near perfect to an Alien experience as this, you can forgive those.
You can check out our full review of the game if you want to know anymore about Alien Isolation.
The Evil Within: If you have any horror fans around you, The Evil Within is a pretty decent game. Although described as an action-adventure, it isn't always played out as an action game, the best way to experience the Evil Within is by stealth, creeping around the levels and taking out enemies from behind seems to cause the most genuine feeling of horror and higher heart rates that the game probably intended from the outset.
It may have once again been a title that suffered technically, but that doesn't make it any less enjoyable action and puzzle wise, although the story can be very mixed and hard to follow. You can check out our full review on Neowin.
Best Price: $41.99/£19.99 (At GAME in-store only)
Destiny: Another game which hasn't received the kind of reviews that many people expected, but it has a strong fan base that really keeps people playing long after they have completed the main game. I really enjoyed it, far more than most reviewers and I still keep going back to it now.
For graphic freaks the Xbox One version manages to match up to the PlayStation 4 game in both resolution (1080p) and the thirty frames per second frame rate. It just goes to show what Microsoft developers can do when they go to help studios get the most out of the console.
The even better news is that by Christmas the first expansion pack will be out, so there is even more reason to get hold of the game. You can read our full review of the game too if you want more details.
Dragon Age: Inquisition: Fans of role playing games will be very pleased with the latest Dragon Age title, it goes back to a slightly more in-depth feel of an RPG compared to the 2nd game and does manage to do so looking gorgeous most of the time. The story and action starts off quickly and soon it expands into a sprawling RPG that we all recognize from developers Bioware. Everything you expect is there, loot, item creator, leveling up and fetching quests, so if this is your sort of thing or you know of someone who is into RPG's you can't go wrong.
The game was released on PlayStation 4, Xbox One and PC recently and is very enjoyable, my personal time has been spent mostly on the PC version of the game, a slightly buggy release which seems to be the norm this Christmas period. Good news is that the PlayStation 4 and Xbox One builds work very well, maintaining 30fps at 1080p most of the time. If you know someone who enjoys RPG's then this is one of the best releases this Christmas.
Lara Croft and the Temple of Osiris: Another game which has come at us late in the run up to Christmas is the new Lara Croft title. The latest game in the puzzle/co-op/action isometric-perspective based Lara Croft game is yet another excellent addition to the series. The game picks up the action very early on and has a great range of puzzles and some really superb level design.
If there is one thing it does miss though, it is a good story and interaction with characters. It has some very good voice work, but nothing when compared to the story in the full third-person games and when you consider the Tomb Raider games really thrive on story it is a shame more hasn't been done.
Despite this the graphics in our PlayStation 4 review copy are excellent with very little slow down even when the screen is full of action and it all runs in full 1080p. If there is anything to criticise it might be that sometimes when the action zooms out it can be a little hard to see what is happening, but this doesn't happen very often.
Best Price: $30.00/£24.95
Tales from the Borderlands: The announcement of an story/dialogue based Borderlands game from Telltale surprised a lot of people when it was talked about early this year, especially as the last thing you really think of when it comes to Borderlands is an adventure game.
The great news is that Telltale have excelled themselves here, I found Tales from the Borderlands the best game from the company in a long time, not only is funny is really feels like a borderland game, it also has a fair deal of action throughout, although not quite done in the same way as the first person shooter.
We completed the first episode in a couple of hours and we really hope that it can continue in the same insane vain as this one does as the final part of this episode was one crazy ride that I really enjoyed.
Best Price: $25.00/£19.95
Hardware:
Xbox One: The Xbox One has improved no end in its first year, from the software side to some of the better exclusives that have come out. That doesn't cover the fact that most of these improvements have come due to huge complaints for gamers, but that does at least mean that Microsoft is listening.
If you are going to buy an Xbox One this Christmas, I'd certainly recommend picking one up without Kinect, it just isn't needed at all and there isn't one game that is any good for it and you can save yourself a lot of money by not bundling it in. Money that can be better spent on a few games.
As mentioned, the UI has improved a lot since release with 3d blu-ray support, better controller navigation and some speed improvements. It still isn't perfect and I much prefer the Playstation 4 UI just for ease of use, but Microsoft are getting their act together with monthly updates.
Despite a strong start, the PlayStation 4 hasn't had the kind of exclusive releases Sony hoped for
Games have been a struggle for both systems, though the Xbox One has faired slightly better with games such as Sunset Overdrive and the Halo: Master Chief Collection (though that has been a multiplayer disaster since it's launch. The console will never compete with the graphic power of the PlayStation 4, but if the exclusives keep on being better, who knows where Microsoft could end up in the future.
PlayStation 4: Despite a fantastic start, the PlayStation 4 has struggled with any decent exclusive games. Titles such as DriveClub and LittleBigPlanet 3 haven't been the great titles we all hoped they would be, with DriveClub being what some might call quite the disaster for such a big name title.
That's not to say that the hardware is any worse, in fact it's been clear all year that if you want games running in full 1080p, the PlayStation 4 is the only console that'll do it for most releases, but that won't help if the exclusives keep being so poor. Though in the end, neither console has really had a great year for releases with many games just being remasters or rehashes of old titles. It'll certainly be interesting to see how they are both fairing at this time next year when 2nd generation title start to come though.
Turtle Beach Elite 800 Headset: This really is a top end headset for anyone with a PlayStation 4 who loves their gaming audio, or any audio for that matter. Although we will have a full review very soon, after a few days of playing a multitude of games, it is safe to say that this is the best headset we have ever covered, the DTS Headphone: X support is superb and makes a huge difference in many games, not just shooters.
The design is great and it fits perfectly on your ears and is easily the most comfortable headset I have used for gaming. It comes at a premium price though and I would have loved to see it be universally compatible with the Xbox One and PlayStation 4, but for the best 7.1 audio around, I'd highly recommend getting hold of these or begging for them at Christmas.
Steelseries Siberia Elite Prism Gaming Headset: This is the first steelseries headset I have received for review and I have been blown away by the sound quality when it is connected to my PC. The Dolby surround sound works really well and as a big RPG and adventure gamer I was very pleased with the exceptionally clear dialog which was shining through. The headset isn't wireless, but as usual I don't knock them for that simply because when I play games on my PC I'm always close to it.
The Elite Prism's are also very stylish, they have really comfortable foam ear cushions for longer game time and a suspension design that is supposed to adjust itself for comfort as you use them. They even let you choose from 16.8 million colours to display on their earcups. It just oozes quality throughout. So if you have a PC gamer who loves their audio I really recommend getting hold of these, once again they are not cheap but you do get what you pay for here.
Best Price: $199/£199
NVIDIA Shield Tablet: I've been using the Shield Tablet for a couple of months now and can highly recommend it to anyone who has a recent NVIDIA graphics card. The Shield Tablet runs Android (Lollipop) and is a very high spec device despite it's seemingly low price. The big difference with the Shield Tablet when compared to many other tablets on the market is that it has an NVIDIA Tegra K1 mobile processor built into it that really pushes graphics to the edge.
I know it is easy to say, but the Tegra K1 is a beast of a mobile processor for gaming, titles such as Half Life 2 and Portal run in full 1080p with numerous graphical features such as render-to-texture shadows, bump mapping, specular highlights, motion blur, and higher-quality texture filtering all of which bring it to a level of the PC version. It is easy to say that these games are quite old now, but when you see them running so well on a Tablet you will really see how great this processor is.
The game that really shows off the Shield Tablet is the built-in version of Trine 2, it looks outstanding and performs brilliantly, it matches up to the PC version very well and plays perfectly with the Shield Controller.
The Shield Tablet can also stream your PC games directly to it via NVIDIA's Gamestream technology. It works really well with games running at 60fps on the screen with little to no lag most of the time assuming you have a decent network setup.
The Shield can also connect up to your TV and act as a mini-console if you use an HDMI cable and the Shield Controller accessory. I've tried this and it works perfectly most of the time, the only issue I have come across is that some Android games are still not designed to run in 1080p so can sometimes look a little odd on a TV screen.
There are issues, the software can be temperamental, though NVIDIA are quick to release updates. There has also been a number of users complaining about poor casing on the device, though we have luckily avoided that issue.
So if you have someone who loves gaming and needs a tablet, you can't go wrong with the NVIDIA Shield, it runs some really great looking games and has the latest version of Android too, something that very few tablets do, it can stream games from your PC (If you have a newish NVIDIA graphics card) and even connect up to your TV if you feel that way inclined.
Best Price: $299/£239
Graphic Cards: If you are buying for a PC gamer fan this Christmas and you know they could benefit from a new graphics card, you can't really go wrong with an NVIDIA GTX 970, it's perfectly priced and full of power to run even the latest games at their highest settings at 1080p. I have been using once for the past month or so can I love it, it wasn't expensive and I got quite a frame rate boost in most games. The cart also supports NVIDIA's excellent DSR feature which the company says brings 4K quality to 1080p screens.
As usual there are a whole host of companies selling their version of the card, but even the cheapest vendor Zotac does a very decent job. The only issue that some users have had comes from a coil whine, I've noticed it when frame rate jumps to around 200+ FPS, but at regular gaming of 60/120fps I don't find it happening at all. If you have the money, you can even SLI some of these together for some amazing frame rates.
Best Price: $329/£239.99
Keep a check on Neowin for up-to-date prices over Black Friday and the Christmas period and feel free to add any comments about games you recommend people pick up over the festive period.