Dell's XPS laptops are always magnificent PCs. The last XPS 13 that I reviewed was in April, and as usual, I loved it. The company took an already wonderful laptop and made the screen bigger, the chassis smaller, and added some extra perks.
The one that I'm reviewing today looks exactly the same as that one did; indeed, the XPS 13 9310 is not a redesign in the slightest. There's one key change, which is that it has Intel's new 11th-generation 'Tiger Lake' processors. With that key change though, there are a few other internal changes, such as faster memory.
It also comes with Thunderbolt 4 ports, something that not all PCs will benefit from; however, Dell's XPS laptops most certainly will. Thunderbolt 4 is what I used to refer to as a "full" Thunderbolt 3 port, supporting dual 4K displays off of a single port, or 40Gbps data transfer lanes. The minimum Thunderbolt 3 spec only used two lanes though, so you'd be able to run one 4K display or get a 20Gbps data transfer speed. The problem is that it was tough to know what you were buying, and yes, Dell's XPS laptops used to utilize the minimum spec for Thunderbolt 3.
Specs
CPU
Intel Core i7-1165G7 processor (12MB cache, up to 4.7GHz, 4 cores)
GPU
Intel Iris Xe Graphics
Body
295.7x198.7x14.8mm (11.64x7.82x0.58in), 1.27kg (2.8lbs)
Display
13.4-inch FHD+ (1920 x 1200) InfinityEdge touch display, 500-nit, 100% sRGB color gamut, 1800:1 contrast ratio, 0.65% anti-reflective, anti-smudge
Dolby Vision, 178° wide viewing angle +/- 89° / 89° / 89° / 89°, Eyesafe technology
Memory
16GB LPDDR4x Dual Channel SDRAM at 4267MHz
Storage
512GB PCIe 3 x4 SSD
Ports
(2) Thunderbolt 4 with DisplayPort and Power Delivery
(1) microSD
(1) 3.5mm audio
Battery
52WHr battery (Integrated), 45W USB Type-C charger
Connectivity
Killer Wi-Fi 6 AX1650 (2x2) built on Intel chipset + Bluetooth 5.1
Input
Touch Display (optional)
2 Digital Array Microphones
Full size, backlit chiclet keyboard; 1.0mm travel
Glass Surface Precision Touchpad
Windows Hello fingerprint reader in power button & HD (720p) Windows Hello camera in upper bezel
Ambient Light Sensor for display backlight control
Audio
Stereo speakers professionally tuned with Waves MaxxAudio Pro
Stereo speaker 2.5W x 2 = 4W peak
3.5mm headphone/microphone combo jack with
360-degree Waves NX 3D virtual surround with headtracking via headphones
Dual microphone array powered by Waves MaxxVoice Pro supporting VoIP – Cortana Far field capable
Widescreen HD (720p) 2.25mm webcam
Material and color
CNC machined aluminum in frost with arctic white woven glass fiber palm rest (UV-resistant and stain resistant coating)
OS
Windows 10 Home
Price
$1,649

I couldn't find a pre-configured model on Dell's website matching the one that the firm sent me, but the closest one only required me to change 8GB RAM to 16GB RAM for an extra $100, and change it to the Frost exterior with white interior for an extra $50.
Day one
Design
Honestly, if you've read my XPS 13 9300 review from April, you can skip straight to the performance and battery life section, because there is absolutely nothing new when it comes to the design, display, keyboard, or trackpad. However, it's a big design change from the one that I reviewed about a year ago, which has Intel's Comet Lake processors. In fact, the redesign that we got in the XPS 13 9300 was the first in a redesign for the entire lineup.
It's less of a wedge shape than it used to be. In fact, the XPS 13 always looked a bit thick to me, probably because the footprint has always been so small. But now, the footprint is actually smaller and it's a bit thicker, but it just looks and feels more balanced.
The model that Dell sent me is Frost with a white woven glass fiber interior. It's not a new style, although if you want to go really old school with a traditional XPS style, you can still get it in silver with the black carbon fiber interior. However, you'll notice on the new ones, the sides are silver instead of black.
And yes, the ports have changed from that old design. Dell has ditched USB Type-A on its XPS lineup entirely, going all the way up to the XPS 17. Instead, you'll find just two Thunderbolt 4 ports on the XPS 13, one on each side. On the left, there's also a microSD card slot and on the right, there's a 3.5mm audio jack.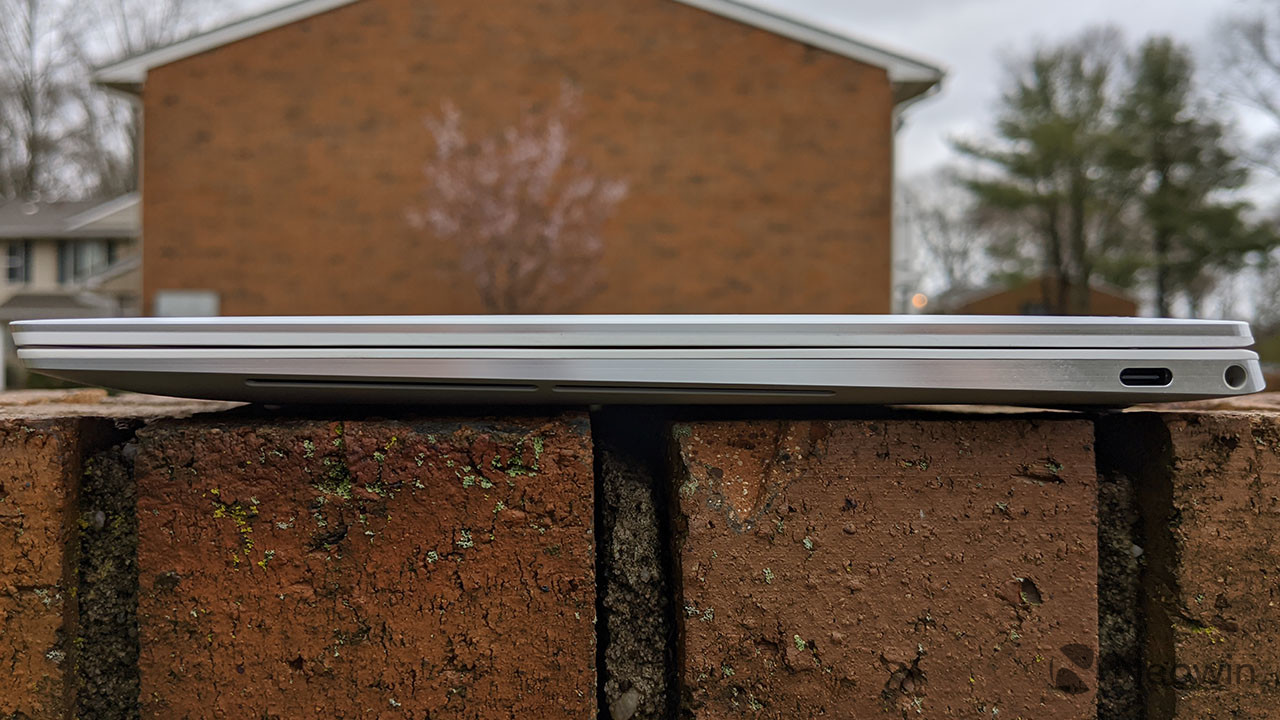 One thing that I really like about the two Thunderbolt 4 ports is that they're on opposite sides, so you can easily choose which side you want to use to charge the device. Most companies that have two Thunderbolt ports put them on one side, which will inevitably become a pain point at some point.
And the other nice thing is that yes, you can connect two 4K displays on a single port, something that not even the super-powerful XPS 17 can do.
Display and audio
While the chassis is smaller, the screen is bigger than the ones from a year ago. That's because Dell switched from a 13.3-inch 16:9 display to a 13.4-inch 16:10 display. Most people do like the taller screen, but I personally like something that's a little wider so I can work more easily with two apps side-by-side. For me, something like the 16:10 XPS 15 makes a lot more sense.
You have four options for the display. It comes in FHD+ and UHD+, and is available in touch and non-touch. Dell sent me the FHD+ touch model, which is probably my favorite. Battery life is much better at FHD instead of UHD, which has about four times as many pixels. But also, on a smaller screen like this, you probably won't miss the extra pixels. Also, I personally like touch, but if you go for non-touch, the XPS 13 weighs in at 2.64 pounds instead of 2.8 pounds.
The bezels are even smaller, and yet Dell still managed to fit an IR camera in the top bezel. Back in the day, Dell XPS was often mocked for placing the webcam below the screen, in the chin. It added an IR camera and the very next year, it removed it in favor of shrinking the webcam enough to fit on top. But now, we finally have a webcam and an IR camera in the top bezel without compromises.
Dell has something called Dell Cinema, which consists of CinemaColor, CinemaSound, and CinemaStream. CinemaColor refers to the display, which supports Dolby Vision HDR, 500-nit brightness, and more. There's even an app that lets you set it to different configurations like movie, sports, animation, and evening.
CinemaSound refers to the two 2.5W Waves MaxxAudio Pro speakers, which sound phenomenal. Seriously, for a laptop that doesn't have speakers that you can actually see while using it, I've never seen something this powerful. Then there's CinemaStream, which prioritizes network resources for streaming video.
All of this adds up to Dell Cinema, which is meant to make Dell XPS laptops the best they can be for streaming media, and it surely gets the job done.
Keyboard and trackpad
I quite like the keyboard that debuted this year, along with the Precision trackpad. The backlit keyboard feels quieter and more comfortable than its predecessor, which is always nice. It's also a bigger keyboard than the ones we were seeing up until a year ago.
Dell actually made use of all of the real estate that it could, so the keyboard is pretty much edge to edge. The keys are larger, so it feels less cramped and personally, I think that it's prone to fewer errors. The trackpad is also a bit larger, and using Precision drivers, it supports the gestures that you're used to.
Also, to be clear, this is not a MagLev keyboard, like the one that you'd get from the XPS 13 2-in-1. Frankly, I'm surprised that Dell didn't include it when it redesigned the XPS 13, since second-generation MagLev is actually quite good.
You'll find the power button in the top-right corner of the keyboard, and it doubles as a fingerprint sensor. I don't use it though, because Dell's PCs don't scan your fingerprint when you first press the button. You have to scan it after the PC boots up, unlike most PCs that have a fingerprint sensor baked into the power button. Dell considers that a security risk though, thinking that you might walk away between when you press the power button and when the PC boots.
Performance and battery life
OK, here's the meat of this review, because the Intel Tiger Lake CPU is the only real change in this device. Tiger Lake is Intel's second generation 10nm family, so along with the maturation of its 10nm nodes, it also comes with the company's new Iris Xe graphics. It also comes with faster 4267MHz memory.
First of all, let's be clear that this can obviously do anything that you'd previously expect from an Intel U-series processor. For general productivity, conference calls, and so on, it's fantastic. But when you add on Iris Xe, it takes on a whole new level. You can use it to play games, edit video, and more.
But of course, there are still limits, as there always will be with integrated graphics. Gaming is, more or less, limited to FHD resolutions. Obviously, if you're a serious gamer that's looking for higher resolutions or frame rates, then you probably already know that this isn't the machine you're looking for. But if you're looking for an ultra-mobile productivity machine that can do some Forza or Halo on the side, the XPS 13 will actually get the job done.
Now let's talk about video editing. I edited 4K 60fps video on this machine, and frankly, I'll probably never do it again. It wasn't that bad though, and you could do it in a pinch. It took about 25 minutes to render, as opposed to the five minutes or so that it would take on my desktop with an Intel Core i9-10900K and an Nvidia GeForce RTX 2080 Ti. I also edited a 1080p 60fps video on here, and the experience was very smooth. All of this was done with two 4K displays attached to one of the Thunderbolt 4 ports and the main display turned off.
As far as battery life goes, I was impressed. In most of my usage, I got close to seven hours of work without connecting to power, sometimes getting over eight hours. This was with the power slider at the first notch above battery saver and the screen brightness at 25%. Honestly, this screen is wonderfully bright, so I had to turn it off when indoors, not just for battery reasons.
For benchmarks, I used Geekbench, Cinebench, PCMark 8 and PCMark 10. Tiger Lake still isn't ready for heavier tests like 3DMark's Time Spy.
Dell XPS 13 9310
Core i7-1165G7
Dell XPS 13 9300
Core i7-1065G7
Dell XPS 13
Core i7-10710U
Lenovo IdeaPad Slim 7
AMD Ryzen 7 4800U
PCMark 8: Home
3,902
3,899
3,501
4,566
PCMark 8: Creative
4,781
4,253
3,966
4,861
PCMark 8: Work
4,020
3,797
3,342
3,926
PCMark 10
4,864
4,402
4,314
5,252
Geekbench 5
1,551 / 5,529
1,160 / 6,362
Cinebench
1,911
3,449

As you can see, AMD's Ryzen 4000 processors still score better in most departments, but you won't find features like Thunderbolt 4 on an AMD PC.
Conclusion
When I reviewed the Dell XPS 13 9300 back in April, I said that "the best gets better". The already compact chassis was made even smaller, the screen was made bigger, the keyboard was made more comfortable, and the CPU was swapped out for something with more powerful Iris Plus Graphics. Now, thanks to Iris Xe graphics, it's even better than that.
In fact, one of the best changes I've noticed, which is as a result of Intel's 11th-generation processors, is Thunderbolt 4. One of my biggest complaints about Dell XPS laptops over the past year was that I couldn't use both of my monitors with a Thunderbolt dock, and now I can.
Other major complaints I had haven't changed since April though. I still hate that Dell's fingerprint sensors require you to boot the machine before scanning your fingerprint, and I hate that there's no 4G LTE option. Seriously, this is an ultra-portable PC. Dell boasts that it's a 13-inch PC in an 11-inch chassis, so why wouldn't it be built to be more portable and have connectivity for such a use case?
But of course, this is a remarkable machine, and it's certainly among the best on the market. If you're looking for a very compact clamshell, this is the way to go.