Panasonic introduced its first TOUGHBOOK 33 back in mid-2017, and now the mark II is here. It's got Comet Lake processors, a 3:2 display that gets up to 1,200-nit brightness, and it now comes with 16GB RAM and 512GB storage in the base model.
But that's not all, because it has a detachable display, which sounds a lot like Microsoft's Surface Book. One of the big differences here is that the TOUGHBOOK 33 is rugged. It's not even semi-rugged like the TOUGHBOOK 55 that I reviewed in 2019. This is full-rugged, so you can beat the crap out of this thing.
That's not the only difference between this and a Surface Book. As you're about to find out more about, all of the guts of this PC are in the display. The keyboard doesn't pack a battery, a GPU, or anything like that, which is great for stability.
Specs
CPU
Core i5-10310U vPro processor – 1.7GHz with Turbo Boost up to 4.4GHz, 6MB cache
Graphics
UHD Graphics
Display

• 12.0" 3:2 QHD 2160 x 1440
– Capacitive gloved multi touch + digitizer
• 2-1200-nit
• Direct bonding
• Anti-reflective (AR) screen treatment
• Supports up to 5 monitors
• Concealed Mode; Day/Night Mode

Body

• 12.1" x 9.6" x 0.9" (12.3" x 11.4" x 1.8" with optional Premium Keyboard)
• 3.4 lbs. (6.1 lbs. with optional Premium Keyboard)

Memory
16GB DDR4-2666MHz
Storage
512GB OPAL NVMe SSD
Ports on tablet
(1) USB 3.2 Gen 2 Type-C with Power Delivery
(1) USB 3.2 Gen 1 Type-A
(1) HDMI
(1) Ethernet
(1) 3.5mm audio
(1) Nano-SIM
Ports on keyboard
(2) USB 3.2 Gen 1 Type-A
(1) USB 2.0 Type-A
(1) HDMI
(1) SDXC UHS-II
(1) Ethernet)
(1) Serial (USB D-sub 9-pin
(1) VGA D-sub 15-pin
(1) Power
Input

• IP55 2 button digitizer pen (right click & erase), stylus holder, tether and cleaning cloth
• Supports glove mode and rain mode
• 7 tablet buttons (5 user-definable including A1/A2 buttons)
• On-screen QWERTY keyboard
• Optional emissive keyboards (Lite and Premium) and rubber keyboard (Premium):7
– Backlit (emissive:red, rubber:white) with 4 adjustable levels
– 87-key with dedicated Windows key
– Pressure-sensitive touchpad with multi touch

Connectivity

• Optional (Band 14 EM7511) 4G LTE-A multi carrier w/satellite GPS
– AT&T, FirstNetTM, Verizon
– CBRS Band 48 Capable9
• Optional dedicated GPS (u-blox NEO M8N)
• Dual high-gain antenna pass-through
• Intel Wi-Fi 6 AX201
• Bluetooth v5.1 (Class 1)

Battery

• Li-Ion batteries x2:
– 10 hours (20 w/opt. long life batteries)11
– Each standard battery: 11.1V, 1990mAh
– Each long life battery: 10.8V, 4120mAh12
• Battery charging time: 3 hours (with in parallel charging technology)11
• AC Adapter: AC 100V-240V 50/60Hz, auto sensing/switching worldwide power supply

Camera

• 1080p webcam w/privacy cover & dual array mic
– Infrared with Windows Hello support
• 8MP rear camera with autofocus and triple LED flash

Audio

• Integrated dual array microphone
• Intel High Definition Audio compliant
• Integrated 91db speakers (front-facing)
• On-screen and button volume and mute controls

OS
Windows 10 Pro

Design
If you look at the TOUGHBOOK 33 from the top, it has that trademark TOUGHBOOK look, with a black frame and a silver interior. It's also got the branding that you're used to.
You'll notice on the bottom there, there's a gray switch, and there's a hinge in the middle. Flipping that switch lets you open that panel to access two batteries.
Indeed, while the form factor is similar to the Surface Book, the functionality is different. The Surface Book has a battery in the display and one in the base, and while this still has two batteries, they're both in the display. This allows for hot-swapping batteries, meaning that you can replace one of them without ever powering down the PC. Panasonic also sells high-capacity batteries in case you don't want to have to hot-swap.
As you might have noticed in the spec sheet, there are ports on both the base and on the display. Looking at the right side, there are dual USB 3.2 Gen 1 Type-A ports, and an Ethernet port. Oddly, this PC doubles up on Ethernet and HDMI ports, both of which are offered in the base and the display.
All of the ports are covered, and they actually take a bit of work to open. You have to slide them and then pull open the lid, and this secured mechanism is one of the reasons that this is fully rugged. Water isn't getting into this PC unless you let it, and the same goes for sand, dust, and anything else you might find when exposed to the elements.
On the right side of the display, you'll notice that that's where the pen garage is located for easy access.
The left side is where you'll find all of the ports in the display, including USB 3.2 Gen 1 Type-A, USB 3.2 Gen 2 Type-C, HDMI, Ethernet, and 3.5mm audio. In the base, you'll find an SD card reader, HDMI, and unfortunately, a lone USB 2.0 Type-A port.
I'm not sure why anyone would include a USB 2.0 port in 2021, but I assume that Panasonic knows its market here. These PCs are totally configured by IT admins, and presumably, the people using them know which port to use for which peripherals.
Also, notice that the handle is sticking out of the back, the opposite side that you'd expect it. This serves as a kickstand when you're using it. You have to remember that all of the guts are in the display; unlike the Surface Book, there's no GPU and battery in the base to weigh it down. The display has two batteries, the CPU, the memory, the storage, and everything else.
However, it's also worth noting that a big chunk of the user base for this machine has it mounted in a vehicle, solving that problem on its own. This is aimed at enterprise workers, the federal space, government agencies, and so on.
Display
Here's what you need to know. Panasonic really pulls out all of the stops when it comes to its screens. the only downside here is that this one is relatively small at 12 inches with a 3:2 aspect ratio. That's smaller than what you'd find on a Surface Pro. But even at that small size, it has a high resolution at 2160x1440.
The brightness goes up to an incredible 1,200 nits, which is just about as bright as it gets on a PC. Like I said earlier, this is meant to be used in any conditions, so this could find its way into the middle of a dessert, where you'd have to use it in the brightest of bright sunlight.
It can also be used in the darkest of conditions, as the brightness goes down to two nits. That's the threshold for night vision, in case you were wondering.
Speaking of night vision, there's a variety of night mode options that you can use, tinting the screen to colors like green, red, orange, or just plain grayscale. All of this can be controlled with Panasonic's built-in utilities.
Those utilities are worth checking out too. You can do things like automatically disable the touchscreen when the display is attached, enable or disable 802.11a, and much more.
In order to release the display, there's a physical switch on the bottom-right. I have to make the comparison to a Surface Book again, because people could get confused here. With the Surface Book, there's a button on the keyboard (or in the taskbar on Windows 10), and when you press it, the machine takes a couple of seconds to make sure you're good to go, and then it gives you the green light to detach the display. For example, it makes sure that the battery in the display has enough of a charge.
None of that happens here. This is simply a manual release, so the pain points that you see with Surface won't happen here, nor should they. There's no battery in the base, so you're not risking the display dying when you remove it. The TOUGHBOOK 33 without the base attached, for these intents and purposes, is the same as the TOUGHBOOK 33 with it attached.
Note that above the display alongside the 1080p webcam (yes, an actual FHD webcam), there's an IR camera for facial recognition. This is something that is useful for everyone, but I could really imagine it being useful for vehicle-mounted devices, because the alternative is typing a PIN or using a fingerprint scanner, and either of those things take more effort.
Keyboard and touchpad
And then there's the keyboard, which is fairly straightforward. There's nothing super-crazy about it, except of course, that you can attach and detach a display from it.
Note that you can also flip the display around in the keyboard base, making for a super-thick tablet, but you still get the handle, which is attached to the base. The keyboard is full-size, and I didn't run into any issues. It wasn't my favorite keyboard, but I didn't hate it.
One cool feature it that you can set the backlight to different colors, something that I first witnessed on the TOUGHBOOK 55.
Another thing that you'll notice is that the touchpad is exceptionally small. It's not clickable either, and by default, it doesn't support scrolling gestures. And unfortunately, it is not a Microsoft Precision touchpad, which is probably my biggest complaint about this whole PC. The most important thing is that it should have been Precision, but also, I'd really have liked it if Panasonic made more use of the available real estate for a larger touchpad.
Performance, batteries, and 4G LTE
The TOUGHBOOK 33 uses Intel Comet Lake vPro processors, and the unit that Panasonic sent me actually seems to be the base model. It has a Core i5-10310U, 16GB RAM, and 512GB of storage. Indeed, putting 16GB RAM and a 512GB SSD in the base model is double the previous generation, which is awesome in my book.
What's not so awesome is using Comet Lake, and to be clear, the other processor option is the hexa-core Core i7-10810U. With Intel's 10th-gen processors, it had the 14nm Comet Lake and the 10nm Ice Lake. Since Intel was shot on 10nm chips, Ice Lake didn't get around as much, and all business PCs got Comet Lake. It was the only one that got a vPro variant.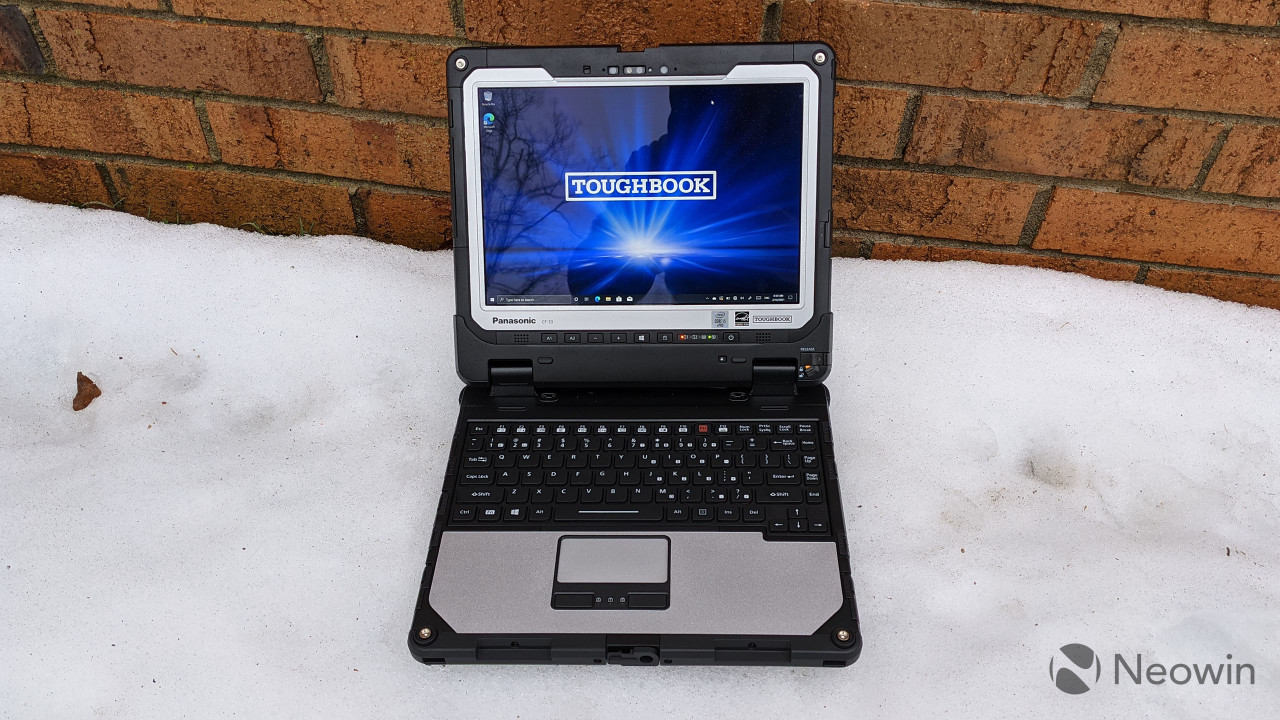 Ice Lake also had vastly improved graphics with Iris Plus, while Comet Lake used the old UHD Graphics. That was fine for 10th-gen, but 11th-gen is here now, and that's Tiger Lake with Iris Xe graphics. The difference between Comet Lake U with UHD Graphics and Tiger Lake with Iris Xe graphics is significant. And yes, Tiger Lake comes with vPro variants, as Intel announced back in January.
I assume that for this market, such a change isn't as significant, and it's more about shipping a tried and true product, so I can cut Panasonic a little bit of slack on that. After all, there's nothing actually wrong with Comet Lake U. It's just not Tiger Lake.
Battery life is pretty great with the two batteries, but I actually didn't do any battery tests this time, just because it would be pointless. Some companies tests products by streaming video or using local video playback, and I try to give you a real world estimate of how long it will last. The problem is that I can't replicate the use case that these PCs are actually for.
On top of that, Panasonic is really great when it comes to batteries and battery life. Like I said earlier, you can hot-swap them, replacing a battery without ever turning the PC off. Or, you can get high-capacity batteries that the company sells.
I also want to shout out 4G LTE, which is awesome. It supports Band 14 for FirstNet and Band 48 for private LTE networks, but mostly, it's just necessary for working out in the field. I keep coming back to how a lot of these are going to be mounted in vehicles, and you need to be connected for that to work.
For benchmarks, I used PCMark 8, PCMark 10, Geekbench 5, and Cinebench.
TOUGHBOOK 33
Core i5-10310U
Surface Book 3
Core i7-1065G7, GTX 1650
Acer Enduro N3
Core i5-10210U
Surface Pro 7+
Core i5-1135G7
PCMark 8: Home
3,027
3,344
3,344
3,521
PCMark 8: Creative
3,340
2,857
3,419
4,192
PCMark 8: Work
3,218
3,289
3,513
3,403
PCMark 10
3,531
3,805
3,655
3,963
Geekbench 5
965 / 3,031
1,358 / 5,246
Cinebench
948 / 2,548
1,235 / 2,854

It's worth comparing to the Core i5 that's in the Surface Pro 7+, which outperforms the Comet Lake chip in every category.
Conclusion
As always, Panasonic makes an awesome product. Indeed, in the world of rugged PCs, TOUGHBOOK is the global leader, and you really can't go wrong with choosing a brand that has tons of experience is the specialty field that you need.
Most of my complaints aren't directly related to this device's use case. I'd love to have seen Tiger Lake vPro in here, after seeing other business devices get it, and especially because I know Panasonic doesn't refresh the device so frequently. I'd also love to have seen a bigger screen and a bigger, Precision touchpad.
But that screen that's there is awesome, and I wish that more OEMs would take a page out of Panasonic's playbook. I see so many laptops with these dull 300-nit displays. Give us 1,200 nits.
Panasonic TOUGHBOOKs are always fun to review, because they have awesome features, even for people that don't need rugged PCs. They seem to come from an age when PCs used to be able to just do everything. And like I said, Panasonic has tons of experience in the rugged space, and the TOUGHBOOK 33 is another winner.
Pros
Rugged design Versatile form factor Bright and high-res display
Cons
No Tiger Lake Small screen Small touchpad