After months of leaks and speculations, AMD has finally unveiled the new Radeon 6600 XT GPU as an addition to their existing RDNA2 line-up.
The Radeon 6600 XT will act as a successor to the RX 5700 XT and will pack 9.6 teraflops along with 8GB of GDDR6 RAM. Apart from that, the 6600 XT will also support PCIe 4.0 interface and will come with 2048 stream processor (32 compute units). The GPU will have a 128-bit memory bus and a 16Gbps Memory speed. Apart from the hardware, the 6600 XT will also feature Radeon Boost and Radeon Anti-Lag.
While the specs are better than 5700 XT, which was marked as a 1440p card, AMD will market the 6600 XT as the "new standard for 1080p". AMD has shared some of the gaming benchmarks that include Assassin's Creed Valhalla and Doom Eternal. The company claims that the 6600 XT will be around 15% faster on average compared to Nvidia's 3060 GPU.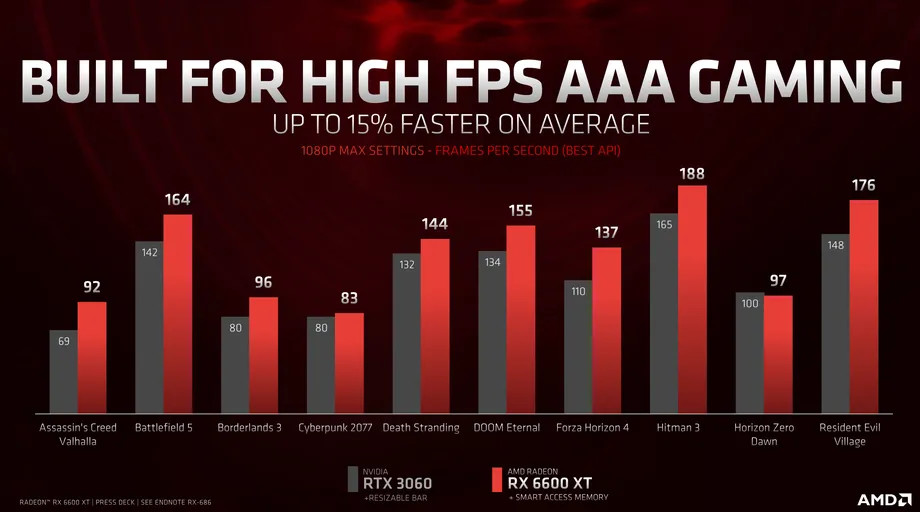 That being said, AMD plans to sell the 6600 XT at $379 which is about $50 more than the direct competition and only $20 less than Nvidia's 3060Ti. The price will slightly differ for the AIB cards from companies such as Gigabyte and Asus. Unfortunately, AMD will not be releasing the reference design at the moment but cards from Asus, Gigabyte, MSI, and others will be available from August 11.