It's no secret that Apple and Google aren't exactly the closest of friends, but for the most part, the two tech giants keep their rivalry fairly civilized, perhaps even with an underlying degree of mutual respect. For the most part.
But any hint of respect between the two firms appears to have been flushed down the toilet with a discovery on Google Maps today, pointed out by Coolsmartphone.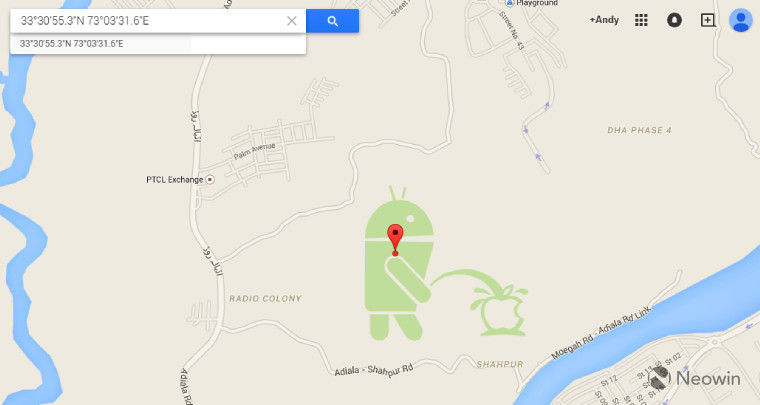 Just south of Rawalpindi, Pakistan, a giant Android can be seen urinating on the Apple logo. That's not a Photoshopped image, by the way - although we could certainly understand why that might be your first thought.
You can actually see it for yourself on Google Maps, whether on the web or via the mobile app. The image is visible with the standard map view enabled - but of course, since it's not a physical feature on the landscape, it's not visible in satellite/Earth view.
It seems pretty improbable that this is an 'official' addition to Google Maps sanctioned by the company's management; in fact, it seems much more likely that this is the result of one of its developers adding a humorous touch to the product without considering the possible ramifications.
But whoever was responsible for putting it there, there's a good chance it won't be there for too much longer...!
Source: Google Maps via Coolsmartphone
Update: A Google spokesperson confirmed to TNW that the graphic was added using the company's Map Maker tool, and said that it is "sorry for this inappropriate user-created content; we're working to remove it quickly".
It's also worth sharing this tweet from TNW's Owen Williams:
Looks like Google really needs to sort out its approval process for Map Maker, before it's forced to make any more embarrassing apologies.