Apple has introduced new features to its iWork suite of productivity apps (Keynote, Pages, and Numbers) that allow users to manage documents more flexibly and present in new and creative ways.
Apple's Vice President of Worldwide Product Marketing, Bob Borchers stated:
Whether they are in the office, at school, or working remotely, users around the world love Keynote, Pages, and Numbers for their powerful features, ease of use, and seamless experience across iPhone, iPad, and Mac. Today, we're adding even more power and capability to these apps with new productivity and collaboration features that enable anyone to create more personal and compelling presentations, make working with documents on iPhone a breeze, and bring full-featured pivot tables to mobile for the first time.
With Keynote, users can now incorporate live video directly into their presentations by using the front-facing camera on Mac, iPad, and iPhone. Users also get the option to resize live video objects or style them with reflections, drop shadows, frames, and masks. Keynote now also gives users the ability to present with the latest multi-presenter option so that everyone can manage a shared slideshow from their Apple devices.
Pages now comes with the Screen View feature that automatically displays images, texts, and other elements in a continuous, single-column flow. Users can also switch off Screen View to see the page layout for their document. The latest update to the app is available for all word processing documents.
Numbers now features pivot tables that enable users to effectively rearrange, group, and summarize data to identify trends and patterns. Users can conceptualize their pivot tables with charts, share pivot data without compromising source data, and export or import pivot tables from and to Microsoft Excel.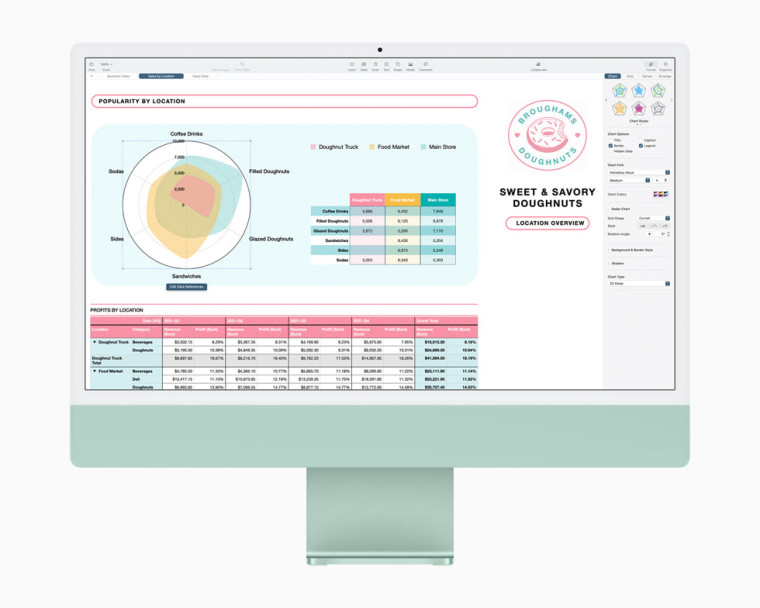 With the latest update, Numbers also brings radar charts for its users so that they can "visually compare multiple variables with similarities shown as overlapping areas, allowing differences and outliers to really stand out". The latest filter option allows users to search for unique values and duplicate entries in their data, or hide or display rows that match a particular value.
Numbers, Pages, and Keynotes also come with support for the latest translation features in macOS Monterey, iPadOS 15, and iOS 15. The updates to the iWork suite of productivity apps are available to download on the Mac App Store and App Store.