Exactly one year ago today, Apple unveiled its iPhone 6 and iPhone 6s, its first large-screen smartphones, which ditched the tiny 4-inch display of the iPhone 5s, replacing it with 4.7- and 5.5-inch offerings. To the surprise of no-one, both handsets have been a huge hit - but the time has now come for Apple to replace them.
Today, it announced the iPhone 6s and 6s Plus - and as you've probably noticed, they look rather a lot like their predecessors. But under the hood, it's quite a different story. "While they may look the same, we've worked hard to change everything," Apple's CEO Tim Cook said today.
Indeed, that's the theme for the new devices: "The only thing that's changed is everything."
The new iPhones are made of a custom, specialized aluminum, along with what Apple says is the toughest glass available on any smartphone. The handsets are each available in Silver, Gold, Space Grey and the new Rose Gold (pink) color options.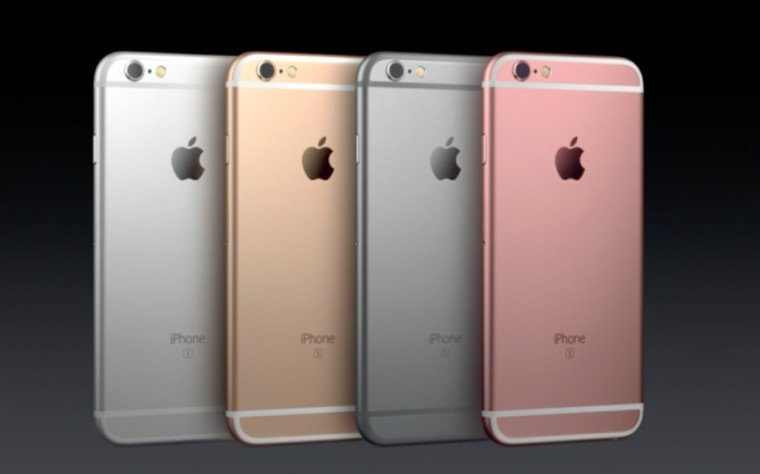 As expected, the 6s and 6s Plus feature a new type of display with pressure-sensitivity, using 'Force Touch' technology that Apple introduced on its 12-inch MacBook earlier this year. Now known as '3D Touch', Apple calls this "the new generation of multitouch", with new interface paradigms that work inside applications and across the broader UI of iOS 9.
Depending on how hard you press, different UI functions will be presented when you push and hold or tap the screen. "It provides distinct tactile feedback for your actions, letting you know exactly what you've done, and what to expect," the company said today.
For example, a long press on an icon on the home screen brings up a list of relevant shortcuts to let you complete quick tasks, with deep integration allowing users to jump quickly to specific features in third-party apps. Developers can exploit 3D Touch to 'transform' interactions within their apps with the new gestures and pressure inputs.
It remains to be seen how intuitive these new UI features will be for users to discover - but Apple seems to think this is going to revolutionize interactions for users. "This is unlike any experience you've ever seen in a smartphone," said Apple's Phil Schiller.
The new iPhones have a completely new iSight camera, with a 12-megapixel sensor and, for the first time, the ability to record video at 4K resolution. The larger sensor allows users to take massive panoramic images too.
There's also a 5MP front-facing camera, and Apple has baked in some software trickery to use the handset's display as a gigantic front-facing 'flash' for selfies.
And there's another interesting new camera-related feature too - one that users of Lumia Windows Phones will be familiar with. When you take a photo with one of the new iPhones, it will capture a short clip of video at the same time - and when you push and hold on the 3D Touch display, the photo that you're viewing will 'come alive' with a brief burst of motion. Did someone say 'Nokia Living Images'?
Of course, the new iPhones also feature greatly improved performance, thanks to Apple's A9 processor. It's 70% faster at CPU tasks compared with the last-gen chip, and 90% faster at graphics processing, and has an M9 motion coprocessor fully embedded and always-on.
An upgraded second-gen Touch ID sensor also brings improved performance, as well as Wi-Fi that's "up to twice as fast" (up to 866Mbps) according to Apple, along with support for 23 4G LTE bands.
It's not all hardware, of course - the launch of the new iPhones also marks the official debut of iOS 9, featuring enhanced multitasking, and other additions and changes which should make the new version of the OS the best so far.
Siri gets a significant upgrade too with deeper 'intelligence', while a new 'Hey Siri' feature mirrors the hands-free voice activation that's been available on Cortana and Google Now for some time, allowing users to simply call out to their device to begin a voice search or command.
New charging docks that match the colors of the handsets will be available, along with various other new accessories.
But here's the answer to the all-important question: how much?
Unfortunately, Apple hasn't bumped up its entry-level offering to 32GB of storage, so the cheapest of the new models must still make do with 16GB. The new range is priced the same as the last generation (on a two-year contract):
iPhone 6s

16GB - $199
64GB - $299
128GB - $399

iPhone 6s Plus

16GB - $299
64GB - $399
128GB - $499
Apple is also introducing a new iPhone upgrade program, starting in the US, which will allow users to upgrade their iPhones every year. Prices will start at $32 a month, when you purchase the device from Apple directly - the price includes Apple Care+, and you'll get an unlocked phone too.
The new iPhones will be available to pre-order on September 12 in Australia, Canada, China, France, Germany, Hong Kong, Japan, New Zealand, Puerto Rico, Singapore, United Kingdom and the United States, with shipments beginning on September 25. They'll eventually make their way to 130 countries, with support from 400 carriers.