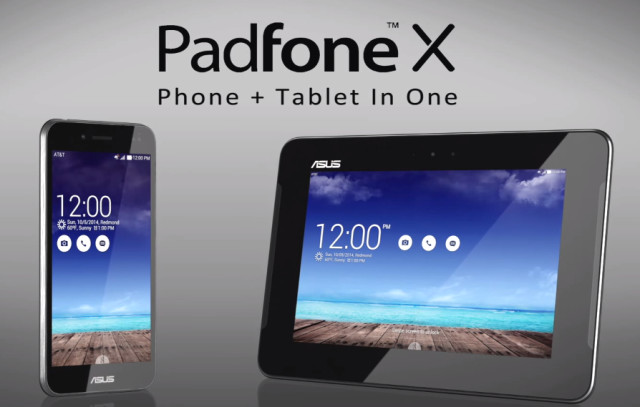 During CES 2014, AT&T and ASUS announced the PadFone X. But, nearly six months have passed and we have yet to see this device on the market.  While details about the upcoming device have been scarce, AT&T finally debuted the PadFone X's specifications late last month.
The PadFone X will launch with:
PadFone: 143.93 x 72.46 x 9.98 mm (150g)
PadFone Station: 250.4 x 172.25 x 11.63 mm (514g)
PadFone: 5", 1920 x 1080 (441PPI)
PadFone Station: 9", 1920 X 1200 (252PPI)​
PadFone: 13MP Pixel Master + 2MP front-facing
PadFone Station: 1MP front-facing
2.3Ghz quad-core
16GB (2GB RAM)
microSD™ slot in smartphone extends external memory up to 64GB
WiFi (802.11 a/b/g/n/ac)
BT 4.0
GPS/aGPS​​
PadFone: 2,300mAh​​
PadFone Station: 4,990mAh
This month, AT&T is showing off some of the devices features by highlighting the devices DynamicDisplay and 13MP PixelMaster camera. The DynamicDisplay will allow a seamless transition from smartphone to tablet. The 13MP PixelMaster camera is enhanced for low light sensitivity and will also be able to take up to 35 pictures in burst mode.
While the design and concept are interesting, one has to wonder whether this device will be relevant due to the increased popularity of phablet devices. While other companies have abandoned this approach, ASUS has been persistent in sticking to its formula of creating two separate devices that can merge into one.
The PadFone X will be a newly re-designed, tablet + phone device and will be the ASUS's third iteration in the PadFone series. Currently, the PadFone X is still without a release date. 
Source: AT&T | Image via ASUS