Earlier this week, BlackBerry Messenger finally appeared on the Windows Phone Store, almost five months after Nokia announced the news that BBM would launch on its Lumia devices, back at the Mobile World Congress in February. However, despite its appearance in the Store, it was out of reach to most users, as it remained in a closed beta.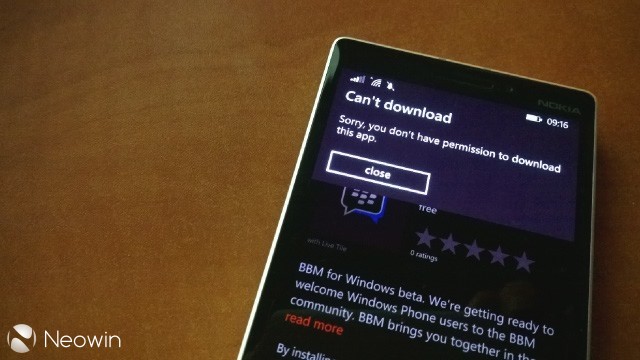 BlackBerry has now opened up beta registration to anyone who wishes to take the app for a spin on Windows Phone. This isn't the same as general availability, though, since the app is still in beta, and the company still requires that you sign up and register your Microsoft Account with them before you can even think of downloading it. 
Even once you've signed up and registered your account, though, you still won't be able to get hold of the app just yet - BlackBerry says that it is "still preparing" for that, and that it is only accepting applications for now. But what can you expect once the downloads go live? 
BlackBerry says that it has created a "familiar, native user experience that embraces the clean, modern design of the Windows Phone UI", with three key areas: feeds, contacts and chats. The company says that many, but not all, features of the app will be included in the first release, with other additions - like stickers, location sharing, BBM Voice and BBM Channels - coming "in the months ahead."
If you want to sign up for the BBM Beta, head to BlackBerry BetaZone to register. 
Source: Inside BlackBerry via WinBeta | screenshot via BlackBerry