On Wednesday of this week, Microsoft will kick off its Build conference with a keynote featuring the top execs from the company. With Windows 10 on the horizon, HoloLens making waves and a cloud platform that is growing by leaps and bounds, the conference is going to be packed with content.
Seeing that the event sold out quickly, this is an indicator that developers are once again excited about what Microsoft has to offer. With Windows 8 fading from the limelight, it's Windows 10's time to shine (on all platforms) and Build is the event where developers learn what is new and how to work with the new features.
Windows 10
There is still a lot unknown about the OS including when it will ship. The company has broadly said 'this summer' but that is a large timeframe. We are optimistic Microsoft will give us a date for its release but don't hold your breath at this point.
Another question we hope the company will address is the cost of the OS. Microsoft has said that upgrades will be free for the first year but for the enterprise, new licenses and what happens after one year, it's all still a mystery.
We are also still waiting to see what is happening on the messaging front too. The company said that Skype will be baked into the OS and with new Messaging options (that include Text and MMS), there are clearly some new features the company has been holding back from discussing.
Many are hoping that next week will also see the release of a new build of Windows 10. Considering that a build went out last week - and at the January 21st event, it was a few days after the keynote that a BUILD was released - we may not see one drop during the event.
The builds for phone do raise a few more questions here as Microsoft has said that the Universal Office apps will arrive by the end of April but it is believed that you need a newer version of the OS to download the apps. So, it seems plausible a new phone build could be released this week to deliver the Office apps.
When it comes to the Xbox, Microsoft has been quiet about when that update will be pushed out. We'd like to hear when this will arrive too but seeing as the company has been tight-lipped about its release, expectations are low to hear anymore about this release.
HoloLens
In January when Microsoft showed off HoloLens, it was a crowd pleaser which left many asking for more. While we got to demo the new tech, and the company has put out a few videos, they have remained silent since the January event. At Build this year, expect the company to talk more about HoloLens, including new demos.
The company has said that the device will arrive sometime this year but it's probably still a bit early to be hearing about release dates and - more importantly - pricing.
Visual Studio
Over the weekend, Microsoft posted up a new page about Visual Studio 2015 hitting the 'Release Candidate' stage which means that platform is nearly ready to graduate from preview to full release. Knowing this, the company could very well announce the shipping date of this product.
Azure
Microsoft's cloud platform is growing leaps and bounds every quarter. In fact, the commercial cloud run-rate is now a $6.3 billion dollar business for the company and has doubled for seven quarters in a row. Seeing as Build is an audience full of developers (and also decision makers), the company will talk up their latest wins in this area as well as talk about the path forward to stay competitive in this market.
More so, they will talk about how they are expanding the features and use-cases for the platform as well showing how it will work with many major new products (such as Docker) too.
Surface
Microsoft's latest addition to the Surface family will be released next week and in a room full of eager Windows developers, this is a good time to pitch the tablet. The company will surely talk about the new device and how it fits into their lineup as well as the accessories that are available for the tablet.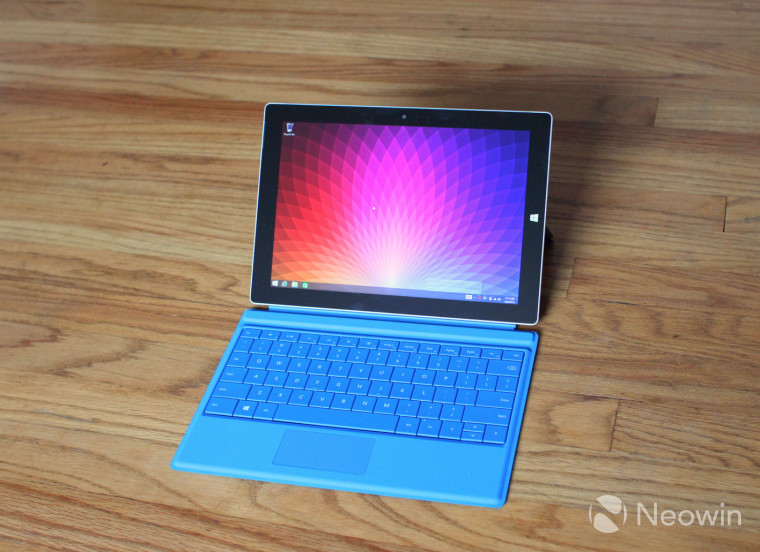 If you have missed any of our coverage of the Surface 3, you can find it here and our formal review here; Microsoft will have a few other talking points around the brand as well too.
DirectX 12
DirectX 12 is a big deal for not only PC gamers but on the Xbox One as well. Microsoft will be showcasing the leaps in performance improvements that this technology brings to the table which will likely appease the hardcore gamers that have been eagerly awaiting the arrival of this new tech.
Hardware
Don't be surprised to see Microsoft showcasing a few bits of hardware at the event that will run Windows 10. OEMs are gearing up for the launch of the new OS and to make sure they have flashy new hardware on store shelves, companies are already gearing up for mass production.
----
Microsoft's keynote is going to be packed with information about the company's current status and future plans for software and hardware. We will be attending the event which kicks off on Wednesday and it will be live streamed as well.