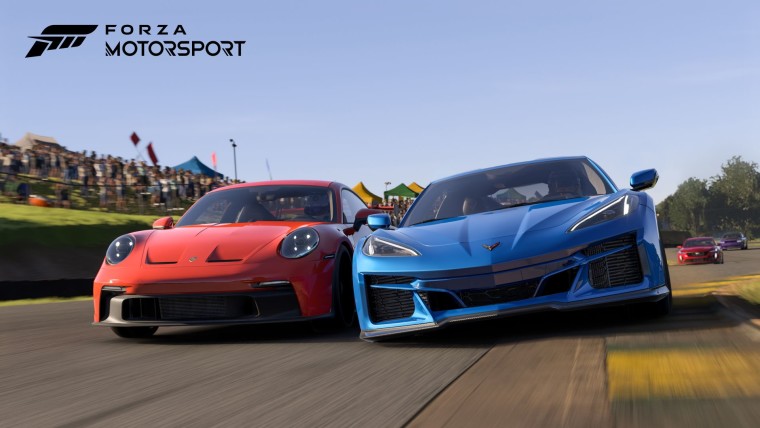 While Starfield is taking up all the hype nowadays, Microsoft isn't forgetting about the next Xbox exclusive that will hit the market following the massive RPG. With its release in October coming in fast, Forza Motorsport today received an update regarding its PC system requirements. Plus, Steam players can now pre-order the title.
The Forza Motorsport reboot will offer PC players up to and above 4K resolutions, ultrawide monitor support, and pre-compilation and pre-caching (the familiar 'Optimizing for Your PC' screen) to remove any in-game stutters. Microsoft DirectStorage tech was also confirmed, which is being implemented to offer "CPU improvements when loading files to memory." This will help with loading tracks in faster, according to the studio.
NVIDIA DLSS 2 and AMD FSR 2.2 upscaling technologies have also been confirmed for the racing sim, which can be especially useful for keeping frame rates steady when using real-time ray tracing. Developer Turn 10 Studios added that while frame rates will be unlocked in single-player, in multiplayer it will be locked (possibly to 60) to make the experience fair to all hardware configurations and platforms.
The minimum, recommended, and ideal PC specifications for Forza Motorsport can be seen in the image below. It's unclear what are the frame rate targets for these requirements though:
Racing peripheral users also received an update today, and it's good news. The studio revealed that support for DirectInput API on PC will be there at launch, letting players jump in with other hardware than the natively supported Logitech, Thrustmaster and Fanatec wheels. Head here to see the full list of natively supported devices.
Celebrating Gamescom's kick off, Turn 10 also announced today that the iconic Nürburgring GP circuit will be available in Forza Motorsport in its launch tracks list, with Nordschleife slated to arrive later in spring 2024. The full list of cars, totaling to over 500, currently revealed for the sim title can be seen here, while the track list is here.
Steam pre-orders for Forza Motorsport are now available for $69.99 $89.99, and $99.99 for Standard, Deluxe, and Premium editions, respectively. Keep in mind however that only the Microsoft Store version offers Xbox Play Anywhere support, which gives both Xbox Series X|S and PC versions of the title with one purchase.
Forza Motorsport is coming out on October 10 across PC, Xbox Series X|S, and Game Pass, with crossplay available across all platforms. Those who pre-purchase the Premium Edition will be able to jump in five days early.
When you purchase through links on our site, we may earn an affiliate commission.