It may have felt like a decade, but we're nearing the end of 2020, and that means it's a good time to look back at some of the better experiences we had this year. Specifically, I'd like to take a look at some of the Nintendo Switch games that released in 2020 and that I think are worth buying.
Nintendo had a relatively slow year in 2020, which has worked out pretty well for the company thanks to the success of Animal Crossing: New Horizons. However, while we didn't see any games with the level of impact of Super Mario Odyssey or The Legend of Zelda: Breath of the Wild, there were still a few noteworthy titles out on Nintendo's hybrid this year, and you may have overlooked some of them. The games are listed below in order of release date.
BioShock: The Collection
There's not a lot to say about this one since the game has already been available on other platforms, but BioShock: The Collection is a fantastic experience on the Switch. Containing all three games in the series, all of them with the DLC content each game received post-launch, this collection has a lot to offer, and being able to play anywhere you are is still a great benefit.
BioShock Infinite is arguably the best in the collection, and it's also the most modern, leaving out some gameplay elements that weren't as great in the first two games. Either way, all three of the games features narrative-driven adventures that are highly engrossing and the gameplay loop is also pretty fun and inventive, with an arsenal of weapons and abilities that's constantly growing throughout each adventure.
If, by chance, you haven't played these games yet, you can buy BioShock: The Collection from Target with a hefty discount making it just $19.99 instead of its $49.99 launch price.
Clubhouse Games: 51 Worldwide Classics (NA)/51 Worldwide Games (EU)
This one needs to be prefaced because I've actually only ever played this game once; however, it's the only game I played that day. This collection contains a ton of board games and other games that are easy to pick up and play at a party. Because of 2020 being what it is, I've only had the chance to play it once at a party, but it was the only game we played all day. Even with just two controllers, taking turns to play in tournament-style competitions was great fun, and it's easy to recommend.
If you have a small gathering at your place for the holidays, this collection is a safe bet if you want to have fun as a group. Or, if you know multiple people with a Switch and you can't be with them, you can play some of the games online during a Zoom party or something and still have some fun. Either way, this is a great title to get in time for the holidays.
You can find the full list of games in this package on its eShop listing, where you can also buy it. It's also on Amazon, but the physical version is currently out of stock.
Pokémon Sword and Shield Expansion Pass
This one isn't a game per se, especially because Pokémon Sword and Shield actually released last year. But throughout 2020, Game Freak delivered two expansions, Isle of Armor and The Crown Tundra, which add quite a bit to the game and make it that much better. We already considered the base game pretty great, but these expansions take even more steps towards improving the series. Both regions in the expansions behave similarly to the Wild Area with its large open area and full camera control, but while the Wild Area sacrificed beauty and visual variety for its openness, these have more variety to their sceneries and are more beautiful areas to walk around in.
The Isle of Armor expansion was released in the summer, and fitting that time of the year, it has more of a summer theme, with huge coastal areas and forests. The plot elements in this expansion are fairly small, but there are still some things to do, and some creatures are brought back in this region. It's also easily the most beautiful of the open areas across the base game and expansions.
Meanwhile, The Crown Tundra was released in October and it features a region heavily covered in snow. There's slightly less variety to the environments, but the openness is retained, and that shortcoming is made up for with a lot more content than what's found in the Isle of Armor. More Legendary Pokémon are added in this expansion, including the return of most of the existing ones from previous games. The best thing it does, though, is the addition of Dynamax Adventures, series of four Max Raid battles where participants use rental Pokémon to make it all the way through a cave, with a Legendary Pokémon waiting at the end. The use of rental Pokémon forces players to be a lot more careful with their choices and to cooperate more, meaning they're a lot more challenging and engaging than the usual Max Raid battles.
If you already own the base game, the Expansion Pass containing both expansions can be found at Amazon for $29.88 as a digital code. If you haven't yet, you can buy either Pokémon Sword or Pokémon Shield with the Expansion Pass bundled in for $89.99.
Super Mario 3D All-Stars
Of course, a list of the most iconic Nintendo games of the year has to include something from the Mario franchise. But in all honesty, Super Mario 3D All-Stars is an absolutely fantastic package, containing the first mainline 3D games in the series: Super Mario 64 from 1996, Super Mario Sunshine from 2002, and Super Mario Galaxy from 2007.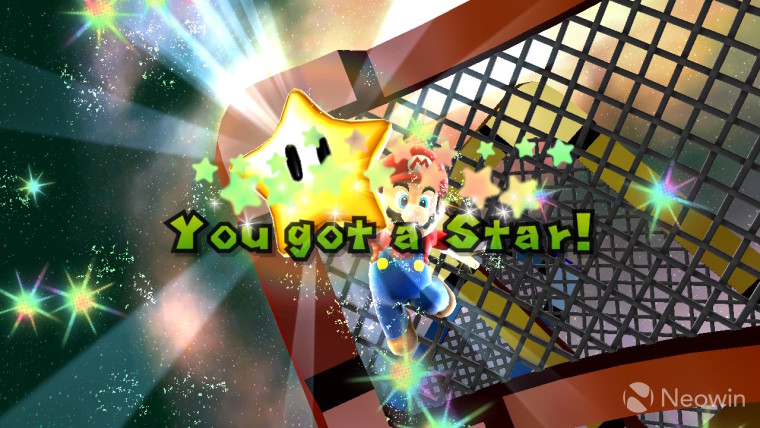 Super Mario 64 was the game of my childhood, and I knew it inside and out. I completed every single mission in the game in a single weekend, and it was fantastic. The controls have arguably aged a bit, but if you remember the original, everything will click into place quickly. Super Mario Sunshine was a completely new experience for me, and it was much better than I expected, particularly the art design. This game has such a beautiful, vibrant feel to it and it translates beautifully into the higher resolution in this port. This is definitely the buggiest game in the package, though, and it definitely deserved better treatment in the conversion to HD. Finally, Super Mario Galaxy is the best-looking and most epic-feeling game of the three, though I didn't feel quite as engrossed by it, maybe because I played all three games back-to-back.
These are three absolutely stellar games, and Nintendo upscaled the games and improved some of the textures to make the games feel a bit more at home on the Switch. Admittedly, the company could have done a lot more. Super Mario 64 maintained its 4:3 aspect ratio and doesn't upscale to 1080p, and there are definitely arguments to be made about how other similar collections massively improved the original games. Still, all three of these are fantastic games, and having them in a single package is just awesome.
The game is getting a limited release, so it won't be available after March 31, 2021. If you want to experience the history of 3D Mario, you can find Super Mario 3D All-Stars on Amazon, though the physical version will only be in stock on December 26.
Super Mario Bros. 35
Yes, there's another Mario game on this list, but at least this one is free if you have a Nintendo Switch Online subscription. Super Mario Bros. 35 takes what's arguably the most iconic videogame of all time and turns it into a battle royale-style game with 35 players at the same time.
Instead of running to the flagpole at the end of the level as fast as possible, Super Mario Bros 35. challenges players to keep the countdown timer going as long as possible, and it rewards you for defeating more enemies and collecting power-ups, which grant you time extensions. It beautifully translates the formula of Tetris 99 to the original Super Mario Bros. 35 and it can be incredibly fun and addictive.
Just like Super Mario 3D All-Stars, this game is only available through March 31, 2021, and you can download it for free on the Nintendo eShop if you have a Nintendo Switch Online membership.
Hyrule Warriors: Age of Calamity
Nintendo's partnership with Koei Tecmo on Hyrule Warriors: Age of Calamity is the prime example of something I think Nintendo should do more. It's a game set in the same world as The Legend of Zelda: Breath of the Wild, and Nintendo knows that its fans care deeply about that world and its characters. While the company is working on a sequel to that game, Age of Calamity serves more as a prequel to it, telling the story of the Calamity 100 years prior to the events of Breath of the Wild. This game only took a week to become the best-selling title in the Warriors series of all time, so there's no doubt as to what people find appealing in this game - the world, the characters, and the story.
Age of Calamity shares almost nothing with Breath of the Wild in terms of gameplay, being a fast-paced hack-and-slash where the player mows down hordes of enemies, in addition to some much tougher boss fights in-between. But almost every asset Nintendo used in the original Breath of the Wild was loaned to the developers of this game, and every character and everything about this world fit perfectly into the world of that game. That's not to say the game doesn't have its own identity, though, because it puts some twists on what you might expect from a prequel, giving it legs to stand on. While the gameplay style can be a bit repetitive, the setting in this game makes it absolutely worth it if you loved Breath of the Wild.
You can buy Hyrule Warriors: Age of Calamity on Amazon for $59.99, though the physical version is slated to arrive after Christmas.
---
Those are all the big retail games that released this year and that we think you should consider picking up if you already have a Switch. Of course, there were other big games this year, like Animal Crossing: New Horizons, or Paper Mario: The Origami King, but we had first-hand experience with the games on this list and we can recommend them.
Did you play any of these games or are you considering buying any of them? Is there a game you'd like to see us cover more extensively? Let us know in the comments!