After a seemingly endless stream of leaks, Google has officially unveiled its new flagship smartphones. The new devices were introduced with the slightly awkward "Pixel, Phone by Google" branding.
At its launch event today, the company said that "hardware isn't a new area for Google, but now we're taking steps to showcase the very best of Google across a family of devices, designed and built by us."
Google introduced the new handsets by highlighting five key areas.
1. "Pixel is the first phone with Google Assistant built in"
It looks like Google Now is indeed dead. The company showed its new digital Assistant - which it first revealed at its I/O developer conference in May - running on the new Pixel devices, offering similar functionality to Google Now, along with plenty more features and greatly improved interactions.
Assistant will also be available on Google's new Home device; Google is aiming to make the Assistant a single point of interaction for its users - both at home, and on the go - and it's hoping to learn everything about those users the more they interact with it.
2. "Terrific photography experience"
Google made a point of claiming that the camera on its Pixel phones is "the best smartphone camera ever". This includes advanced video stabilization that employs both software, through advanced algorithms; and hardware, by sampling data from the gyroscope 200 times a second.
As the company points out, the camera racks up a score of 89 on DxOMark, the highest ever achieved by a smartphone. Google also claims that the camera "has the shortest capture time on any mobile camera ever".
3. "How we use Google cloud to ensure you never run out of space on your devices"
Google is including free cloud storage of "unlimited photos and videos at full resolution", including the 4K video captured by the device's cameras.
4. "How we let people talk to each other much more easily, no matter what operating system or device they use"
The Pixel phones come with Google's Duo video calling app pre-installed, which includes support for Android and iOS. On top of that, well, they're phones, so you can use them as phones... and with all the other chat and communications apps available on Android.
5. "How Pixel is made for mobile virtual reality"
The new Pixel handsets are the first to offer support for Google's new Daydream VR platform, which it originally announced back in May at its I/O developer conference. This includes a new headset called Daydream View.
Both devices feature an "aluminum unibody and polished glass combination", but unlike some 'small and large' flagship pairings, the new Pixel handsets share near-identical specs. The only major difference between them is their screens and battery size. Their key specs include:
5-inch Full HD (1920x1080px) or 5.5-inch Quad HD (2560x1440px) AMOLED
Quad-core Qualcomm Snapdragon 821 SoC
4GB LPDDR4 RAM
32GB or 128GB storage options
12.3MP camera
Pixel Imprint fingerprint sensor
Bluetooth 4.2
3.5mm headphone jack
USB Type-C port
2770mAh (Pixel) or 3450mAh (Pixel XL) battery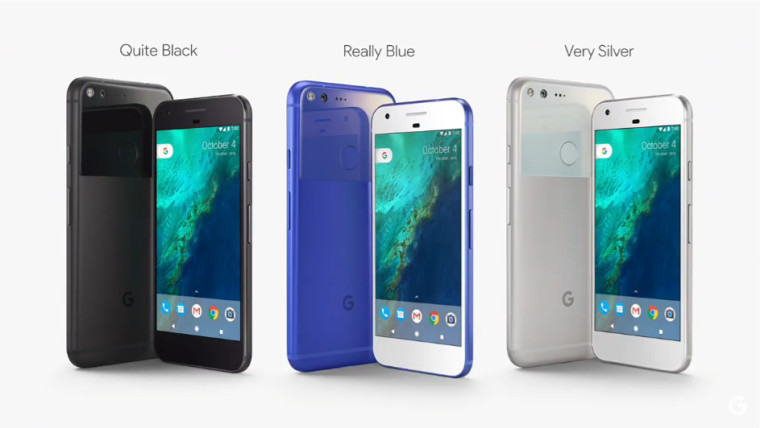 Three color options will be available: 'Quite Black', 'Very Silver' and 'Really Blue'. But here's the key question: how much do these things cost?
'Pixel, Phone by Google'
32GB storage: $649 USD
128GB storage: $749
'Pixel XL, Phone by Google'
32GB storage: $769
128GB storage: $869
Pricing varies in different markets, of course. In the UK, for example, the 32GB Pixel costs £599, rising to £819 for the 128GB Pixel XL.
Google is touting support from multiple carriers around the world, including Verizon in the United States, priced from $27 a month, along with sales of unlocked units via the Google Store.
Both handsets are available to pre-order today in the US, Canada, Australia, Germany and the UK. Pre-orders will begin in India on October 13.
Curiously, the company repeatedly referred to the devices as "made by Google", despite the fact that Google's hardware chief Rick Osterloh recently admitted that they're actually built by HTC. "Google has done the design work and a lot of engineering," he told Bloomberg, and "Google is now the seller of record of this phone". But made by Google? Nope.