Lenovo's ThinkPad P71 is truly a beast of a machine. The model that the company sent me is completely specced out with a 17.3-inch 4K display, 64GB DDR4 2400MHz RAM, Nvidia Quadro P5000 16GB GPU, 1TB SSD PCIe TLC OPAL2 storage, and an Intel Xeon E3-1535M v6 processor.
Indeed, it's powerful enough for just about any task. But being a workstation-class machine, it's also very large, bulky, and heavy.
After all, there are compromises to be made with any portable PC between portability, power, and productivity. The P71 definitely falls squarely on the side of power.
Specs
CPU
Intel Xeon E3-1535M v6 (4 Cores, 8MB Cache, up to 4.20GHz)
GPU
Nvidia Quadro P5000 16GB
Display
17.3-inch 4K (3840x2160) anti-glare IPS
Body
416x275.5x29.9-31.5mm / 16.4"x10.8"x1.17-1.2", 3.4kg / 7.6lbs
Storage
1TB PCIe SSD OPAL2.0
RAM
64GB DDR4 2400MHz
Ports

4 USB 3.0, 1 Always-on

HDMI 1.4

Mini DP 1.2

Intel Thunderbolt™ 3

RJ 45 Gigabit Ethernet

Docking connector

4-in-1 card reader (SD, SDHC, SDXC, MMC)

ExpressCard / 34 mm

Headphone/mic combo jack

OS
Windows 10 Pro

Note that the ThinkPad P71 starts at $1,511.10 on Lenovo's website, and that comes with an Intel Core i7-7700HQ processor, a 17.3-inch 1080p display, and 8GB DDR4 RAM. The model that I was sent is completely specced out, and has a base price of $5,599.
Design
Lenovo's ThinkPad line of devices is made for a broad range of professional use cases, all the way from the X1 Tablet to the P71, with high-end devices like the X1 Yoga and X1 Carbon in the middle for more general use cases. They all share a common design language, made of a black carbon material, and Mil-Spec durability.
The point is that while the wide range of ThinkPad devices are different, they're still the same in many ways. And while I've reviewed many ThinkPads (X1 Tablet, X1 Yoga, OLED X1 Yoga, Yoga 370, ThinkPad 25), this one is certainly the most different.
First of all, this thing is huge. Normally, I'll take laptops out with me to test them, since at home I'm tempted to use my desktop. The problem is, this machine doesn't even fit in my bag. I struggle to close it, and even if I come close, forget about the idea of fitting anything else in there. It's also heavy, at over 7.5 pounds, but that's the price of such a powerful machine.
But again, this is a workstation. Think of it more as something that you're not going to take with you everywhere, but maybe something that you'll take to travel when you know you'll need the power of your home PC.
Moving on, the ThinkPad P71 is loaded with ports. On the right side of the device, you'll find three USB 3.0 Type-A ports, along with Mini DisplayPort, a 3.5mm audio input/output jack, an ExpressCard slot, and a 4-in-1 card reader.
On the left side, there's another USB 3.0 Type-A port, which is always on, meaning that you can charge your phone off of it when the PC is off, as long as it's plugged into power. There's also a smart card slot, and right below that is a bay for an optical drive.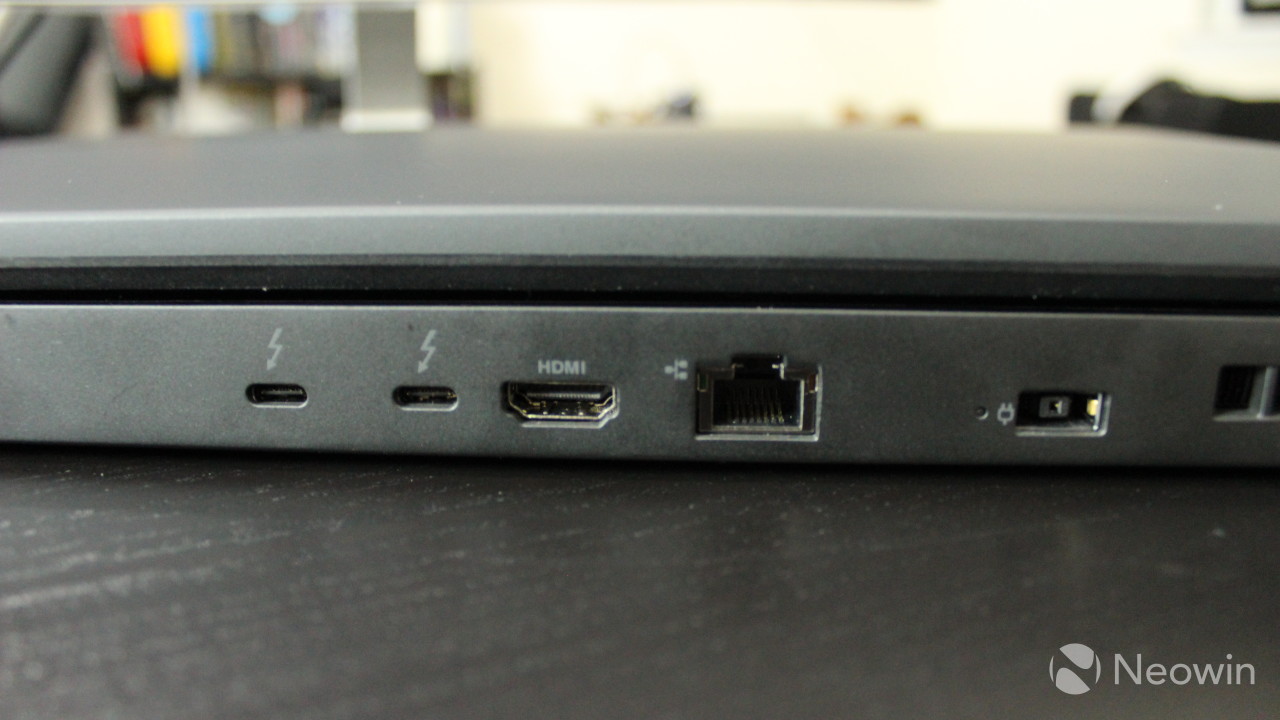 Oh, but we're not done. There are also a bunch of ports on the back of the device. On the rear, you'll find HDMI 1.4, two Thunderbolt 3 ports, Ethernet, and power. There are fan louvers on the left, right, rear, and bottom of the device, as this thing emits a lot of heat. Also on the bottom, you'll find a micro-SIM slot, removable battery, and a docking station connector.
And then there's the part that you'll be staring at for most of the time that you're using it. Above the display is a camera, along with a pair of microphones. Above the keyboard are the speakers, and to the right of the keyboard are the power button and fingerprint sensor. Below is an off-centered trackpad, along with a color sensor.
The display folds back to 180 degrees, allowing you to lie it down flush with the desk. I'm really not sure why Lenovo builds PCs this way, but this is common. I suppose it's just for the additional freedom that comes with that ability. There's really no downside.
Display
This model includes a 17.3-inch 4K display, although it's also available in 1080p. Personally, I see why FHD is there as a budget option, but I think that's way too low for such a large screen. 4K looks great, but it makes for terrible battery life, although I doubt that's the main thing chewing up power on this device.
As I mentioned above, there's a color sensor to the left of the trackpad. Occasionally, the P71 will ask you to calibrate the display, and it does this automatically. You'll have to close the laptop, and that sensor will test the accuracy of the display. I found this to be an interesting feature, as I don't see it a lot in PCs.
The display itself is a matte anti-glare screen, so it's not as beautiful as some devices. The colors look accurate though, and the resolution looks awesome. Unfortunately, it's non-touch, which tends to be a bummer for me. I'm not a huge touchscreen user, but when I reach out to touch the screen, I want it to work.
I think that the large, high-resolution, matte display fits right in with the type of users that the ThinkPad P71 is built for. It will work wonderfully for many different workloads, although if you're a consumer, you should probably be looking at something else.
Keyboard and trackpad
As with most devices, the trackpad is placed beneath the spacebar of the keyboard. It's off to the left a bit, being that this keyboard contains a number keypad. It's nice to have a full-size keyboard with a number keypad, as there are few devices that are large enough to include it.
As anyone that has read my other ThinkPad reviews knows, I love the keyboards. They're just so pleasant to type on, with the right level of resistance, comfort, and accuracy.
You can certainly draw some parallels between a gaming PC and a workstation PC. They'll both be really powerful, big, heavy, and bulky. Obviously though, one is made for playing games and one is for work, and that's what I really enjoy about the P71. It's a powerful machine that I can comfortably work on.
Keyboards are very important to me, being that I type articles for a living. I'm writing this review on the ThinkPad P71, and I'm not looking back.
I'm not a fan of the trackpad though, mainly because the trackpad itself isn't a button that you can press like you can on other ThinkPads. Instead, your option is to just tap the trackpad itself, or use the buttons above or below it.
Battery life
The thing about battery life promises on Windows PCs is that they're never accurate. Those claims are always based on using only Edge as a browser, or only UWP apps, and so on. The thing is, with a workstation machine, chances are that you'll be doing some powerful tasks.
I recommend making sure that the ThinkPad P71 is plugged into power when you do those powerful tasks, because when editing video in Adobe Premiere Pro CC, I got about an hour and a half of battery life.
On the other hand, you can also get a good seven or eight hours of juice out of this machine if you use it for light tasks like web browsing. But just keep in mind that depending on how you use it, that's how much the battery life will vary.
Battery life is the sacrifice that you're going to make when you aim for power, and that's obvious here. Presumably, if you spend so much money on a machine that is so powerful, you have a reason for needing that kind of power.
The charging port is in the rear, and it uses Lenovo's proprietary rectangular adapter. It comes with a 230W AC adapter, and while battery life isn't great, it actually charges up pretty quickly. I was able to get it back to over 80% within an hour.
Windows Hello
For Windows Hello, the Lenovo ThinkPad P71 uses a fingerprint sensor. On a device like this, I'd certainly rather have seen an IR camera for facial recognition, as that tends to be more natural on a laptop. You just turn it on, it sees you, and it logs you in.
The thing is, it's not like the P71 is going for super-slim bezels and couldn't fit it, or if it wasn't included because Lenovo wanted to meet a certain price point. This is a workstation PC that costs over $5,000, so there's no reason for it not to be there.
But no, as with most ThinkPads, the P71 uses a fingerprint sensor. The thing is, the sensor actually doesn't seem to be very good. I find that it actually takes multiple tries to get it to log me in, and sometimes it doesn't work at all. It's on the right side of the keyboard, so I always use my right index finger, and I even tried adding that finger multiple times, which improved it slightly.
But ultimately, Windows Hello is one of the less important features of a PC. Once you're logged in, you're probably not using it anymore. What I mean is, the act of typing in a PIN is a minor inconvenience.
Performance
Now, let's get down to the meat of the review: performance. I've mentioned gaming a few times in this review, as those are the other types of powerful PCs. While the P71 isn't built for playing games, you certainly could if you want to.
Really, the Lenovo ThinkPad P71 has just breezed through every task that I've put it through. I did quite a bit of video editing on here, and it never even stuttered when scrubbing through scenes or compiling videos. And other tasks, while it was compiling videos, worked fine as well.
With a Xeon E3-1535M v6 processor (four cores, eight threads), an Nvidia Quadro P5000 16GB GPU, 64GB DDR4 2400MHz RAM, and a 1TB SSD, I'm really not sure what else you can ask for.
As usual, I used PCMark 8 for benchmarks, with the Home, Creative, and Work tests. A PC like this one is something that you might be using for all of those environments. First up is Home, testing average tasks like web browsing, video chat, and photo editing.
As you can see, the P71 does quite well in the Home test, outperforming 62% of other results and falling short of gaming rigs. Next up is Creative, which checks things like photo editing, video editing, and more.
The Creative results are similar to those in the Home test, which is still excellent given the workloads that you'd expect the P71 to do. Finally, the Work test checks up on productivity-related tasks like writing, spreadsheets, video chat, and more.
And as expected, the P71 also did quite well on the Work test.
Conclusion
Most of the portable PCs that I review are general purpose devices. You know the deal, they're ultrabooks that have U-series processors, integrated graphics, maybe a 360-degree hinge, and so on. The Lenovo ThinkPad P71 is not a general purpose PC.
This is a workstation, and it's quite good at it. I did a lot of video editing on it and it never struggled, and I have friends in the same industry that have been using the P71 as their main portable video editing rig. I also have some databases that are well in excess of 1GB in size (yes, I know that's not very large in the grand scheme of things), and it ran beautifully.
You're going to want to ask yourself how much you're going to carry this thing around though. If it's portability that you're looking for, you should certainly look elsewhere, because the P71 starts at 7.6 pounds.
I assume that if you're even looking into the Lenovo ThinkPad P71, then you're planning on using it to make money in some way. Presumably, your career involves doing some resource-intensive computing task like 3D rendering, video editing, database management, compiling software, data mining, and so on.
In other words, if you're the use case for a workstation PC, then you know that. If you don't know that you need this much power, then you probably do; however, if you're looking for this type of machine, I think that you'll love it, and it's absolutely worth buying.
Pros
Performance Performance again Display Keyboard Performance
Cons
Price Heavy Windows Hello