At the annual Surface event, Microsoft has announced the new Surface Duo 2 with new features and an improved experience. Like the original device, the Surface Duo 2 features two 5.8-inch, 1344 x 1892 OLED screens that are connected by a hinge, giving user an 8.3-inch display with 90Hz refresh rate. Microsoft has also added a slight curve at the edge giving users an option to quickly glance the missed notifications, time and more. Both the displays on the Surface Duo 2 are covered with Corning glass for better protection.
The device is powered by the Qualcomm Snapdragon 888 SoC which adds 5G support to the device. Apart from that, the device also features NFC. One of the biggest areas of improvement is the camera. While the first-generation Duo featured a single camera, the new Surface Duo 2 features a triple-camera setup that includes a 16MP f/2.2 ultrawide camera, a 12MP f/1.7 wide camera with OIS and a 12MP f/2.4 telephoto camera that also supports OIS.
Like other Surface devices, Surface Duo 2 will have support for Surface Slim S Pens. Microsoft has also added an option to stick the S Pen to the side of the device for easy storage when the pen is not in use. Microsoft has also made other optimizations including better dual screen app support and more. These changes are aimed at improving the productivity, which is still Microsoft's main focus.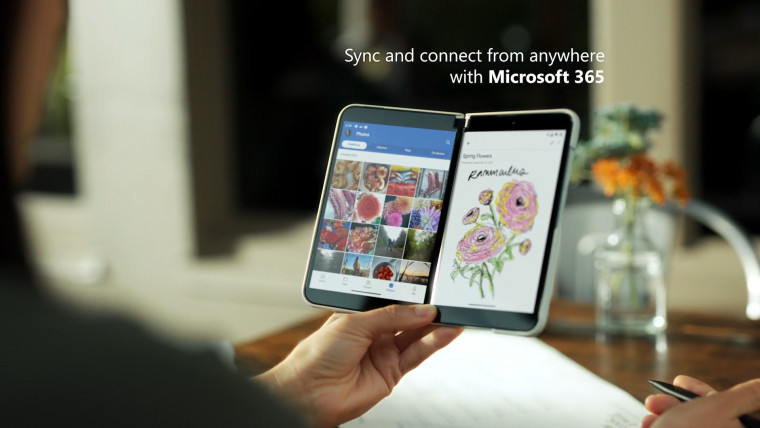 However, the Redmond giant also talked about the gaming performance on the Duo 2. Microsoft claims that there are over 150 games that are optimized for the Surface Duo 2 including Asphalt Legends 9, Modern Combat 5, and Dungeon Hunter 5. The Surface Duo 2 will be shipping with Android 11 out-of-the-box.
Microsoft has not disclosed the actual battery life, but the company claims that the Surface Duo 2 can last a day on a single charge. The Surface Duo 2 is priced at $1499.99 and is available for pre-order selected markets starting today.