Today, Microsoft published its monthly roundup for what's new in Teams. And as usual, there's quite a bit that's new this month. It's broken up into categories, so let's dive in.
The first bucket is Chat & Collaboration. You can now have up to 10,000 users on an org-wide team, and as we learned earlier this week, Teams will queue messages sent while you're offline, automatically sending them when you're back online.
The third feature is called Approvals, and as you can see in the video above, these can include things like project proposals and client agreements. It's basically a central hub that lets you manage approvals for your business.
The next category is Meetings, and there are new meeting chat moderation settings. You can disable chats, or set it to only during the meeting. This is a feature that Zoom has had for a while, so it's no surprise. Another new feature is that you can add a shared calendar in a Teams channel.
In the Calling category, Microsoft noted that Cataleya, ULTATEL, Atos, and Patton have completed the SBC certification process, so they can work with Teams now.
There are also new devices to support all types of Teams services. These include the Logitech Rally Bar, the Creston Flex Mercury Mini, the Yealink A30, the AudioCodes RXV80, the EPOS Expand 80T, the Nureva HDL300, the Poly Sync 40, Video Conferencing Monitors by Dell, phones from Yealink MP 54 & Audiocodes C470HD, and Sidecars from Audiocodes and Yealink EXP50.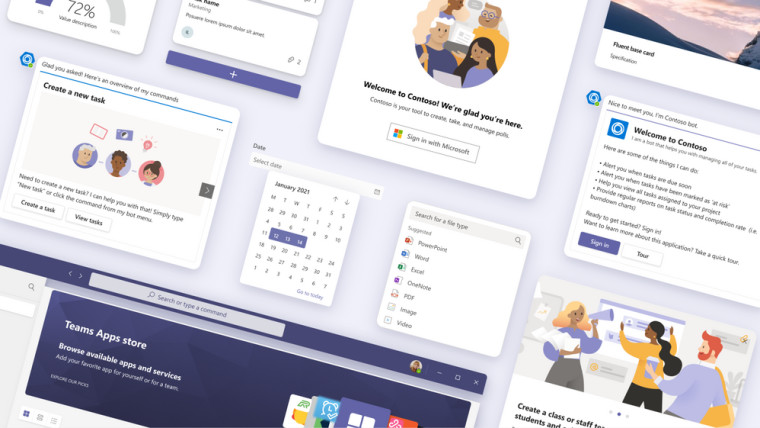 That's not all though, and there's actually quite a bit more. As we know, Microsoft is laser-focused on continuing to expand on Teams. In the Power Platform and Custom Development category, there's a new Teams UI Design Kit and UI Library. In the Security, Compliance, & Privacy department, the first security recommendation for Teams on Secure Score is now available.
For education, there's a new policy wizard, which lets you apply policies that are specific to education. For firstline workers, there's a new task publishing feature in the Tasks app in Teams, so management can create tasks and send them out to different workers. Also for firstline workers is @mentions for shift groups, meaning that you can tag by a work shift.
The final category is Government. These features already exist for regular users, but government users are just getting them. They include Together Mode, Multi-Window Chat, Multi-Window for Meetings and Calling experiences, meeting recordings saved to OneDrive and SharePoint, and more.