Last month, Microsoft unveiled the Lumia 730 and its 4G twin, the Lumia 735. These devices have come to be known as Microsoft's 'selfie phones' due to the company's focus on the performance of its front-facing cameras, which are believed to be superior in the handsets' price range. But alongside these devices, Microsoft launched a third handset, which it called the first 'affordable flagship'.
The company's suggested retail price for the Lumia 830 is €330 EUR (around $415 USD) off-contract, which puts it well above the price of another low-cost high-specs device, the OnePlus One, which costs just $299, and features much higher specs than the 830 does. Microsoft's 'first affordable flagship' claim seems to ring a little hollow in the face of devices such as this. But perhaps Microsoft meant the 'first affordable Windows Phone flagship', and that's an interesting claim.
The Lumia 830 has not the Full HD 1080p display that you would expect on any true flagship device, but rather a 5-inch IPS LCD with HD (1280x720px) resolution. On top of that, the 830 doesn't have one of the Snapdragon 800-class of chipsets on board, but rather a quad-core Snapdragon 400 – the same chip that runs on the much cheaper Lumia 630, two classes below it. And it's only got 1GB of RAM, when most flagships have 2GB or more. So calling this device a 'flagship' in any sense appears to be something of a misnomer.
But it would be unfair to judge all of our impressions of the Lumia 830 against one slightly clumsy Microsoft marketing slogan. After all, there may well be Android phones out there with better specs, even at this price or less, but this is a Windows Phone, and it's Microsoft's latest entry into the upper mid-range of devices.
The Lumia 820 that came before it was a likeable device, scoring reasonably well in our review, but it ultimately lost a lot of style points, thanks to its forgettable design that was truly unremarkable in just about every way. With the Lumia 830, Microsoft has aimed to deliver something quite different to its predecessor – high on style, and with all the power that many buyers will ever realistically need in a smartphone, at an affordable and appealing price.
To help us find out if it succeeded, Microsoft UK kindly provided us with a device for review, which we've been testing for a while alongside the Lumia 735. The Lumia 830 has already gone on sale in some parts of the world – in the UK, for example, you can now get the device with no upfront cost on a 24-month contract from around £24.99 a month.
We'll be reserving our full judgment on the Lumia 830 until we've fully flexed its muscles, but ahead of our full review, we thought it would be helpful to take a closer look at the handset and what it offers, along with a few early impressions on the device in usage so far.
Let's start off by reminding ourselves of the some of the Lumia 830's key specs:
5-inch ClearBlack IPS LCD with HD (1280x720px) resolution and Corning Gorilla Glass 3
Quad-core 1.2GHz Qualcomm Snapdragon 400
1GB RAM
16GB onboard storage (plus microSD support up to 128GB)
10MP PureView rear camera with ZEISS optics, backside illuminated sensor and optical image stabilization
0.9MP front-facing wide-angle camera
Integrated Qi wireless charging
Removable 2200mAh battery
139.4 x 70.7 x 8.5mm, 150g
Optional CP-627 Wireless Charging Flip Shell cover available
Alongside the Lumia 730/735, the Lumia 830 is one of the first handsets to be released with the very latest OS version, Windows Phone 8.1 Update 1, pre-installed along with the newest firmware, Lumia Denim.
As with the Lumia 73x, you won't get much in the box with your 830 – apart from the handset itself, you'll a quick-start guide and a charger (with detachable USB cable), but you'll have to get a headset elsewhere, as this doesn't come with the device. Let's face it, though - most users will have a headset lying around from an older device, and those that don't can buy one easily at little cost, so this really isn't an issue.
In examining the smartphone up close, we can already see that there is good news worth celebrating. Unlike on the Lumia 735, the Lumia 830 does have a dedicated camera button. If you've read our Lumia 630 review, you'll know what a dreadful pain it can be to rely on screen-only controls to launch and use the camera, so the sight of a dedicated hardware button for the camera is a great relief.
Also present are the familiar power and volume buttons along the right edge of the handset, and the 3.5mm audio jack at the top, unexpectedly joined by the microUSB port (which is usually found at the bottom of most Windows Phones).
Many users will no doubt be pleased to note that the Lumia 830 has physical Back, Start and Search buttons, rather than the on-screen 'soft buttons' that have become a common sight on more affordable Windows Phone handsets, including those from Microsoft.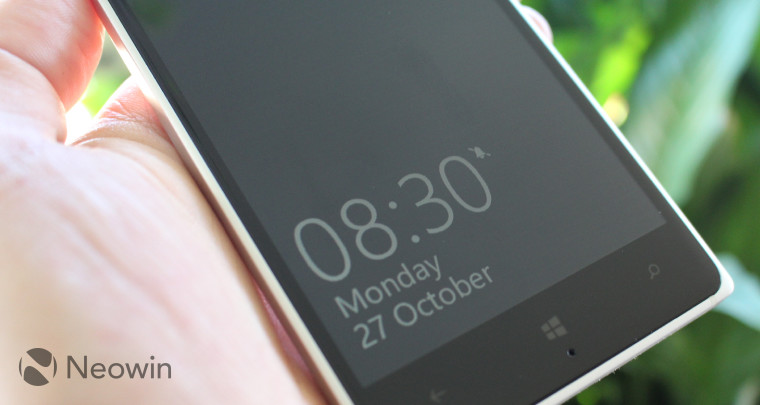 Another pleasing sight for Windows Phone fans on the Lumia 830 will be the return of Glance Screen, a feature which was disappointingly dropped from the more expensive Lumia 930. Unfortunately, the 5-inch OLED that Nokia selected for the 930 lacked the display memory needed to enable Glance, so Microsoft now has the slightly odd situation of a distinctive feature missing from its flagship, but being present in the cheaper Lumia 830 that sits below it in the range.
Glance is a nice feature, and it's one that I had missed from my Lumia 920 and Lumia 925. While I had been managing to get by without it on the 930, its return was certainly welcomed when I began testing the Lumia 830.
At the rear of the device, the body is covered in a matte polycarbonate plate – on this device, it's knock-your-socks-off orange, but green, white and black versions are also available. The fit and feel of the polycarbonate is similar to the rear on the Lumia 925, but on the 830, this shell can actually be taken off – and not merely to change the cover for a different colour, but also to access the removable battery, and SIM and microSD trays.
The big feature on the rear of the Lumia 830 isn't the polycarbonate plate, but rather the massive cut-out in the plate itself, to accommodate the camera module. The device features a high-end camera from its PureView line, with 10-megapixel resolution, ZEISS optics, backside-illuminated sensor and optical image stabilization.
Like the Lumia 1020, with its iconic giant black camera 'hump', the 830 is making a bold statement about the capabilities of its camera – indeed, the device's imaging capabilities are a major feature for Microsoft in promoting the 830 as a truly high-end device being sold at mid-range prices.
The Lumia 830 is an unusual fusion of design elements from multiple devices: as mentioned earlier, it borrows from the Lumia 925 in its rear shell design; the black camera cut-out is pure 1020; but from head-on and even from the sides, the 830 looks a lot like the 930.
It's actually even slimmer than the 9.8mm-thick Lumia 930, boasting an 8.5mm profile, and a good deal lighter than the 930's 167g weight at 150g, although the slight camera extrusion does make the device a little more chunky at its camera end. This is still impressive considering that the 830 comes with integrated Qi wireless charging, with the pads built into the underside of the handset's rear polycarbonate plate.
It's truly a delight to hold, and it feels super-expensive. The metal frame all around the edge of the Lumia 830 feels premium in every way, and the matte plastic shell on the rear feels like it comes from a device several classes above. The Lumia 830 looks absolutely stunning, even more so in the flesh than in pictures, and it's exactly the kind of beautiful hardware that Windows Phone deserves.
The Lumia 830 is perhaps just a tad too big to comfortably use one-handed all of the time, as its 5-inch display will over-stretch the fingers a bit too much for all but those with large hands. If this is likely to be a concern, try the 4.7-inch Lumia 735 – it's surprising what a different a slightly smaller screen can make.
This hasn't really been a big problem for me, and I've reverted to two-handed operation on those occasions when I've needed to, quite happily.
It's kind of a shame that Microsoft didn't bump up the display to 1080p, especially in light of the 'flagship' pretentions that the company imbued upon it, although it's understandable that it wanted to maintain some distance between the 830 and the more expensive 930. Of course, it's one thing to have a 720p display on the cheaper Lumia 735, but when you're paying around $400 for a device that's calling itself a flagship, it's not unreasonable to expect a Full HD screen rather than a 720p one.
The Lumia 830's screen is pretty decent, but it hasn't truly wowed me while I've been testing it out. Even so, it's impressive enough that most users probably won't spend much time feeling frustrated over not getting a 1080p display instead.
Despite being a step up in Microsoft's range from the Lumia 735, the Lumia 830 shares the same chipset and RAM as its more affordable sibling, even though it costs a good deal more and, again, in the face of its claims that this represents a flagship offering. The quad-core 1.2GHz Snapdragon 400 and 1GB RAM is just as snappy on the Lumia 830 as it is on the 735, with apps loading smoothly and quickly, and navigating through the OS being about as brisk and flawless as you would expect.
The Snapdragon 400 and 1GB RAM haven't really got that much more to do on this device compared with the 735, of course. Speaking purely on the issue of basic performance, the 830 doesn't appear to offer much more on paper than the more affordable 735.
It doesn't seem to offer that much more in practice than the 735 either; in usage, the Lumia 830 is smooth and quick and absolutely pain-free – but purely when it comes to performance, it doesn't feel like a step up from the Lumia 735.
For a lot of people, that really won't matter – the slightly larger display, gorgeous styling, and sleek, lightweight body will be enough to convince many that the Lumia 830 is the handset for them. Others, though, may feel a bit short-changed that a more expensive device – which Microsoft is talking up as being practically a range-topper – is no more powerful than its lower mid-range sibling. Not everyone will share that view, but some will, and it's only fair to highlight this information for those that consider it important.
For most users, though, what matters most is not how the device stacks up on paper, but how it performs in the real world. In this respect, the Lumia 830 seems to be a success in many regards.
But what about the Lumia 830's camera? After all, the 10-megapixel shooter is a big selling point of the device. Well, we'll save our full analysis of what the camera has to offer until we publish our full review, but we will say for now that the results have been a bit of a mixed bag so far.
The Lumia 830 was provided to us at a Microsoft UK launch event a few weeks ago, which was held at the Destination Star Trek convention, being held in London's Docklands. The images you see below are just a taster of the camera's capabilities for now, and were taken with the Lumia 830 at that event (see if you can spot Tom Warren from The Verge!).
Don't worry – this time around, I'll spare you the duckface selfies.
We'll continue to test the Lumia 830 (and the 735) while we continue to prepare our full review of both handsets. In the meantime, if you have any questions about either device, drop me a line on Twitter @gcaweir while I'm testing them, and I'll do my best to answer!