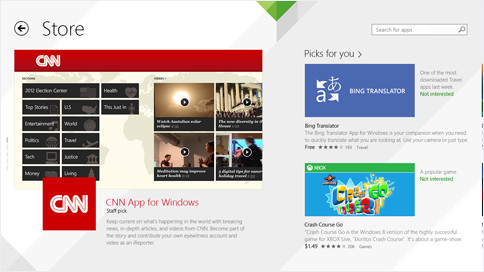 Windows 8.1 officially launches on October 18th and with that launch comes a redesign of the Windows Store, which the company says will offer a better way for people to find and download Windows 8.1 apps. Today, Microsoft announced a new commitment to app developers to make sure their creations show up in the Windows Store quickly.
In a post on the Fire Hose blog, Microsoft stated, "Beginning Oct. 18, the Windows Store team has committed to no more than five days for initial certification, with many apps passing within a day or two, for apps developers submit for Windows 8.1." The blog adds that while the Windows Store will continue to host apps made for the older Windows 8, it encourages developers to update their products so they will work best on Windows 8.1, including putting in support for automatic app updates.
The blog briefly makes official mention of the fact that Microsoft will sell gift cards for the Windows Store later this fall, which is something that's been leaked by other parties for the past few weeks. The store will also get a new recommendation engine, powered by Bing, that will give Windows 8.1 owners some suggestions for new apps to download based on previous selections, along with current favorites and more.
Source: Microsoft | Image via Microsoft