Microsoft has been adding a bunch of useful features to its Chromium-based Edge browser, with the latest round of updates bumping the offering to version 89 on the desktop, bringing performance improvements to browser launches, sleeping tabs for better resource management, and the general availability of vertical tabs. The company recently added Collections and tabs and history sync to the mobile versions. However, the Android version of the app is still based on version 77, with an update to the underlying version long overdue.
That might be changing soon, as the company showed a slide during an Ignite session video (highlighted by Reddit user SumitDh on a Reddit thread) titled "Microsoft Edge | Mobile Productivity in the Enterprise" that noted that the company will be moving to a common codebase for the desktop, Android, and iOS versions later this year. However, due to Apple's App Store guidelines, the underlying rendering engine on iOS will continue to be WebKit, just like Chrome on iOS.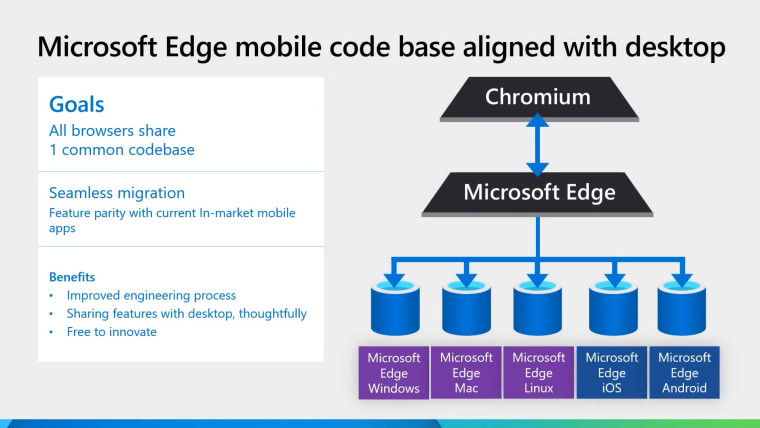 The reason for the change that the company notes is that currently, the development of any new features needs to be done "three times" since they must be built for Android, iOS, and the desktop (Windows, Mac, and Linux) separately, owing to the different codebases. This also causes challenges with rolling out features to all platforms simultaneously. With the unification of the codebases, the mobile versions will also gain feature parity with competing browsers such as Chrome.
The Redmond firm also adds that the migration to a common codebase helps developers and enterprises since existing policies can easily be migrated to apply to mobile devices as well for the latter. This is in addition to the improved "engineering efficiency" for the team to bring features from the desktop to mobile, where applicable. The change will also result in much-needed performance improvements on Android, making the offering a viable alternative to Google's offering and other Chromium-based browsers on the platform.
The company says that the effort to unify the codebase has been in the works for the past year and that it will be releasing a public beta for Android and iOS customers "in the coming months". It will be interesting to see what features make it to the mobile versions from the desktop in the future.