Microsoft has announced that it has revamped its Whiteboard collaboration app and that it is coming to Surface Hub devices this month. The new experience is designed to cater to hybrid workplace environments and will be rolling out to organizations over the next couple of weeks.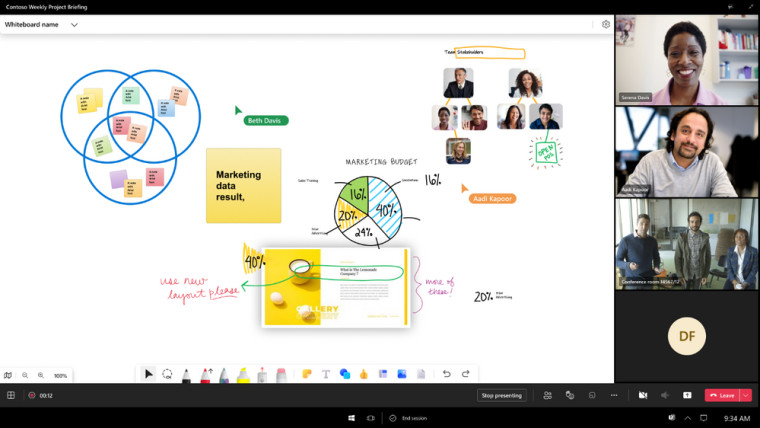 Companies with Surface Hub and Surface Hub 2S will receive the experience via Windows Update as a part of phased rollout between February 14 - February 28. This will directly integrate Whiteboard with your Teams app so that you can click on Share Content > Microsoft Whiteboard to collaborate with others on the call. The layout will be optimized such that you can still see all participants and that they have the ability to make changes to the Whiteboard too. It will have feature parity with the PC, mobile, and web versions of Whiteboard.
The standalone Whiteboard app will be automatically updated between February 28 - March 15. That said, it does not currently have feature parity with other variants of the app, and you can have a look at the missing capabilities here.
Finally, during March 15 - April 15, the Whiteboard app will migrate from Azure to OneDrive for Business in terms of storage needs. This will enable some additional features, such as:
See who's actively collaborating in real-time or who made the last edit.
See other people on the board and what they're working on (using collaborative cursors).
Use familiar sharing features found in other Office products.
Point a laser to draw attention to something on the whiteboard.
Find your whiteboards on Office.com.
View and restore previous versions of a whiteboard.
Recover deleted whiteboards from the Recycle Bin.
Although the updated Whiteboard app will use OneDrive for Business in most new whiteboards, if a whiteboard is shared through the Surface Hub instead of another participant in a call, it will temporarily use Azure for storage. If this bothers you, you can get in touch with Microsoft Support to block this.