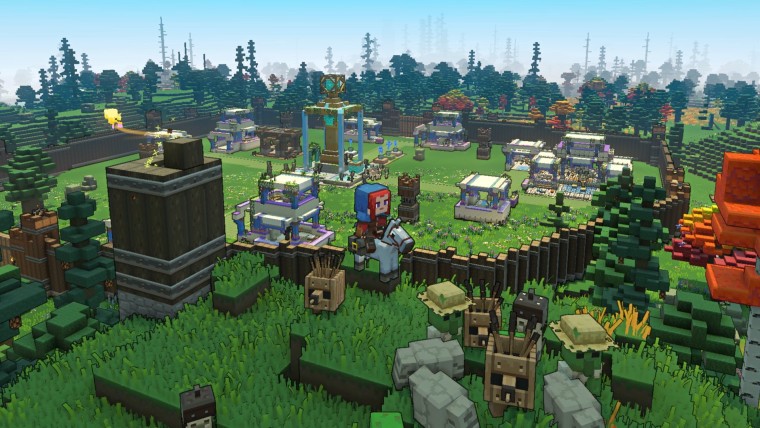 Minecraft became a big hit in part because you are the player character in the gameplay world. You have to craft tools, gather materials, and build structures to protect yourself from the game's creatures, or "mobs". In a sense, the upcoming spinoff game Minecraft Legends builds on that type of gameplay but puts it in a more structured format, with a storyline that will pit you against the Piglins as you, with some friends, save the Overworld.
That's what we got to see during a recent hands-off streaming demo of Minecraft Legends. We got to see part of the game's single-player campaign, and some of its multiplayer features as well.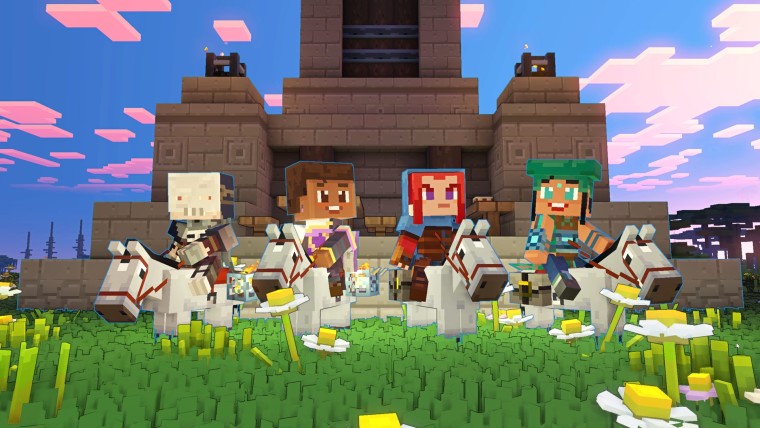 Mojang is working with another developer, Blackbird Interactive, on Minecraft Legends. The Vancouver-based Blackbird Interactive has a lot of experience making strategy games. It has released games like Homeworld: Deserts of Kharak and Crossfire: Legion, and it's currently working to complete the long-awaited space-based RTS game Homeworld 3, which is due sometime in 2023.
Our demo began by checking out some quick cinematics of the single-player game. The idyllic Overworld, where the mobs are actually friendly to one another, is being invaded by the extra-dimensional Piglins. Their goal is to take over the world. The "hosts" have recruited you to help save Overworld, and they give you some tools and some helpers to save the world. You also get a steed to travel in the world.
We then finally got to see some gameplay, which was set about an hour into the regular single-player campaign. Like in regularMinecraft, you can explore the world in Minecraft Legends to gather resources for building structures. However, you will soon have to also defend villages from the Piglins. You can summon golems and other mobs to help you defeat Piglins that attack the villages. After you fight them off, you have to help repair villages after these attacks.
However, the Piglins in the game will soon realize that you are a major threat. They have created a portal that has turned the always-sunny Overworld into darkness. You have to summon more mobs to go into the new Piglin base to take out this portal. Again, you direct the golems and other mobs to help take down the Piglin structures, and you can finally destroy this portal. The good news is that daylight has returned to Overworld. The bad news is that the Piglins have now set up bases all over Overworld.
That's when the open-world section of the single-player campaign really begins. The rest of the game will have you exploring the world and taking out these Piglin bases, again with the help of various mounts and mobs. The single-player game should take between 18 to 25 hours to complete, depending on the level of difficulty and if the player decides to explore the world more rather than concentrate just on the main storyline. One interesting thing is that even if you free a village in the gameworld from Piglins, they could come back and attack that same village again, so you will have to build structures to defend them from more Piglin invasions.
We also got to see some footage of the multiplayer mode. The PvP game will let gamers fight each other in teams of two, with 1v1 up to 4v4 matches. Each match has the players going through the map to gather resources, build their bases and finally attack the other team's base while also defending their own base from attack. Players can decide which one on the team is best to handle specific tasks. One could be in charge of building and upgrading structures, another can get resources, and another can concentrate on making structures for attacking the enemy base. There are also NPC Piglins in the PvP map that you can defeat to unlock new resources.
Post-launch, Minecraft Legends will be getting extra content via an in-game marketplace. There are plays for monthly challenges that players can choose to add to the game, and more content like extra mounts and skins will be released as well. It was also hinted that sometime after the launch of the game, there will be a way for the many Minecraft third-party creators to make new content for Minecraft Legends and sell them in the in-game marketspace.
Minecraft Legends will be released on April 18 for $39.99 for the base game, and $49.99 for the Deluxe Edition that comes from a number of exclusive in-game skins. It will be released for the PC, Xbox One, Xbox Series S, Xbox Series X, PlayStation 4, PlayStation 5, and Nintendo Switch. Xbox and PC players can also access the game with an Xbox Game Pass or PC Game Pass subscription on April 18 as well. You can pre-order the game now for PC, Xbox, and Switch on Amazon.
As an Amazon Associate when you purchase through links on our site, we earn from qualifying purchases.