Amazon is holding its annual devices event today, where it is announcing a bunch of new hardware including the ball-shaped Echo Dot. It also launched a couple of Ring cameras and alarms, with the highlight being an indoor drone security cam, called Always Home Cam.
The Always Home Cam is an autonomous drone camera that can be programmed to follow a pre-set path inside the house to monitor sections of the house. The company says that the camera helps check for an unlocked door, an open stove, and so on when they are not at home. The device can also tie in with Ring Alarm to detect "particular disturbances" when an alarm sensor is triggered.
The company also assures that the camera was built with "privacy in mind", and that it only records video in-flight. When docked, the device's camera is physically blocked, preventing it from recording anything. Additionally, the drone makes an audible sound when recording to ensure that it does not discretely record a room. The Ring Always Home Cam will cost $249 and will be available next year.
Next up are the security solutions for automobiles, which include a trio of products for cars. They include the Ring Car Alarm, Car Cam, and Car Connect. As the name suggests, the Car Alarm is a simple wireless device that connects to a car's OBD-II port and notifies users on the Ring app of any break-ins, tows, or bumps. It can also allow users to trigger a siren remotely and connects to other Echo devices to send audible notifications or alerts.
The Ring Car Cam is a small, dash cam-like device with cameras on both ends that monitors for break-ins or bumps and alerts users via the app with a live feed. When such an event is detected, users can view a feed of the inside as well as outside of the car. The device also comes with an Emergency Crash Assist feature that notifies first responders in the event of a "serious crash". Lastly, it offers a 'Traffic Stop' feature that can be triggered by saying "Alexa, I'm being pulled over", which then records an interaction of the occupants with the authorities. As for privacy, the device includes a physical shutter that "electronically disables the interior video and audio".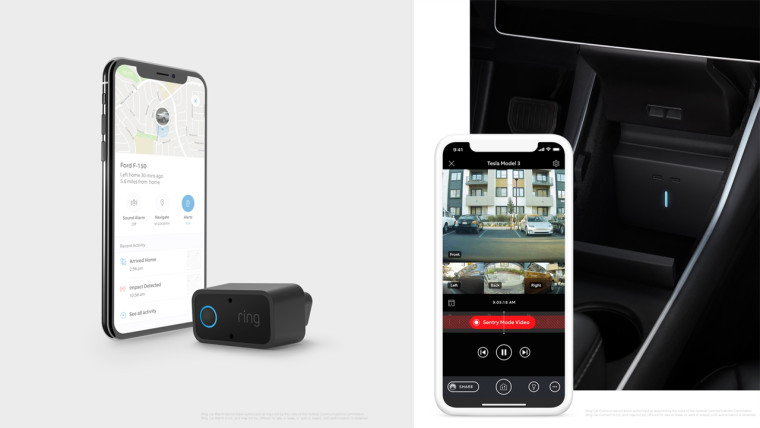 The third offering announced today is called the Ring Car Connect, which is a platform of sorts that provides APIs for manufacturers to build features such as mobile alerts and live video feed in the event of an incident. The first of the vehicles that are compatible with the platform are the Tesla models 3, X, S, and Y. Users of these cars will be able to install an "aftermarket device" which lets them watch Tesla Sentry Mode videos on their Ring app, either on Wi-Fi or with a separate connectivity plan.
The Ring Car Alarm will retail for $59.99, while the Car Cam and Car Connect will both be sold for $199.99. All of these devices are expected to make it to market sometime in 2021.