Weekend PC Game Deals is where the hottest gaming deals from all over the internet are gathered into one place, every week, for your consumption. So kick back, relax, and hold on to your wallets.
It's going to be a hectic couple of upcoming weeks for Epic Games Store users, as the holiday sale has brought back the daily freebies as well as the unlimited $10 coupons. We are a couple of days into the promotion, and today's special is a copy of Oddworld: New 'n' Tasty for the usual low, low price of nothing.
This is a remake of the classic side-scrolling platformer Oddworld Abe's Oddysee 1997, bringing fully remade graphics and animations, revamped controls, new levels, analog movement options, and much more. Those wanting to experience the classic can also disable the new add-ons.
There's not much time left before the next giveaway begins, as the game - which is still in the dark - is set to refresh at 11AM ET. You may see a different game being given away if you take too long before joining the Oddworld party.
As for the $10 coupon offer, it's the same one that has surfaced a couple of times before on the store, giving you a flat $10 discount on any game that's priced above $14.99, regardless of whether it is already on sale or not. Keep in mind that you can't apply it on pre-orders or DLC packs.
UPDATE: Ubisoft has kicked off a giveaway for Anno 1701 and brought back all of its previous giveaways for the holiday freebies finale, giving you until 2:00 PM CET tomorrow to grab them.
The bundle space has received a couple of interesting additions this week also. Starting with Humble, the store's latest charity bundle is all about indies, offering eight games split into three tiers.
Putting down $1 gets you Deponia: The Complete Journey, Lyne, and Butcher, which is joined by Cat Quest, Feather, and Felix The Reaper if you bump it up to the $5 costing second tier. The third and final tier adds on Armello and CryoFall to the bunch with a $10 price tag. Humble is also hosting another indie bundle, this one featuring games made in Québec such as Leap of Fate and Jotun: Valhalla.
Meanwhile, the Fanatical store also dropped its new racing-focused Nitro Bundle this week, and it comes with copies of GRID (2019), Project CARS - GOTY Edition, GRIP: Combat Racing, TT Isle of Man, FIA European Truck Racing Championship, and Redout: Enhanced Edition. The bundle comes in at $5, and also includes a car pack for GRIP and five additional DLC packs for Redout.
Free Events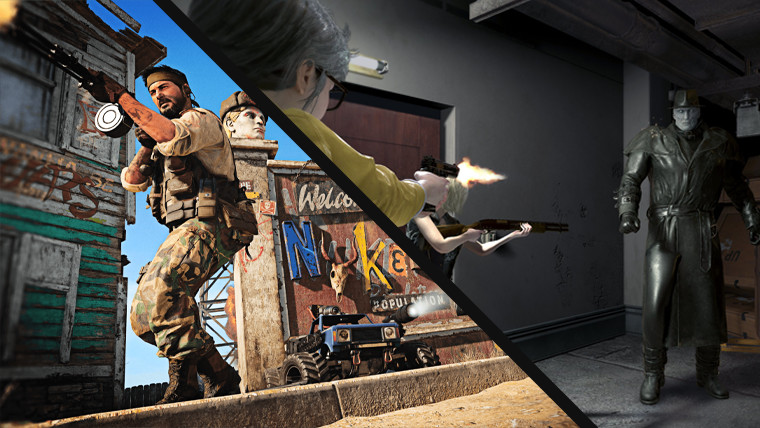 The free events this weekend are quite major. First up is Call of Duty: Black Ops Cold War, as the popular shooter's multiplayer portion has gone free-to-play for an entire week.
The event is split into two stages. From December 17-21, TDM, Domination, 2v2, as well as Nuketown Holiday 24/7 and Raid the Mall playlists will be available. From December 21-24, Prophunt, Combined Arms Hardpoint, and Fireteam Dirty Bombs are enabled alongside the previous modes. You will need the Blizzard Battle.net app to join in on the event.
Over on Steam, there are several free events happening that will last over the weekend. First up is Resident Evil Resistance, the one versus four asymmetrical multiplayer mode that's built into the Resident Evil 3 remake. Second, there is a free weekend available for Disgaea 4 Complete+, a humorous JRPG with deep strategy gameplay involving a vampire that doesn't drink blood. Lastly, the competitive multiplayer platformer Killer Queen Black is also having a free weekend on Steam offering 8-player class-based battles.
Big Deals
As holiday sales begin pouring in, keep in mind that the Steam Winter Sale is slated to kick off early next week, so it may be a good idea to hold off on some purchases to compare the sales later.
But, as the Epic Games Store's holiday sale now once again offers its $10 coupon for any game above $14.99, it is highly unlikely that another store will be able to beat its prices. Keep in mind that the many Epic Games Store discounts listed in our highlights list below are all from before applying the coupon:
DRM-free Goodness
Winter sales have also hit DRM-free games, and below you will find our highlights from the massive amount of discounts available. Moreover, GOG is currently giving away copies of Prison Architect on its front page, though be quick to claim one, as the promotion ends later today.
Keep in mind that availability and pricing for some deals may vary depending on the region you're in.
---
And that is it for our pick of this weekend's PC game deals folks, and hopefully, some of you have enough self-restraint to not add even more games to your growing backlogs this holiday season. Of course, there is an enormous amount of more deals ready and waiting all over the internet if you comb through it hard enough, so keep your eyes open for those, and have a fantastic weekend.