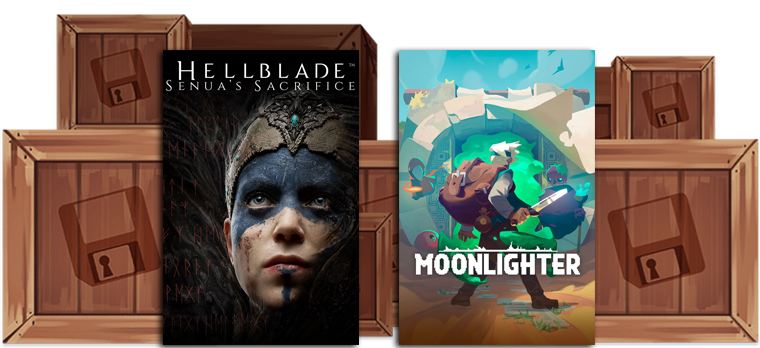 Before jumping into the summer festivities, let's have one last look at the current Humble Monthly Bundle, which is ending and refreshing its innards in less than a week.
There hasn't been any more early unlocks added to the original games so you still get the Ninja Theory developed adventure game Hellblade Senua's Sacrifice as well as Digital Sun's action RPG Moonlighter when you purchase the $12 bundle.
The hidden games - which Humble says will push the bundle's value to over $100 - are slated to be delivered when the bundle ends next Friday on July 5. Hopefully, the upcoming unlocks won't have any games we've already picked up from summer sales.
Meanwhile, there's another free game to pick up if you're willing to make an Epic Games Store account, as part of its weekly freebies, Last Day of June can be claimed right now.
Developed by Ovosonico, this adventure puzzle game with a story focus has you altering events of a past day, trying to save someone's life. This freebie will be available to grab until July 4 and you will need the Epic launcher to play the title. Of course, for Steam fans, the game is also part of its summer sale, although there it's a bit more expensive than free.
Epic Games' next giveaway will kick in on July 4 as well, with the enemy making couch co-op "cooking" title Overcooked being lined up to be a freebie.
Big Summer Deals
Summer sale season is now in full swing as Steam entered the ring this week with discounts on a majority of its wares. Check out the larger than usual big deals list below to see our meager highlights. The Steam Summer sale will come to an end on July 9, so keep an eye out for another fresh list of highlights from us next week as well, if you don't empty your wallet by then, of course.
While stores have mostly backed off from major sales, for the time being, a couple of stores are having events with discount codes that offer 10% off from on-sale games, them being Fanatical's FANATICAL10 and GreenManGaming's FEATURE10 codes. Also, if you don't have an aversion to monthly subscription models, a good chunk of Steam's featured games are also on the new Xbox Game Pass for PC, which is offering the first month for $1.
Deals Under $10
DRM-free Goodness
Meanwhile at the DRM-free corner, there are the usual weekly discounts from the GOG store, as it decided to have its summer sale a couple of weeks ago. There is also another sale for the store owner's Witcher series running as well. Here are some highlights from everything:
Keep in mind that availability and pricing for some deals may vary depending on the region you're in.
---
And that is it for our pick of this weekend's PC game deals folks, and hopefully, some of you have enough self-restraint to not add too many games to your growing backlogs this summer. Of course, there is an enormous amount of more deals ready and waiting all over the internet these days, so keep your eyes open for those, and have a wonderful weekend.