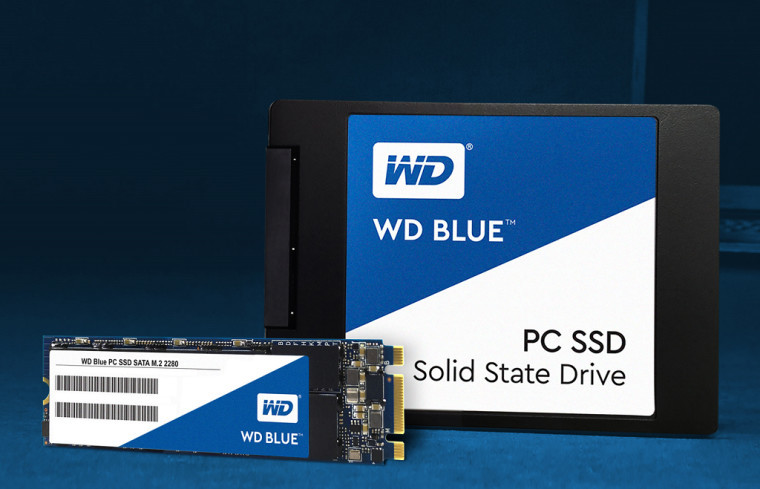 Western Digital, known as one of the biggest hard drive makers in the world, announced today it was launching its very first solid state drives (SSD), in Blue and Green versions. These are a first for the company, which bought SanDisk, a giant in solid state tech, last year.
The Western Digital Blue and Green SSDs are designed for DIY enthusiasts, or those looking to extend the life of their devices. The two storage drives come in both 2.5-inch and M2 form factors, while offering "best in class endurance and MTTF (mean time to failure)". Western Digital explained why it was finally launching SSDs:
There is significant demand among our core WD resellers and consumers for a broad set of flash-based storage options. The expansive reach of the WD channel enables availability of a Western Digital SSD solution. We are very proud to have developed and launched WD Blue and WD Green SSDs, and believe they'll provide the instant-on, reliability and capacity benefits our customers have been demanding.
In terms of actual specs, the WD Blue SSD is clearly the one designed for regular use as the primary drive inside of a system. It comes in 250GB, 500 GB and 1TB variants, offering read/write speeds of 545/ 525 MB/s. In terms of endurance, Western Digital boasts 1.75M hours MTTF, and 400TBW (terabytes written) for the Blue model.
The WD Green SSD is the entry-level option, being slower and offering lower endurance than its Blue companion. The Green SSD comes in 120GB and 240GB versions, with 540/405 MB/s read/write speeds and 80TBW endurance. Green SSDs do offer "ultra-low power-draw" so they're better suited for secondary storage or low-power devices.
Both Blue and Green SSDs come with a limited 3-year warranty. In terms of actual prices, the Blue version ranges from $79 to $319.99, and is currently available on Western Digital's store. Green SSDs will become available later this quarter with pricing announced closer to launch.
---
Editor's note: An earlier version of this article incorrectly stated the maximum price for the new range of SSDs as $299. This has since been corrected to $319.99.