Microsoft rolled out a new Windows 11 build in the Dev channel yesterday. Build 22478 contains a bunch of new features and improvements. It also brought Microsoft's Fluent emoji that the company has been heavily advertising for the past few months since Windows 11 was revealed to the public. However, to the dismay of many who utilize emoji in their daily workflows, the new emoji are 2D, not 3D like the company has been promoting so far. The flat emoji present in the latest Dev channel build can be seen above while the ones that were previously advertised can be seen below, the difference is quite stark: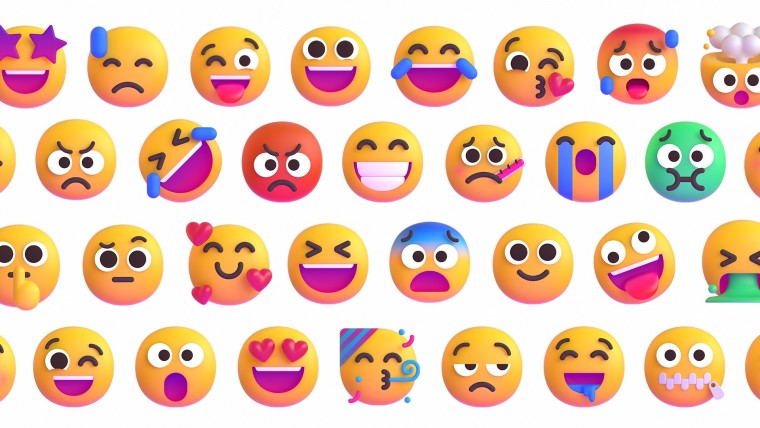 It appears that the 3D emoji shown above are not coming to the Windows 11 emoji panel at all, as revealed by Brandon LeBlanc, Senior Program Manager of the Windows Insider Program:
No, for Windows 11 we're using the 2D versions. Thanks!

— Brandon LeBlanc (@brandonleblanc) October 14, 2021
When grilled about Windows 11 marketing being a scam considering that the Windows and Windows UK Twitter accounts have also been promoting the 3D emoji as native to the OS, LeBlanc downplayed the issue, saying that:
No, they didn't scam you. You're exaggerating this a bit. They simply used the wrong graphics. Sorry about that. Will make sure they use the right ones going forward.

— Brandon LeBlanc (@brandonleblanc) October 15, 2021
It remains to be seen if some other software such as Teams, Yammer, or Outlook will be getting the 3D emoji instead. The Microsoft Design team tapped the aforementioned software and Windows when talking about the release of 3D emoji back in July. LeBlanc has declined to share more details on the matter.
Whether it was false advertising or not, we will leave it up to our readers to decide. But this is not the first in Microsoft's ongoing series of miscommunication and under-delivering. The company had to modify its system requirements documentation for Windows 11 a couple of times before finally getting them right after the OS' reveal. Similarly, Android app support did not materialize in Windows 11's launch version either, even though the feature was heavily advertised.
That said, it's a bit baffling that the Windows Insider management team did not restrict Microsoft social media accounts from using "wrong graphics" that were not coming to Windows 11 until called out about the fact.