Nokia arrived late to the Windows Phone party at the end of 2011 but, since then, it has come to dominate Microsoft's mobile ecosystem. Of those manufacturers that originally launched handsets with Windows Phone 7, just Samsung and HTC remain, joined more recently by Huawei, but none of these has come close to the level of commitment to the platform that Nokia has invested.
Not content to be just another 'me-too' device manufacturer, Nokia has worked hard to differentiate its Windows Phone offering. Its use of colour in its hardware design has made its devices stand out among legions of black and white handsets. It has added value to its range by developing apps exclusively available on its Lumia devices. And it has worked to augment the operating system with new features through its own firmware updates, such as the recent 'Amber' release, bundled with the latest GDR2 update for Windows Phone 8.
Another key differentiator for Nokia has been its innovations in handset imaging. The company's work in that area began long before it joined forces with Microsoft, with phones like the N86 and N8 offering class-leading photography, at a time when many other manufacturers seemed to include cameras as a matter of routine, rather than as a major selling point for their handsets.
The 808 PureView was the ultimate expression of this commitment to imaging when it was announced in February 2012, featuring a stunning camera with a 41-megapixel sensor. But the Symbian-powered handset had no long-term future, leaving many to wonder when Nokia would launch a Windows Phone featuring the same camera technology.
Since then, Nokia has launched other award-winning handsets with PureView imaging features – including the Lumia 920 and Lumia 925 – and each of them has proven that the company still has what it takes to lead the way in smartphone imaging. But this summer, the company finally announced the Lumia 1020, its first Windows Phone featuring a 41MP PureView camera.
Having first launched in the United States, exclusively on AT&T, the handset is now rolling out to markets around the world. Nokia says that "nothing else comes close" to the Lumia 1020 – but is the company's new flagship worth a closer look, or should you be looking elsewhere?
Some of the specs of the Lumia 1020 will sound familiar if you know your Windows Phones. The 1020 shares some of its internals with the Lumia 920, Lumia 925 and the Lumia 928 for Verizon Wireless, which may come as a bit of a surprise, given that the first of those handsets was launched almost a year ago.
You get the same Qualcomm MSM8960 Snapdragon S4 Plus chipset, featuring a dual-core 1.5GHz CPU and Adreno 225 GPU. You also get the same 4.5-inch HD (1280x768px) AMOLED screen as the 925 and 928, featuring Nokia's ClearBlack display technology for deeper-than-black blacks.
But while some elements of the 1020's spec sheet are hand-me-downs, Nokia has made some welcome improvements. Most notable is the 2GB of RAM, double that available on other top-of-the-line Windows Phones. You'll also get a minimum of 32GB of storage; if you're on one of Telefónica's networks (including O2 and Movistar), you'll get 64GB, which is the version that we're testing here.
Other improvements include Gorilla Glass 3, better speakers and the inclusion of a barometer, joining a range of other sensors including accelerometer, gyroscope and magnetometer.
Like the Lumia 925, though, you won't get integrated wireless charging; if you want to take advantage of that feature, you'll need to purchase optional accessories, including a clip-on wireless charging cover (which also offers some protection for the device) and a Qi-standard charging station.
Let's take a look at the main specs in a bit more detail:
Dimensions
130.4 x 71.4 x 10.4mm / 158g
Connectivity
2G (all models): GSM 850 / 900 / 1800 / 1900
3G (RM-875/RM-877): HSDPA 850 / 900 / 1900 / 2100
3G (RM-876): HSDPA 850 / 900 / 1700 / 1900 / 2100
4G (RM-875): LTE 800 / 900 / 1800 / 2100 / 2600
4G (RM-877): LTE 700 / 850 / 1700 / 1900 / 2100
WiFi 802.11 a / b / g / n
Bluetooth 3.0 with A2DP
NFC
A-GPS / GLONASS
microUSB
3.5mm audio port
Display
4.5" ClearBlack AMOLED
HD resolution (1280x768px)
332ppi pixel density
Processor
Qualcomm Snapdragon S4 Plus MSM8960 chipset
Dual-core 1.5GHz Krait CPU
Graphics
Adreno 225 GPU
RAM
2GB
Storage options
32GB / 64GB local storage
7GB online storage via SkyDrive
Camera
41MP PureView rear camera with ZEISS optics
- Optical image stabilisation
- Autofocus
- LED / Xenon flash
- 1080p video recording at 30fps
1.2MP forward-facing camera
- 720p video recording at 30fps
Battery
2000mAh non-removable Li-Ion battery
Up to 16 days standby time
Up to 13.3h 3G talk time; up to 19.1h 2G talk-time
Up to 63h music playback time; up to 6.8h video playback time
Qi wireless charging through optional accessories
Operating system
Windows Phone 8 General Distribution Release 2 (GDR2)
OS version 8.0.10328
Nokia Lumia 'Amber' firmware
Launch date
Available now in selected markets; more to come
In August 2012, during closing arguments at the trial between Apple and Samsung over claims that the latter company had copied its designs, an Apple lawyer held up a Nokia Lumia handset and stated: "Not every smartphone needs to look like an iPhone." Indeed, Nokia has proven with its Lumia range that there's plenty of room for creativity when it comes to handset design.
With the possible exception of the not-terribly-exciting Lumia 820, you can usually spot a Nokia without trying too hard. The Lumia 1020 continues the tradition of standing out from the crowd with a design that's undeniably and unashamedly Nokia.
The design isn't entirely unique though. Look at the device from the front, and you'd be forgiven for thinking that you were looking at a Lumia 920, a handset that itself took cues from its Lumia 800 and 900 predecessors (and the MeeGo-based N9 before them). Like the 920, the 1020 is fashioned from a single, seamless slab of polycarbonate plastic, which makes the device feel absolutely rock-solid. The build quality feels impeccable; there's no flex or creakiness to the bodywork at all.
Interestingly, though, you may be led to believe that the 1020 is already broken when you pick it up for the first time; if you shake it gently, and listen closely, you'll hear what sounds like an expensive piece of camera componentry having come loose inside the handset. But believe it or not, it's supposed to sound like that – and Nokia actually includes a leaflet in the box to warn customers that their device isn't already ruined; it's just the sound of the camera "delicately cushioned with suspended optics that are literally rolling on tiny ball bearings".
Phew.
Unlike the 920, Nokia has given the Lumia 1020's body a matte finish, which makes the device feel even more 'premium' and high-quality than the glossy plastic of its sibling. That's not to say that the 920 ever felt particularly cheap, but the newer device still feels like one from a class above. The 1020 also gets a special coating that's resistant to fingerprints and dirt – a welcome addition for those with greasy paws – and it works well in practice, shrugging off most of what the day can throw at it.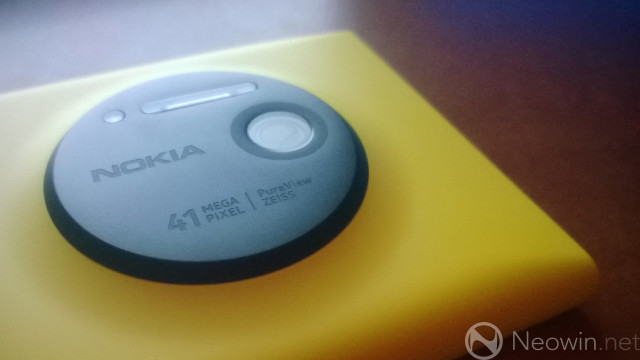 Around the back is where the Lumia 1020 establishes a unique look for itself, with the massive camera module dominating the rear of the device. The black dome is fashioned from matte aluminium, with cut-outs for the lens, LED flash (for video) and Xenon flash (for photos). There also two small holes in the rear bodywork, which are home to the contacts for the optional wireless charging cover.
The Lumia 1020 isn't the thinnest or lightest device around by some margin, but its dimensions and weight are nonetheless impressive for a handset packing so much technology. Weighing in at 158g, it's lighter than the chunky Lumia 920 (185g), but heavier than the aluminium-bodied Lumia 925 (139g).

Image via Nokia
As with the 808 PureView, the 1020's camera extrudes significantly from its rear. Nokia's dimensions (shown in the diagram above) are rather misleading here, giving the impression that the handset is 10.4mm-thick at its thickest point. It's not. The main body of the device reaches 10.4mm of thickness, making it thinner than the 920 (10.7mm) but chunkier than the 925 (8.5mm), while the camera extrusion adds a few millimetres more to the overall thickness.
But the reality is that the Lumia 1020 hides its heft pretty well. The 920 often felt a bit cumbersome to hold – a fact about which some people remain tragically in denial – and a common reaction to those picking up the device for the first time was to comment on just how heavy and chunky it was.
By contrast, the Lumia 1020 feels fantastic to hold, thanks in no small part to the matte finish, but also thanks to its lighter weight. It's a device that you want to hold; more often than I should probably admit, I found my fingertips gently caressing it while in the middle of tweeting or sending an email. Your experience may differ – I can't promise that you'll experience the same slightly disturbing subconscious desires yourself.
The camera extrusion doesn't get in the way when you hold it as you might expect; indeed, when letting friends and family try the device, I frequently observed that their fingers naturally arranged themselves to become more comfortable around the camera. Everyone who used the handset, even if only for a few seconds, commented on how nice it felt to hold.
The camera 'hump' and matte finish also make the device much harder to drop – essential if you have fists of ham and fingers of sausage as I do.
The hump does get in the way when the 1020 is on a flat surface though. If you're anything like me, you'll often place your device flat on the table next to you, and tap the screen occasionally to flick through an email when it comes in, or to skip to the next track. Annoyingly, that's just not possible with the 1020 as it wobbles around with each tap of the screen. It's a minor frustration, but one worth noting.
The left edge (as viewed from the front) of the phone is smooth and uninterrupted…
…while the base of the device is home to the external speaker and microphone, microUSB port and – in a move that many mobile photographers will appreciate – a lanyard loop.
The right edge is home to the familiar family of buttons found on other Lumia handsets – volume, power/sleep and camera – all in the same matte black aluminium used for the rear camera plate.
At the top, you'll find a centred 3.5mm headphone jack, along with the microSIM card tray and a secondary microphone for noise cancellation.
As with the Lumia 925, Nokia has foregone integrating wireless charging into the 1020. Given the company's continued focus on this as a selling point for its flagship devices, it's disappointing that they chose not to include it in the 1020. However, with weight, thickness and cost all a factor, their decision is understandable, though no less frustrating.
If you want to take advantage of wireless charging, you'll have to purchase two separate accessories. First, you'll need a Wireless Charging Cover; this accessory easily clips on to the back of the device, connecting via the two tiny holes on the rear, and offers additional protection for the handset against drops and knocks.
You'll also need to purchase a charging station; you won't need to buy an official Nokia product if you don't want to – any wireless charging unit that supports the Qi standard will work just fine. Nokia offers a range of charging stations, including a stand that holds the device upright, a plate on which you can place your device flat, the 'Fatboy' charging pillow and an in-car holder that also supports wireless charging.
In short, if this is a feature that matters to you, there are plenty of options to choose from, but you'll have to be ready to pay, and once you've added a couple of these accessories to the cost of the device, you may think twice about just how important they are to you.
With such a strong focus on photography, there is one accessory that you'll likely want to get your hands on if you purchase the 1020: the Camera Grip.
The Camera Grip creates a new form factor for the 1020, turning it into something approximating a more 'traditional' handheld camera, making it much easier to take photos, especially with one hand (particularly useful when you're trying to grab the perfect photo in a crowd, for example). The handset slides down into the Grip, slotting into the base and docking with a connector via the microUSB port; at the top, the Grip clips around the handset much like the Wireless Charging Cover.
More than just a fancy cover to help you hold the phone more comfortably while taking pics, the Camera Grip has two tricks up its sleeve. First, you'll find a universal tripod mount on the base, along with a much larger shutter button on top. Second, and perhaps more excitingly, the Grip features its own 1020mAh battery, augmenting the 2000mAh battery inside the device. If you're the kind of person who takes lots of photos, having that extra battery capacity while snapping shots and videos is a very welcome (and necessary) addition.
Beauty is in the eye of the beholder, as they say, so your opinions regarding the aesthetics of the Lumia 1020 may differ to mine. As a fan of the Lumia 920 before it, the 1020 looks stunning to my eyes, even more so in the flesh than in photos or renders.
The giant camera plate on the rear of the device has also proven to be an unusual conversation starter, with a succession of strangers – including a bank clerk, a taxi driver, a train ticket inspector, and numerous passengers – commenting on it and asking questions. One lady remarked to me on a train that it looked like I'd "squashed a real camera in there". When I asked her to elaborate, she explained that every phone camera she'd used – including the one on her Samsung Galaxy S III – was "a bit crap really", saying that she'd be happy with a phone with a 'real' camera that she could always rely on to take decent photos.
Consumers such as that lady will be among those that Nokia wants to win over with the Lumia 1020. Her curiosity was piqued by the bright yellow phone with a giant, mean-looking camera slapped on the back, so evidently something about the design is doing its job.
Conversely, though, while I was taking photos from London's Hungerford Bridge with the Lumia 1020 in its Camera Grip, a fellow Londoner walking past remarked that I "should get a grown-up camera mate!" Much as I wanted to come back at him with a brilliantly cutting quip, I turned to look at the bright yellow plastic camera in my hand and realised that it did have an undeniable 'My First Camera' look about it
So, the vivacious yellow of our review unit won't be to everyone's tastes, of course, and for those that prefer to tone things down a bit, Nokia offers the Lumia 1020 in matte white and black variants too, with accessories to match.
The Lumia 1020 uses the same 4.5-inch AMOLED panel found in the 925 and 928, offering a resolution of 1280x768px and pixel density of 332ppi. As with its siblings, the 1020's display features Nokia's PureMotion HD+ for smooth video playback and ClearBlack technology for oh-my-goodness-that-sure-is-black blacks.
As you'd expect of an AMOLED panel, the colours are intense and the contrasts are striking, but not everyone is a fan of such displays. With its latest firmware update – which first rolled out with the Lumia 925 – Nokia introduced exclusive additional colour controls that Microsoft has not yet integrated into Windows Phone 8. The Lumia Colour Profile enables users to adjust saturation and 'warmth' of colours, so that fussier users can hopefully find the right balance for their tastes.
Viewing angles are every bit as good as you'd expect of a flagship handset, so you'll have no worries if, like me, you enjoy viewing photos or the occasional YouTube video when with friends. As with any device though, the most extreme angles will give you a weak view of the action, but the screen doesn't suffer from any great loss of colour or contrast as you move away from a head-on view.
With the end of summer here in London, sunlight has been in tragically short supply, but on those occasions when the clouds have briefly parted, allowing the sun to shine down on the Lumia 1020's screen, the display has coped admirably. Screen readability in bright light – including in direct sunlight – is an area in which the Lumia range excels, and the 1020 is no different.
The long march into winter here in the U.K. is a potent reminder of the usefulness of Nokia's 'super-sensitive touch' display, also available on other Lumia handsets. For those of us who live in parts of the world where it can get bitterly cold, the ability to interact with the screen while wearing gloves is warmly welcomed.
The display is also the first in Nokia's range to feature Gorilla Glass 3, offering exceptional protection against scratches and impact damage. No display is completely impervious to assault though, so if you're worried about your screen being damaged, you may want to purchase a third-party screen protector.
Considering the handset's focus on imaging, you may well have been expecting a Full HD display, to allow you to view all the lovely photos that you've been taking with the greatest clarity. Indeed, it's a great shame that the Lumia 1020 does not include a 1080p display, but the fault for this lies not with Nokia, but with Microsoft, and limitations of the Windows Phone 8 operating system.
The next major update to the OS, General Distribution Release 3 (GDR3), will finally bring support for such displays when it arrives later this year, and the first devices to include this feature will be announced next month. Nokia faced the difficult choice of delaying the Lumia 1020 until 1080p support arrived, or launching with what it had. We'll let you decide whether that was the right call or not.
While the absence of a Full HD display is a downer, you're unlikely to feel short-changed by the Lumia 1020's screen. Those who care about such things should note that the 1020's display uses a PenTile matrix. In theory, this has the effect of reducing clarity and sharpness; in practice, you're unlikely to notice. As on the Lumia 925 and 928, text appears beautiful on the 1020's screen and, except under the very closest scrutiny, it's hard to spot individual pixels. Live Tiles on the Start screen burst with colour, and photos and videos look stunning.
A 1080p display would be a great addition to the 1020, of course – but for now, the WXGA display will keep all but the fussiest users happy.
As with its 925 and 928 siblings – the AMOLED display is a fantastic canvas for Windows Phone 8. The extraordinary brightness of the display, along with its stunning vibrancy and vivacious colours, make the OS look absolutely beautiful. Whether matched with the bright yellow body – or contrasting starkly with the monochromatic shells of the white or black variants – Windows Phone 8 and the Lumia 1020 are the perfect pairing.
We've previously reviewed Windows Phone 8 in depth, so if you want to know more about the operating system, I encourage you to read our full review, as well as my former colleague Tim Schiesser's excellent article on living with WP8 for three months.
The OS has seen two updates since its launch in October last year, both of which have delivered a fairly limited set of new features. The Lumia 1020 ships with the latest of these updates, General Distribution Release 2 (GDR2), which is now also rolling out to other Windows Phone 8 devices around the world, and which bumps the OS version to 8.0.10328.78.
Curiously, if you view the 1020's 'About' screen, you'll see that the entry under 'model' refers to the device as the 'NOKIA 909'; it seems that that was originally intended to be the handset's designation – an homage of sorts to the 808 PureView – but the 1020's firmware wasn't updated to reflected the new name. (The IMEI label on the box also refers to the device as the 'NOKIA 909.1'.)
GDR2 reintroduces FM radio support to Windows Phone 8 (on supported devices, which includes the Lumia 1020), as well as other features such as CalDAV and CardDAV support. There have also been improvements to the VoIP stack, bringing better performance for apps like Skype, along with various behind-the-scenes enhancements for Internet Explorer. These changes focus largely on boosting stability and reliability on larger, more complex web pages, as well as improving media playback from the browser.
It is also now possible to select a default camera app, other than the standard camera interface built into the OS. This means that you can now launch other camera software – such as the new Nokia Pro Cam app – by default when holding down the camera button, rather than having to open it from a pinned tile or via the Apps List.
A range of minor improvements has also been made to Xbox Music, with more accurate metadata, improved music streaming and faster load times. One of my favourite additions in GDR2 is actually the reintroduction of an old Windows Phone 7 feature: the ability to pin a 'New note' tile to the Start screen for OneNote, making it much easier to quickly create a new note without first having to launch the app or open an existing notebook.
GDR2 also brings Data Sense to a much broader range of devices for the first time. Data Sense provides a simple overview of how your handset is consuming data, including how much has been used over your cellular connection and WiFi, and a more detailed breakdown showing how much data each of your apps has consumed. The functionality is basic, but a welcome addition, and an important one for those with a limited data allowance on their mobile plan, who can now easily identify any apps that are eating more data than they might like.
You can also configure Data Sense to adapt data usage based on the limits of your mobile plan; for example, if you input your data limit, the handset will ensure that certain types of download can only be performed over WiFi. Additionally, the device can be configured to reduce the amount of data being consumed by apps in the background when you approach your data limit.
Data Sense also provides a rather handy feature for those with limited data allowances, by making it easier to find WiFi hotspots in your area. When you switch WiFi on, you'll see a new 'find nearby WiFi' option, which plots local hotspots on a map. Tap a hotspot for more details, including its network ID and even the ability to easily find directions to get closer to it from your present location.
Microsoft announced Data Sense as an integrated part of the OS at the full Windows Phone 8 launch in October 2012, but many were disappointed to learn that it was exclusive to Verizon Wireless. With GDR2, this functionality has been opened up to all devices, but it is still carrier-dependent. Regrettably, this means that if you purchase your device from a mobile operator, there's still a chance that Data Sense may not be installed.
Nokia rolls out its own firmware updates to its Lumia handsets, and the most recent of these – known as the 'Amber' update – comes pre-installed on the 1020.
Amber goes beyond GDR2 in bringing additional features to Nokia devices. Since Microsoft does not permit changes to the Windows Phone user interface – whereas Android OEMs can completely customise the UI beyond recognition – manufacturers are instead able to put their own 'spin' on their devices by customising their handset firmware with unique features, and by offering their own apps available for download. Nokia has invested more time and resources in expanding the capabilities of its devices this way than any other Windows Phone OEM – and it certainly shows.
While one could hardly turn their nose up at the small, but much appreciated, cluster of new features that Microsoft is delivering with GDR2, Amber succeeds in providing a broader range of features that users can see for themselves. Microsoft's performance enhancements in IE and better metadata for Xbox Music are welcome, but users are unlikely to appreciate – or even notice – these improvements in practice.
The Lumia Colour Profile settings described earlier in this review (under 'Display') is one example of this, but there are many more. One of my favourite additions is one that I'm sure will be hugely popular with users of the 1020, and the rest of Nokia's Lumia range.
If you've ever received nuisance calls or text messages – whether from marketing companies or all those jilted lovers, you heartless cad – the introduction of Call + SMS Blocking is a god-send. Nokia has done a good job in making this feature incredibly simple to use. Simply find the number in your call list, then tap-and-hold to bring up the menu, and select 'block number'. Et voilà, job done. It's no more complicated to block a number via the Messaging hub.
Up to 1000 blocked numbers can be managed via Settings > Call + SMS filter, where you can also manage additional settings, such as the ability to block all calls from those who withhold their caller ID from displaying, as well as displaying a Live Tile that shows how many calls and text messages you have received from blocked numbers, if you feel the need to track the efficacy of the feature. You may also choose to display a toast notification each time one of these calls or messages is registered.
My one disappointment when it comes to this feature is that there is no facility to synchronise blocked numbers from one device to another. I had previously blocked several numbers on the Lumia 925 (which first included this feature), and it was frustrating that those numbers were able to contact me again after I switched to the 1020. It is similarly irritating that there is no feature to add numbers that you wish to block manually; the only way to add numbers to the block filter is to wait until they have contacted you.
The Glance Screen is another nice addition, unique to the Lumia range. Glance can optionally present a clock on the screen when the device is fully locked/asleep. This allows you to simply 'glance' at your handset on the desk, for example, and see the time without even needing to touch it. This may sound like a recipe for battery disaster, but in reality, this ultra-low-power consumption feature has a fairly limited impact on battery life.
Glance takes advantage of the way that AMOLED screens function; unlike with an LCD panel, individual pixels on an AMOLED panel can be independently activated, without powering up the whole display. Currently, the only information you'll see on the Glance Screen is the time, ringtone status and – if the device is plugged in or successfully positioned on a wireless charging pad – an icon to indicate that it is charging. This will improve in future updates, with SMS and email notifications also being shown. Like a screensaver, the info shown on Glance periodically jumps around the screen to prevent burn-in.
Glance can be completely turned off if you prefer, but while it's on, three display modes are available: 'Peek' displays nothing on the display until you hover your hand over the screen; 'Interval' keeps the Glance screen on for a short time (I believe this is 15 minutes, though I didn't time it for myself) after the device is locked and the screen goes off; and 'Always On', which ensures that you'll always see the Glance Screen whenever the display is switched off.
I personally found that 'Interval' was the best setting for my needs, but your mileage may vary, of course. While Glance Screen uses very little power, it is using power nonetheless, and it made little sense to me to keep the clock on screen 24/7 – Nokia also advises that to do so will impact on battery life. 'Peek' mode is fun for all of two minutes; the gimmick of magically waving my hand over the proximity sensor to make the clock appear quickly lost its appeal.
A secondary display option is offered called 'Night Mode', which shows the same Glance Screen information, but in a softer red hue. This is especially useful if you keep your phone on a bedside table overnight, for example, as it reduces the lighting impact of the Glance Screen on your bedroom while you're trying to count sheep and drift off to dreamland.
Another feature introduced in Amber is double-tap-to-wake; this is another feature that débuted with the Lumia 925, and which I've found to be curiously handy. It's no more complicated than it sounds – when the device is powered up, but the screen is off (or showing Glance Screen), just tap the screen twice in quick succession to reactivate the display and show the lock screen.
Is it life-changing? No. Is it infinitely easier than reaching around the side of the handset to press the power button? No. It's just another way to wake your device, and one that I've found to be curiously handy. That said, it's not 100% reliable. There have been numerous occasions over the last couple of weeks on which, despite double-tapping, the screen didn't properly wake up. There have also been two occasions on which repeatedly double-tapping the screen did nothing, and I had to resort to pushing the button to wake the device. Since reviewing the Lumia 925, I've found that double-tap-to-wake on that device can be temperamental too. My experience suggests that Nokia – or its new Microsoft overlords – have some work to do to perfect this feature.
Other additions in Amber include the return of flip-to-silence (last seen in the Lumia 900), which shuts off an incoming call alert when you turn the device over; and a small selection of new ringtones. Like most ringtones that are bundled with handsets, these are all, in my opinion, utterly awful. You may love them, of course – just don't make me listen to them, or I'll have to strike you across the skull with a Lumia 920.
There are two important things to note about Nokia's additions to the OS through its Amber firmware update: the first is how well integrated these enhancements are. None of the improvements that Nokia has made to Windows Phone 8 feel like add-ons, and the company is to be commended for this.
The second, much broader point is that I can't help but wonder why it was left to manufacturers to add this kind of genuinely useful functionality to the operating system. It's a damning indictment against Microsoft and its sadly lethargic pace of updating Windows Phone 8 that Nokia has been forced to commit time and resources to adding features that, in most cases, should have been part of the OS in the first place.
From the 18 months between its two 41-megapixel handsets – the Symbian-based 808 PureView and the Lumia 1020 Windows Phone – to the fact that the 1020 was launched with a 720p display as the OS still doesn't support 1080p resolution, we've seen time and again that Nokia's pace of development has been limited by the operating system.
In the eleventh months since Windows Phone 8 devices launched – and almost three years since Windows Phone 7 handsets went on sale – users have petitioned Microsoft with a long list of features that they'd like to see included in its mobile OS. Many of these requested features still haven't made it to Windows Phone. There's still no screen orientation lock, no unified notifications centre, no VPN support, no ability to close running apps, no universal device search… and the list goes on.
Some of these features will finally make it to Windows Phone 8 in GDR3 this year; others won't arrive until the more comprehensive 8.1 update in early 2014. It is good news that elements such as these will, at long last, be included in the OS, but it is no less disappointing that Microsoft has taken so long to implement them. More importantly, it makes otherwise remarkable devices like the Lumia 1020 much less appealing to potential buyers; after all, who wants to purchase a flagship handset that is perpetually lagging behind Android and iOS range-toppers?
When Microsoft takes control of Nokia's device business next year, I can only hope that Nokia's commitment to pushing the OS further and faster will influence Microsoft to do more to accelerate its pace of development. Until this happens – until Microsoft demonstrates that it is serious about catching up with its competitors, establishing feature parity with its OS rivals – I can't really blame anyone who chooses to overlook Windows Phone 8 in favour of an iPhone or one of the many brilliant Android flagships out there.
Beyond the OS, you may well already be familiar with the work that Nokia has done in extending the functionality of its devices through downloadable apps, available in a separate curated section of the Windows Phone Store, called the 'Nokia Collection'.
Many of the apps in this section have been developed by Nokia's own in-house team, and many are exclusive to Lumia devices. Nokia has made some of its apps available for general release, for those who have purchased Windows Phones from HTC, Samsung or Huawei, including its HERE location-based apps, such as Maps and Drive.
This isn't the place to go into a detailed review of each and every app, but I will highlight a couple of my favourites. The best of Nokia's apps for me is still HERE City Lens. It's blissfully simple to use – so easy that even my mother has managed to grasp it since I purchased a Lumia 920 for her earlier this year – and adds the kind of useful functionality that appeals to just about everyone.
City Lens is an augmented reality (AR) guide to local points of interest, including places to eat and drink, shop, and visit, along with transport links. Start up the app, and you'll see a simple grid allowing you to view all locations, or select a particular category. The usefulness of the app is evident when you're exploring parts of town (or other cities or countries) that you're not familiar with.
While wandering around and exploring new places, for example, you may suddenly find yourself completely and hopelessly lost, as I seem to do with remarkable frequency. Crank up the app, select 'transport'…
…and hold up the Lumia 1020. The rear camera will be activated, and you'll see an overlay of all transport hubs and companies nearby, displayed onto a real-time view of the world around you. If you hold the handset horizontally, the map view will change from an AR view to a two-dimensional map showing all of the locations.
Tap any of these locations – which includes bus stops, train stations, taxi services, car hire centres and more – for further details, including contact information (where appropriate) and the facility to get directions from your current location. It's easy to use with no real learning curve to speak of, and it works absolutely brilliantly. I use it regularly to discover new restaurants and bars. Mostly bars.
Photobeamer is another super-simple but really handy app from Nokia. I love to share photos with friends, especially when a bunch of us get together at someone's house to catch up. But when you've got a big group of people all trying to huddle around a 4.5-inch screen, the experience is often less than satisfactory – most people end up with a poor view of the photos, and of course, on such a small display, even those that can see the screen clearly won't be enjoying the pics in their full glory.
Photobeamer makes it incredibly easy to display photos from your phone on any computer with an internet connection. Open the app on your phone and then visit photobeamer.com on the computer's web browser. The web page will generate a QR code, which you're prompted to point the handset's rear camera at. A few seconds later, you'll see your photos on the computer's screen as well as on your phone. Swipe left or right on your phone to browse through your albums, and you'll see the same thing happen on the larger computer display.
There's a bit of input lag between your swipes on the phone screen and the same thing appearing on the computer screen, but the delay is well under a second. It can also take a few seconds for very large high-res photos to fully load on the larger display. This doesn't significantly undermine the experience though, and the more important objective is achieved of easily allowing your friends to share in viewing your photos with you – a few seconds here or there is a small price to pay for the ease and convenience of the overall experience.
These two examples are my personal favourites from the Nokia Collection, but there are many more apps on offer from Nokia. The fantastic Nokia Music is a very popular one among Lumia owners, as is the Nokia Xpress browser, which compresses web pages to help reduce data consumption by up to 85% while browsing – a must-have for those with a limited data allowance.
Your favourites may well be completely different to mine, of course, but that's the beauty of a diverse software ecosystem – there's something for everyone. And beyond the Nokia Collection, a rich and varied selection of apps is certainly available via the Windows Phone Store. There are now around 175,000 apps available on Windows Phone, and as it grows in popularity – now nudging or exceeding 10% market share in an increasing number of countries – the range of brands that are committing resources to the platform is also steadily increasing.
But with Windows Phone still remaining in a very distant third place worldwide, many international brands simply aren't interested in committing resources to supporting it when, in some markets, well over 90% of their customers use Android or iOS. Many smaller brands, with much more limited resources than multinationals, simply can't afford to add support for a third platform that contributes so little to its customer base.
It's this situation that creates an unfortunate chicken-and-egg situation for Windows Phone – customers are less likely to buy into a platform when the answer to "does it have App XYZ?" is no. But App XYZ remains unlikely to develop an app for the platform until customers buy Windows Phones in greater numbers.
BBC News, Dropbox, WebMD, Feedly, HBO GO, Pinterest, Mashable, Expedia, Nook, The Wall Street Journal, Citibank – and yes, Instagram… the list of official apps still missing from Windows Phone 8 is long.
Fans of WP8 would point you towards some of the excellent third-party alternatives that fill in the gaps that remain in the platform's app line-up – and there are certainly some impressive examples out there. It's a credit to those independent developers, such as Rudy Huyn (6tag) and Daniel Gary (Instance), that many of these third-party apps are of such exceptional quality that brands with far greater resources could learn a thing or two from them.
But potential customers considering Windows Phones such as the Lumia 1020 aren't attracted to the platform by third-party alternatives. Rightly or wrongly, customers associate an official app with high quality; give a typical customer the choice between a free official app and a free third-party app, and most will choose the official version without stopping to consider any other factors. The absence of an official app unavoidably gives a negative impression of the platform; if Brand ABC doesn't consider this operating system good enough, why should I?
There is good news on the horizon though. Major brands such as Vine, Flipboard and Path are coming to Windows Phone 8; Citrix Receiver and Adidas miCoach have recently launched joined the platform too. Things are getting better, albeit slowly. But until brands large and small consider developing for Windows Phone 8 alongside iOS and Android the norm, rather than something that they might eventually get around to, handsets like the Lumia 1020 remain a tough sell for many customers, no matter how good the hardware and OS may be.
Just like the Lumia 925 – as well as the Lumia 920, 928 and 820 – the 1020 features a Qualcomm Snapdragon S4 MSM8960 chipset. Like its siblings, the 1020 has a dual-core 1.5GHz CPU and Adreno 225 GPU, but also gets a welcome boost in RAM, with 2GB – more than double that of any other Windows Phone.
On paper, at least, it seems rather uninspired of Nokia to use the same chipset in its newest flagship as the one that it launched in its 920 range-topper a year ago. In practice, though, the Lumia 1020's performance is unlikely to leave you wanting more.
Navigating through the OS on the 1020 is a flawless experience. Not once did I experience a hint of stutter or lag while tapping through menus; transition animations were always instantaneous and rendered smoothly and without drama.
The handset also had no trouble with multitasking. I was able to jump in and out of multiple games, Office files and media streaming apps with no fuss. Jumping back into a game like Gameloft's stunning 'Modern Combat 4', one of the more graphics-intensive titles available on the Xbox Games Store, resumes gameplay quickly; the handset never struggled to get me back into the action when I switched between apps. While multitasking on Windows Phone isn't exactly a richly featured experience, the ability to quickly jump from one app to another with no lag and no temporary loss of performance is really the gold standard of multitasking, and both Nokia and Microsoft are to be commended for making this work so well. 
Gameplay itself was an area in which the Lumia 1020 excelled. From titles like 'Modern Combat 4' and 'Infinite Flight' , to casual games like Angry Birds: Star Wars II and the ever-addictive Fruit Ninja, performance was smooth and unhindered. And while the Lumia 1020's display isn't Full HD, games still looked absolutely beautiful on its 720p AMOLED display.
Indeed, the Lumia 1020 had no trouble dealing with any of the apps or games that I tasked it with handling, and it's hard to think of any higher praise than that when it comes to assessing a handset's performance. It would be incredibly easy to dismiss the 1020 for 'only' having last year's dual-core processor, instead of a kick-ass octa-core processor that you can brag about to anyone who'll sit still long enough to hear you. But that would be missing the point entirely. 
The Lumia 1020's hardware is more than enough to handle anything and everything that you could install on it from the Windows Store. As someone who regularly uses and tests a broad range of devices, I cannot emphasise enough how important that is. I have often said that the best measure of a device is not how it's defined on paper, but how it copes with everything that you can possibly throw at it. By that measure, the Lumia 1020 is utterly impressive.
My experience hasn't been completely flawless though – in the first week of testing the 1020, the handset developed something of a penchant for spontaneously rebooting itself, eventually prompting me to resort to a hard reset, wiping the device fully and starting over. It also seemed to enjoy randomly waking the screen; I initially thought that this had been prompted by toast notifications which I had been a split-second too late to see, but I soon witnessed the screen coming on with no alerts or notifications to speak of. Frustrated, I performed a second hard-reset.
Since then, there have been no such issues, so whatever appeared to be irking the device initially has apparently been resolved. This does not appear to be a widespread problem on Lumia 1020s by any means, though, so I am willing to believe that I was unlucky enough to get a slightly quirky review unit – but I felt it important to put this information out there for you to draw your own conclusions.
As you would expect of a modern flagship, the Lumia 1020 offers a broad range of connectivity options. Three versions of the handset are offered in different markets; all three models (RM-875, RM-876 and RM-877) feature GSM 850/900/1800/1900 2G connectivity, while various 3G and 4G bands are supported by each handset variant. The version that Nokia supplied to us for review, model RM-875, supports the 850/900/1900/2100 3G HSDPA bands, along with 4G LTE support for the 800/900/1800/2100/2600 bands.
Potential buyers in the United Kingdom will be happy to learn that the model sold there is fully compatible with the EE 4G network, and with all of the new 4G networks from other operators, who are now beginning to roll out their next-generation mobile services across the country.
I found voice call quality over cellular networks to be about as good as on any other device that I have tested; I was able to try out voice calls with the Lumia 1020 on EE 3G, Vodafone 3G and O2 4G in the U.K. The quality of the incoming audio was always excellent, and those on the other end rarely struggled to hear me, except in situations where ambient noise was especially intrusive, such as on a very windy day, or on a night bus, surrounded by screaming drunkards. 
I found that the Lumia 1020 was better than some devices – including the Sony Xperia T, iPhone 5 and Nokia's own Lumia 925 – at getting the best indicated signal strength; the 1020 seemed especially good at finding and holding on to a 4G signal compared with these handsets. My comparisons in this regard were, however, less than scientific, and you may well find that your experience differs from mine.
You'll also find Wi-Fi a/b/g/n support (still no 802.11ac though), as well as Bluetooth 3.0 with A2DP; an update later this year will bring Bluetooth 4.0 LE support to the 1020.
There's NFC (referred to by Microsoft as 'tap + send') on board as well, which is nice – if you like that kind of thing. Personally, I had precisely zero use for it while testing the Lumia 1020. Every time I have tried to use NFC to get two devices to communicate and share stuff, it's been a tedious, torturous experience that I am in no hurry to repeat. Anecdotally, I know of no-one with an NFC-enabled phone that ever uses that feature with any regularity. With little third-party support for Windows Phone's Wallet app, for making NFC payments, I would imagine that it's a feature you're unlikely to make much use of either.
With all of its Windows Phone 8 flagships, Nokia has focused heavily on its imaging prowess and the extraordinary capabilities of the PureView cameras it has squeezed into its devices. With the Lumia 1020, the company has upped its game considerably, making its 41-megapixel camera the star of the show.
The 1020's camera features a six-element lens with ZEISS optics, along with a backside illuminated sensor, to enhance light sensitivity while minimising noise levels. Nokia's Optical Image Stabilisation (OIS) technology is also baked into the device. In a nutshell, OIS compensates for the movement and shake that often occurs when a user takes a photo; this kind of camera shake typically happens as the user presses the camera button and often results in blurred images, especially in low-light conditions.
There are also two separate flash units: an LED-flash for video and Xenon for still photographs.
Tech-heads the world over already know that megapixel count is a fairly meaningless measure of camera quality in and of itself – but the 41MP sensor is much more than just a big number intended to wow people into buying the phone.
The sensor itself has an effective 41MP (7728x5368px) active area, but the images that it captures are not actually 41MP in size. The actual photo size is dependent on the aspect ratio that you set for image capture: at 4:3, images will be captured at 38MP (7152x5368px); at 16:9, images are 34MP (7728x4354px).
When using Nokia's Pro Cam app – the default camera software which activates when you press the camera button, although this can be changed – the 1020 captures two images when you take a photo: a full-resolution 38MP or 34MP image and a smaller 5MP image that's perfect for sharing on social networks.
The smaller image uses a technique called 'oversampling'. Clever people with very large brains from Nokia have explained this to me by saying that the handset essentially combines seven pixels from the full-resolution image into a single 'super-pixel', producing a sharp, high-quality 5MP image that takes up much less space (and which is far quicker to upload over a mobile network).
But there is much more to the Lumia 1020's camera than that. You may recall that Nokia's slogan for the handset's launch event was 'Zoom Reinvented', and this relates to what is essentially a new way to take photos with your handset. 
If you've ever tried zooming in on something before you take a picture with your phone, you'll already be familiar with the deeply unsatisfactory results this produces. It's frustrating, because sometimes you just can't get any closer to the action, so you have no choice but to take a photo from far away, while the object that you wanted to focus the image on ends up being very small.
Nokia's 'Zoom Reinvented' philosophy allows you to take a photo with the Lumia 1020 from where you are, and then zoom in on what you want to focus on after you've taken the pic. For example, while enjoying a nice cup of tea a few days ago, I glanced out of the window and spotted something odd. I grabbed the Lumia 1020, pressed the shutter button to launch the Nokia Pro Cam app, and took the photo above. The object that I was trying to focus on was way off in the distance, and there was no way for me to get any closer to it before it disappeared. You may not even be able to spot it in the image below (note: this image has been compressed and reduced for publishing purposes - you can view the original here):
The Pro Cam app allowed me to completely reframe the original high-resolution image. I could, if desired, change the aspect ratio entirely (4:3, 16:9, 3:2 or 1:1) and zoom in to make the object more visible. The result is the image below, which I then emailed to a friend who's very much into military aviation, to mention that a Royal Air Force Chinook helicopter had just flown nearby, to see if he knew if anything interesting was going on.
Let's look at another example. I'm lucky enough to live in a very leafy suburb of London, and the private estate on which I live has a beautiful garden and lake, which I often visit to take a few minutes to clear my head and get away from my desk. During one such visit, I noticed something moving on a leaf that had fallen from one of the trees on to the lawn – can you spot it? (Compressed/reduced image below - view the original here.)
Let's reframe the image and zoom in, and you should be able to spot the dragonfly standing on the leaf:
The more you zoom in, of course, the less defined the reframed image becomes. But the possibilities are endless. Imagine being at a music concert, for example, and being able to just take a photo from way back in the crowd and zoom in on the action later to save your favourite moments from the event; or snapping a quick pic from an airplane window as you approach your destination and then reframing it later to make it look like you took the perfect shot first time around.
This is something that you really have to try for yourself to be able to appreciate just how awesome it really is.
Here are a few other images that I snapped using the Pro Cam app; I'll let you judge them for yourself (higher-res versions are available here):

This image was taken using the standard Windows Phone 8 camera app.

This image was taken using the Nokia Smart Cam app.

To demonstrate the Lumia 1020's imaging capabilities, Nokia commissioned legendary photographers David Bailey and Bruce Weber to try out the device, asking them to share their images of "an intimate human in a distant world".
Neither of them has ever been a fan of digital cameras; indeed, Weber said: "I don't do digital and this is the first time I have really gone out in the world and done like a digital sitting. I was impressed with the resolution and the beauty of the colour." High praise indeed.
I was lucky enough to attend the launch of an exhibition of the photos they snapped with the Lumia 1020 in London last month, and was absolutely blown away by the results. Here are a few of the photographs that they captured:

Nokia also collaborated with National Geographic photographer Stephen Alvarez, as part of the world-famous journal's 125th birthday celebrations. He was tasked with a ten-day assignment to capture the essence of the American West, with nothing but a Lumia 1020. Some of his photographs are shown below:

But you don't have to be a professional photographer to get the most out of the Lumia 1020. The Nokia Pro Cam app includes a broad array of settings and options to help you get more out of your photos. Nokia has done well to create an attractive and very easy to use UI that also features a live preview, so you can see how your photo will appear before you've even taken it.
White balance, focus, ISO, shutter speed and exposure compensation options are all provided with the radial interface shown above, while there are also multiple flash options: auto, on, off, focus light only, and no focus light. Pro Cam can also switch to video capture mode by tapping the video button, which is present when the radial menu is hidden.
This short video is unlikely to worry Sir David Attenborough when it comes to wildlife documentaries, but shows off the handset's 1080p video capture using default settings in the Pro Cam app:
What Nokia has created here is an interface that encourages even the most inexperienced photographers to get stuck in, to experiment with settings, to try things out and see what happens. My own apprehension at somehow ruining the camera, the phone, everything, by tinkering too much with the settings was calmed by Nokia's chief marketing officer, the wonderful Tuula Rytilä, who reassured me that restoring all the settings to their defaults is as simple as swiping the on-screen camera button to the left from the settings radial menu. Perfect for n00bs.
The camera experience isn't perfect though. The Pro Cam app – the hub of all this imaging magic – takes around two seconds to start up. Unlike the default Windows Phone 8 camera app, Pro Cam also can't bypass the lockscreen PIN, so if your device is PIN-protected (and it really should be), you won't be able to start taking photos with Pro Cam until you've entered your four digits. Considering how extensively Nokia and Microsoft collaborated over the Lumia 1020, this is a pretty basic oversight.
Between the slow start-up time for the app and the PIN issue, it means that Pro Cam isn't a reliable option for always being able to quickly whip the Lumia 1020 out of your pocket to capture a moment before it's over. As a result, I found myself resetting the stock Windows Phone 8 camera as the default for general image capture, launching Pro Cam from a tile on the Start screen as needed.
Pro Cam also struggles to take photos in quick succession, thanks to the amount of image processing that takes place once you've taken a photo; typically, it takes around two seconds before you can take your next snap. Nokia has hinted at me that they're already working on improving this, and given the company's excellent track record in updating and enhancing its software for the platform, I'm confident that they'll do so.
While these imperfections remain, I can't overstate enough how impressed I am by the capabilities of the Lumia 1020's camera. Nokia is proud to market the handset under the slogan "nothing else comes close", and they're right. The Lumia 1020's cam is so far ahead of everything else on the market that comparing it to its smartphone rivals seems almost unfair on the competition. But the overall camera experience remains slightly spoiled by weaknesses on the software side. I can only hope that Nokia delivers those improvements soon.
When I reviewed the Lumia 925 earlier this year, I noted what a disappointment it was that Nokia's then-new flagship handset had only half of the storage of the previous range-topper, with just 16GB of space (14.68GB accessible). A 32GB version was available, but only in certain markets, and with very limited carrier availability.
I wasn't the only one to voice concerns about that, so it's refreshing to see that with the Lumia 1020, Nokia has made 32GB of storage the standard. A 64GB version is also available, but it is exclusively available on Telefónica's networks (including O2 and Movistar), unless you can afford to purchase the device off-contract and at full price. It is this version that Nokia and Telefónica made available to us for review.
With only my text messages, emails and apps, along with around 400 photos and three short videos, stored on the device, 13GB of storage was eaten up. 1.9GB of this was taken up by the 'System', with 4.7GB of apps. While the majority of apps have a fairly small storage footprint, some – particularly games – can quickly eat up a lot of space. Despite the fairly generous storage available on the Lumia 1020, you probably won't want to install too many titles like Modern Combat 4 (1.5GB) and The Sims FreePlay (934MB), if you also want to leave room for other media, particularly given that there's no microSD slot to expand storage when you run out.
With around 45GB of free space, almost my entire music collection would have able to fit on the device (albeit with room for little else), although if I had been stuck with using the 32GB model, I would have been forced to pick and choose only those songs that I really wanted to carry with me. That said, there are plenty of music streaming options to choose from, including the Xbox Music Pass (which you'll have to pay for because, unlike on Windows 8, there is no free option for use on Windows Phone 8) and the fantastic Nokia Music app, offering free music streaming. 
Listening to music on the move is hugely important to me, so I value the efforts that manufacturers put into ensuring that the experience is a good one. While the strictest audiophiles with the most discerning ears might disagree with my assessment, I found listening to music on the Lumia 1020 to be a joy.
The bundled headset – which includes a mic and button for voice calls – is among the best of those included with any device. That's not to say that you won't find better headphones out there in the third-party market, but few other devices include a headset as comfortable and capable as those that come in the box with the Lumia 1020.
They're identical to those bundled with the Lumia 92x family, and that's not a bad thing at all. They're very comfortable to wear, and Nokia also includes a selection of buds to ensure that you find the right fit for your ears. Audio playback is clear and richly detailed; with impressive resonance particularly with bass-heavy tunes. I was constantly impressed with how well bass was handled; music never descended into the kind of muffled, angry thuds that you may experience on cheaper handsets or with inferior headphones. At maximum volume, and using the default audio settings, the headset sometimes struggled a bit with high trebles; I often listen to classical music, and found that string solos would very occasionally sound a bit too shrill.
My overall experience, though, was overwhelmingly positive, and I salute Nokia for not cheaping-out with such an important accessory. For those who like to fine-tune their audio experience, various settings and enhancements are available on the device; I personally found the default settings to offer the most balanced and satisfactory output.
The Lumia 1020 is in good company with just about every other smartphone ever built in that its external speaker is awful for anything except voice calls. Frankly, though, I consider it to be a crime against humanity to attempt to use the external speaker on a phone for listening to music or while watching anything but the very shortest videos, and if you had any expectations that the Lumia 1020's speaker would somehow transcend all other phones, you're quite mad. For hands-free voice calling though – or even for listening to voice-heavy podcasts while in the car, it's perfectly decent with plenty of volume and enough clarity to make it easy to hear and understand what's being said.
Just please don't be that person who buys a Lumia 1020 and sits at the back of the bus playing wretched-sounding music through its tinny speakers.
As with the 925/928, which have the same AMOLED panel as the 1020, watching videos on Nokia's top-of-the-range device is a joy. As I moaned about earlier in this review, I think it's a great shame that the 1020 doesn't feature a Full HD 1080p display, but in practice, the overwhelming majority of buyers will be more than satisfied with the HD (1280x768px) resolution of the handset's screen.
The PureMotion HD+ technology that Nokia has integrated into the device may sound like little more than marketing fluff, but in practice, the display does an excellent job of handling video, especially high-definition content.
Personally, I've never much enjoyed watching movies on phones – I prefer to enjoy movies on a much larger screen – but I regularly watch HD movie trailers, which are often the perfect smörgåsbord of quick-pans, densely detailed CGI and fiery explosions, and the Lumia 1020 did a pretty good job of dealing with it all, although it wasn't absolutely perfect. 
As you'd expect of an AMOLED panel, colours were spectacularly vibrant, with beautiful contrasts and incredibly deep blacks allowing brighter colours to seemingly explode with intensity.
I also frequently watch TV news channels when I'm out and about, catching a few minutes of news while on a short train journey or while waiting for a bus (for those in the U.K., I heartily recommend the TVCatchup app for this). Streaming this standard-definition content to the handset was absolutely flawless over Wi-Fi, 3G and 4G networks, and I was delighted by how smoothly the relatively small tickers on various news channels appeared, scrolling along the bottom of the screen with no blurring and no legibility issues.
There are various video streaming options available for Windows Phone 8 – from Vimeo to Netflix – but if you want to watch your own video files on the Lumia 1020, you'll need to ensure that you sync it to the handset in a compatible format. Those MKV files you thought no-one else knew about, for example, aren't natively supported by the OS, so if you want to transfer your porn wedding videos to the device, you'll have to convert them to a supported format, such as WMV, DivX-encoded AVI or H.264-encoded MP4.
The Lumia 1020 features a non-removable 2000mAh battery and, as with most handsets, you should find that a 'balanced' amount of usage gets you through the day with no problems.
A typical day for me will involve me:
Reading and sending emails – one account set up for push email; two accounts set up to sync every 15 minutes
Making a few 5-10 minute calls, and sending a handful of text messages
Using social apps – checking Facebook, reading and sending tweets, chatting on WhatsApp
Around 15-30 minutes of video streaming
1-2 hours of local and streamed music playback
Around 15-30 minutes of casual gaming
A smattering of web browsing throughout the day
On evenings out and weekends, I often take plenty of photos too. While the exact way that you use your handset is unlikely to be identical to mine, I think it's fair to say that my usage is broadly representative of the range of tasks that users engage in on their devices on a daily basis. With this kind of usage, the Lumia 1020 made it through the day with plenty of juice to spare. Without adjusting my usage, I was able to go around a day and a half from a full charge before the battery finally died.
Of course, certain tasks will drain the battery more quickly. Listening to music all day long will suck the life out of the phone a lot faster, so if you're the kind of person who needs a constant soundtrack playing through the day, or who can't stop playing games on their phone, you should make sure that you carry your charger with you.
If you do find yourself burning through your remaining battery life more quickly than expected, the Lumia 1020 features the same Battery Saver mode included in other Windows Phones. If you've enabled this mode, it will kick in automatically when your battery drops to 20%, and reconfigures the handset to optimise it for lower power consumption. Push email will be disabled, background tasks will be limited and the display brightness reduced, all in an effort to squeeze a bit more life out of the battery before it finally runs out of juice.
Various settings can also be manually reconfigured to optimise the device for extended use. Disabling push email, turning off NFC and Bluetooth, disabling the Glance Screen, and killing auto-upload of photos and videos captured with the camera, will all help to prolong battery life.
If you purchase the optional Camera Grip accessory, you'll also find that it includes its own 1020mAh battery. This is a brilliant feature (and an essential one for the keenest photo-takers), ensuring that your handset's battery doesn't have to take a beating if you're the sort of person who can't walk more than a few metres without having to snap a photo of something. The Camera Grip also includes an external battery indicator; push the battery-shaped button on its base, and up to four LED lights will show how much juice remains in its battery.
But the Camera Grip has another trick up its sleeve: it can also charge the battery inside the handset. Simply slot the 1020 into the Grip and, if the phone's battery is at less than 100%, the Grip will automatically recharge it. It's a brilliant idea, working perfectly in practice, and I have to commend Nokia for implementing such a thoughtful and useful concept that works so well in the real world.
Superbly designed and beautifully crafted, the Lumia 1020 is without a doubt one of the most impressive smartphones ever created. Its greatest strength, of course, is that incredible 41-megapixel camera. It is a triumph of Nokia engineering, and it is nothing short of extraordinary that the company was able to cram its peerless imaging technology into a device that feels much lighter and sleeker than you might expect from its dimensions.
The 1020's camera often defies belief in the amount of detail it can capture. Nokia's marketing slogan for the handset is "nothing else comes close", and the company isn't wrong about that. Ignore the megapixel count, and focus solely on the imaging results, and it quickly becomes obvious that the Lumia 1020's camera leaves its rivals trailing so far behind it that you'd actually need a Lumia 1020 to be able to zoom in and see them in the distance.
But Nokia's latest flagship isn't perfect. The camera experience still needs work – the Pro Cam app is painfully slow, both to launch and to take snaps in quick succession. Expect this to be remedied in future updates, but for now, there's certainly room for improvement.
We cannot forget either that, underneath its pretty body, it's still sporting hardware that's over a year old. I stated earlier in this review that one cannot get too bogged down in focusing on what specs look like on paper, but rather how they measure up to the full range of tasks that you will require of them in action. I stand by that as the most meaningful way to measure real-world performance, and in that respect, the 1020 excels, never struggling to deal with anything you can throw at it. That said, with quad-core Windows Phones with 1080p displays just around the corner, the 1020 won't be the king of the hill for long. 
There is much to applaud in the Lumia 1020. But there is no escaping the fact that its weakest link is Windows Phone 8. The glacial pace of Microsoft's development of its mobile OS is, frankly, outrageous. Yes, there have been two updates to Windows Phone 8 since its launch last year, but neither of these updates has delivered any truly compelling features that would win over users from rival platforms. That doesn't exactly bode well for those considering a device like the 1020.
Die-hard fans of the platform would no doubt point to Android, which isn't much better when it comes to devices being updated. In some ways, in fact, it's much worse. But that completely misses the point. Android isn't playing catch-up with Windows Phone. Microsoft's mobile OS has been lagging behind its rivals for too long, and until the company picks up the pace of development to ensure that its feature set matches those of its rivals, many consumers will continue to overlook otherwise superb devices like the Lumia 1020.   
The other elephant in the room remains 'the Instagram problem'. Users care about apps, and they're not going to sit around long enough for Windows Phone-lovers to equivocate about third-party solutions for apps and brands that still haven't developed for the platform. The good news is that things are continuing to improve. Big names like Flipboard and Vine will roll out their Windows Phone 8 apps soon; companies like Adidas and the BBC have recently launched new apps on the platform too.
But while these problems are slowly being resolved, they remain important considerations for those shopping for a high-end handset. Such compromises are far easier to forgive when you're paying a hundred bucks for a Lumia 520; when you're paying $700 SIM-free or committing to a two-year contract with $200 down, one's expectations are understandably higher.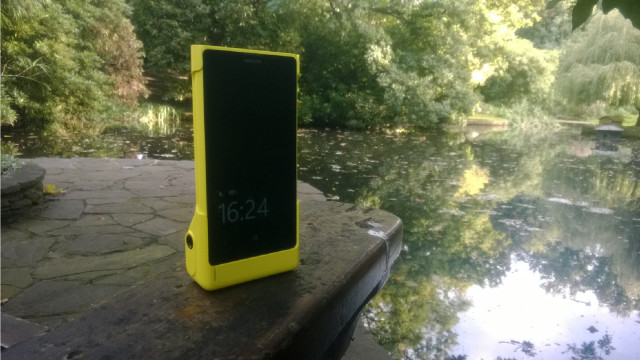 These compromises will undoubtedly prompt many buyers to gloss over the Lumia 1020, and that's an absolute tragedy. It would be easy to dismiss the Lumia 1020 as just an amazing camera slapped onto a year-old smartphone – but it's so much more than that.
Set aside what the platform is missing and focus on what it offers today, and you'll find a beautiful OS that's incredibly easy to use, and Nokia's fantastic range of apps – including the brilliant Nokia Music, HERE City Lens and Drive+, among others – that add extraordinary value to the core offering of the device. All of this is wrapped up in a striking package, overflowing with the best of Nokia's design and engineering, and featuring the best smartphone camera the world has ever seen.
Indeed, the Lumia 1020, despite its flaws and those of its operating system, is one of the best all-round smartphones available today. Stop worrying about what it's missing and accept it for what it is, and its strengths become so evident in usage that you may soon forget about its weaknesses. That's remarkably rare in my experience; to find a device that's so charming and delightful that you can overlook its shortcomings. Some might even call that 'love'.
Whether you'll actually fall in love with the Lumia 1020 will, of course, be a matter of personal taste – and sanity – but give it a chance, and you may well find that it makes you very happy indeed.
You might also find this stuff useful... 
> Windows Phone 8 operating system review
> The verdict: Three months with Windows Phone 8
> Lumia 1020 product information at Nokia.com
> Follow Andy Weir on Twitter