It has been a little over a month since OPPO's Reno event in Switzerland, and as the devices begin to make their way to store shelves in Europe, we have been fortunate enough to get our hands on one for review. We will be taking our time experiencing the Reno 10x Zoom over the next few of weeks in order to provide an in-depth review, but in the time being, we have some thoughts to offer with our first impressions after a few days of use.
If you haven't been following the news regarding OPPO's Reno line, the firm initially announced the series in China back in mid-April, and a few weeks later, debuted the series in Europe. The Reno and Reno 10x Zoom look quite similar, but there are notable differences, like the SoC and rear camera setup. While the phones have gained notable attention thanks to their unique front-facing camera with pivot-rising mechanism, the 10x Zoom model arouses a bit more intrigue with its hybrid zoom rear camera.
But before we get into the camera, we first have to admire the exterior of this handset. OPPO not only makes use of premium materials like glass and metal but also has designed its phone look and feel phenomenal. It's hard to try and convey the feeling through images and text, but the handset feels quite solid, partly due to its heft, but also because of its construction. The rear glass is made from one solid piece and although the Ocean Green gradient is subtle, it offers depth and is quite eye-catching.
While I won't get into the whole process of how OPPO created the look, it's certainly unique, and I quite prefer it to the traditional mirrored finish found on other smartphones. Plus, as an added benefit, the surface is highly resistant to oils and smudges - if you're worried about those kinds of things. Despite the rear glass being made from one piece and having a matte finish, there are still areas that are meant to contrast the subdued look, with the glass above the lens elements of the rear camera being crystal clear thanks to it being "nano-polished".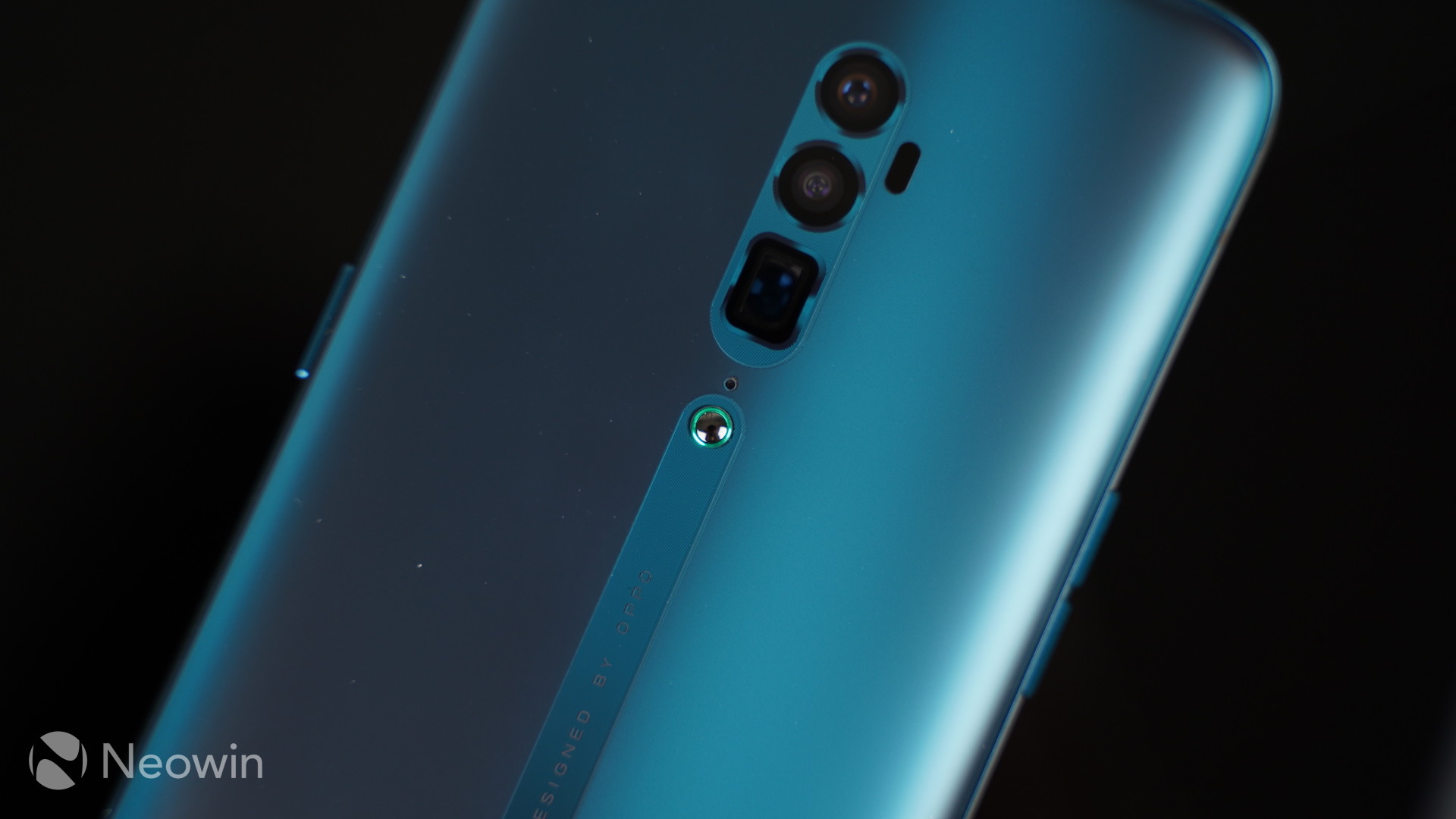 There is also a polished strip that is highly reflective that carriers the OPPO name and the intriguing yet functional ceramic O-Dot. The O-Dot is a curious part of the rear design, and almost looks like a small gem placed on the rear. It isn't distracting by any means and does flow with the design of the phone but more importantly, it is meant to elevate the rear panel of the phone when placed on a flat surface. This acts as a protective measure for the glass but don't think that the rear is fragile, as the entire rear glass is made from Corning's Gorilla Glass 6.
The chassis of the phone is made from metal, which is color matched to the Ocean Green glass surrounding it. On the left side, you can find the volume rocker, with the right side offers a power button. The buttons feel clicky and the position of the buttons are excellent, aligning with my hand, making it easy to access the volume and power. On the bottom, there is a downward firing speaker, a USB Type-C port, and a dual SIM card slot that can also accept microSD cards for additional storage. The sound from the speaker can get extremely loud but still sounds robust. For those curious, there is also a secondary speaker embedded in the small slit near the top of the display, which makes listening to audio while gaming or watching videos more enjoyable.
Speaking of games and watching videos, the display on the Reno is absolutely fantastic. The 6.6-inch 1080p AMOLED display looks colorful, crisp, and expansive, thanks to its 93.1 percent screen to body ratio. OPPO touts that colors will look great thanks to the "new luminescent screen material (E2)", offering "cinematic color display (DCI-P3) and contrast of up to 60,000:1". While there are default settings to the color, if you don't like it, you always have the option to adjust them to be warmer or cooler in the settings menu. Those that are conscious about their blue light intake can rest easy, as the Reno offers a blue light filter that is touted to reduce intake by up to 50 percent, with the smartphone's filter receiving certification from TÜV Rheinland.
Since the screen envelopes the whole front of the device, OPPO had to embed some of the more common sensors traditionally found in the bezels, under the display. The in-display proximity sensor makes use of a "new solution that combines TP proximity (used when the screen is on) and in-display infrared proximity sensors (used when the screen is off) to replace a traditional proximity sensor". Just like the proximity sensor, the ambient light sensor is also under the display and is built to filter out light emitted from the AMOLED display so that it can recognize external conditions properly. As you might expect, the phone also makes use of an in-display fingerprint reader. The unit is an optical variant and works quickly, recognizing fingerprints almost instantly, rarely experiencing issues.
OPPO's ColorOS has long been absent of an app drawer but luckily, with version 6, that all changes. The ColorOS is built over Android 9 and not only introduces an app drawer but also has many thoughtful improvements over the previous version. The color scheme by default is meant to maximize the effect of the near borderless display. The menu settings are no less cluttered than before, making it not only easier on the eyes, but also easier to find what you are looking for. There are also little bits of flair thanks to updated animations that can breathe life into unexpected parts of the UI.
You'll find a smart assistant if needed and can swipe through menus using navigation gestures. If you aren't a fan of gestures, you can always revert to the tried-and-true soft keys, of which you will have few selections when it comes to options. Personally, I tend to adapt to whatever OS I am using, so ColorOS is perfectly acceptable. But, if you're someone who can't expand beyond the stock Google experience or love whatever version of the OS you're currently using, you might not be too fond of what OPPO has to offer here. Despite it being a thoughtful update, when it comes to Android users, most in my experience seem to have a die-hard preference, which often makes it difficult for something different to flourish.
"The best camera is the one you have with you" or a similar variant of the phrase is something we hear from time to time. Smartphone cameras were at one time brushed off as proper alternatives to digital cameras, but with more recent advancements in hardware and software, mobile photography has become perfectly acceptable. Now, I won't go as far as to say it's a one for one replacement for a point and shoot or DSLRs but the quality that you can get from a smartphone camera nowadays is pretty darn good. With manufacturers utilizing different kinds of sensors, we have seen enhancements to color through the use of a dedicated monochrome sensor, expanded shots with wide-angle and super wide-angle sensors, and now, OPPO is making use of a periscope design for its lens in order to achieve advanced zoom capabilities.
Before we get to that, let's quickly roll out the numbers. On the rear, there is a 48MP, 8MP, and 13MP camera sensors. The 48MP is your standard shooter, the 8MP is your wide-angle, and the 13MP is a telephoto. The 48MP camera makes use of Sony's IMX586 sensor that offers an aperture of f/1.7 with the 8MP shooter also relying on Sony hardware, more specifically, the IMX319, with an aperture of f/2.2. The 13MP is unknown at this point but does have an aperture of f/3.3.
So what does this all mean? Well, for starters you have a variety of options when it comes to framing your shot. Glancing over a limited number of photos shot during the day, I noticed that many of the images tended to have soft edges. While I don't expect things to be pin sharp when shooting wide, I did expect it to be pretty sharp all around when using the standard camera. At night, like many other smartphones, it struggles to capture details, with things looking a bit blotchy.
There is a night mode, which works well, offering better exposure and more details versus when shooting in normal mode. If there is a saving grace here, it is that OPPO already warned that the software on the device was a pre-release version and that updates would arrive closer to its retail release. So far, I have not received an update, but maybe that will occur over the next couple weeks. So you can bet this area will be revisited and more in-depth testing will be performed for the review.
When it comes to the performance of the OPPO Reno 10x Zoom, there isn't much of a surprise. It makes use of Qualcomm's latest, a Snapdragon 855 processor, that is paired with 8GB RAM and 256GB of internal storage. The phone is quite zippy when navigating through the OS and runs smoothly when playing games. For the few days that it has been in use, there haven't been any noticeable slowdowns or hiccups.
Battery life is also quite good, with the phone lasting a couple of days on a single charge. The 4,065mAh battery isn't the largest out right now, but it's certainly enough to keep this phone going under the most rigorous conditions for at least a full day. If you're able to destroy the battery in your daily use, the firm's proprietary VOOC 3.0 charging system should have you topped up in no time.
Plugging in the phone that was dead with zero-percent battery life, it was able to charge up to 45 percent in 30 minutes, 68 percent in 45 minutes, and 90 percent in one hour and six minutes. Going from zero to 100 percent it took a total time of one hour and 28 minutes. If there is a downside, you will need to use the included AC adapter and USB cable in order to charge at VOOC speeds.
Over the years, it's gotten harder and harder to impress consumers, especially when it comes to smartphones. It isn't enough that phones look and feel good, make use of premium materials, or have the latest processors. If there is one data point that constantly reemerges year after year, it has to be the quality of the camera and the inclusion of any groundbreaking features related to the camera. Because of some of the more recent advancements, these cameras and features have managed to push smartphone photography into a new stratosphere, leaving many impressed.
With that said, the Reno has the camera hardware that could make it a top contender. The triple camera setup offers a standard, wide and telephoto lens - this has surprisingly become somewhat of a norm amongst the titans of industry. But it's hybrid zoom feature brings an element that not many other smartphones manufacturers are currently offering. Although it's still early to judge the quality of the camera, for the time being, things look okay. It isn't top tier by any means, but it also is running on pre-release software. Here's to hoping that things change over the course of a few weeks.
If you couldn't guess already, I love the hardware. It's sleek, elegant, and feels good in the hand. The screen is large and offers an immersive uninterrupted experience that is devoid of notches and punch holes. This phone could become a real contender for the top spot, but for now, we will have to wait and see, go through extended testing. Because even with all of the fine details that make it a stand out amongst the pack, it needs to be a great all-rounder to stand toe to toe with the top of the class.