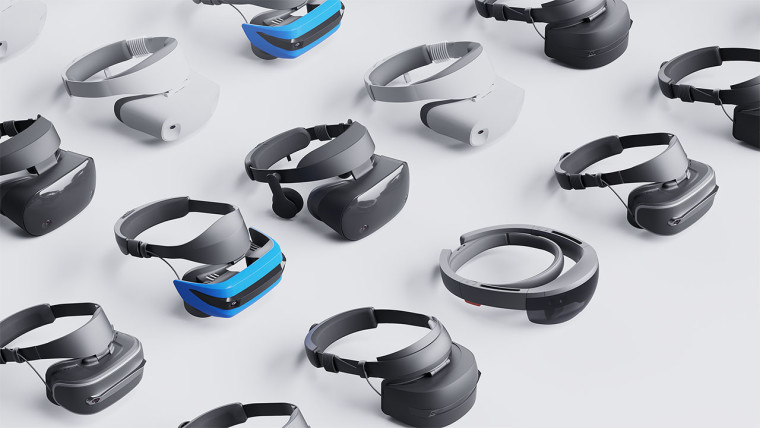 Tomorrow, June 5, Apple will hold its annual WWDC developers conference. Unless the company makes a last-minute change, it's expected to officially announce its mixed reality headset, which will be its first major hardware launch in a new category since the Apple Watch.
As we await that reveal, it's interesting to look back just a few years ago when Microsoft revealed it had created a software platform for consumer mixed reality headsets. In fact, that's what the platform was eventually called: Windows Mixed Reality.
These consumer headsets were a bit of a spinoff of Microsoft's HoloLens AR headset, which was first announced in 2015. The first units were shipped in early 2016 for the price of $3,000, which ironically is also the rumored price of Apple's mixed reality headset,
Originally, the HoloLens was being promoted for its gaming uses in addition to its business and enterprise features. However, Microsoft wanted to see the Windows Holographic platform used by third party hardware makers as well, so they could release headsets that would be far more affordable and available to regular folks.
In October 2016, Microsoft first announced Windows 10-based consumer mixed reality headsets would be created by a wide variety of PC makers, including HP, Dell, Lenovo, Asus, and Acer. Furthermore, the price for these headsets would start at just $299. Lenovo first showed off its headset a few months later at CES in January 2017. It had two 1,440 x1,440 OLED displays and two cameras. The company said it would launch the headset in late 2017 for less than $400.
In March 2017, the Windows Holographic platform got a name change to Windows Mixed Reality. Microsoft also pushed the idea that mixed reality was a better plan than just the "normal" virtual reality for these kinds of headset. Microsoft stated:
Microsoft renamed "Windows Holographic" to "Windows Mixed Reality" to be more encompassing of the company's broader vision for the platform. We're unifying the mixed reality ecosystem around a platform that enables shared experiences and interoperability between headsets. By opening up the Windows Mixed Reality platform to the industry at large, we anticipate the growth of holographic apps will make for stronger experiences and better devices for everyone.
In May 2017, HP and Acer started offering mixed reality headset dev kits to developers. At the same time, Microsoft announced hand controllers for these headsets that would be bundled with some of these devices.
PC makers Dell, Acer, Lenovo, and HP finally put their Windows Mixed Reality headsets for sale to the general public in October 2017. The first devices were sold for either $399 or $499. All of them had the same hardware specs, including two 2.89-inch 1440x1440 displays with a 90hz refresh rate, a 105-degree horizontal field of view, and inside-out tracking. All of them were bundled with Microsoft's Windows Mixed Reality controllers, which meant that they actually missed that earlier starting target price of $299.
Just a few weeks later, a new hardware maker, Samsung, launched its own Windows Mixed Reality headset. It actually had some hardware improvements, including two 1,440 x1,600 Super AMOLED displays and a bigger 110-degree field of view. In February 2018, Asus launched its headset.
Microsoft promoted the launch of these devices as gaming headsets. It even created an exclusive Halo "game", called Halo: Recruit, for the release of the first headsets. However, it was a very brief five-minute experience.
The reaction of the public to these headsets was of, well, indifference. They didn't sell very well at all, and in December 2017, those PC makers were quickly making deep $200 discounts on them for the holiday buying season.
Dell, Asus, and Lenovo didn't release any new Windows Mixed Reality products after the initial launch. Samsung released a minor refresh of its headset in the fall of 2018. Also in 2018, Acer launched its second and last headset for the platform but the Acer OJO 500 was marketed mostly for business and education use.
HP tried to make a go of it with a major headset launch in 2019. The HP Reverb put in two 2,160 x 2,160 displays with an expanded field of view of 114 degrees. It was also more expensive at $599. In 2020, the company launched the Reverb G2, with some minor hardware improvements like adding spatial audio and some new controllers.
That would also be the end of the Windows Mixed Reality headset lineup. Microsoft continues to develop its Mixed Reality software. Indeed, the company announced just a few days ago that its Mixed Reality Toolkit 3 will launch sometime in the third quarter of 2023.
However, the push for mixed reality headsets using Microsoft's platform to be a major new consumer technology product quickly died off almost as soon as it began. As Apple prepares to enter this kind of market, perhaps it should take some lessons from Microsoft's failed attempt.