Amazon has finally unveiled their rumored $50 tablet dubbed simply as the 'Fire' tablet.
While Amazon didn't dive deep into the specifics, the tablet will offer quite a decent set of specifications for its price point. The Fire tablet will offer a quad-core 1.3Ghz processor, 1GB RAM, a 7-inch 1024x600 IPS display, front and rear cameras, 7-hour battery life and 8GB of internal storage expandable via microSD up to 128GB.
In addition to the aforementioned specifications, the new tablet will offer Amazon's latest Fire OS 'Bellini', Mayday Screen Sharing and access to Amazon's streaming services. Perhaps the most interesting offering in terms of service will be Amazon's 'On Deck'. On Deck will be a new service coming in the next several months that will automatically download and manage your video media content.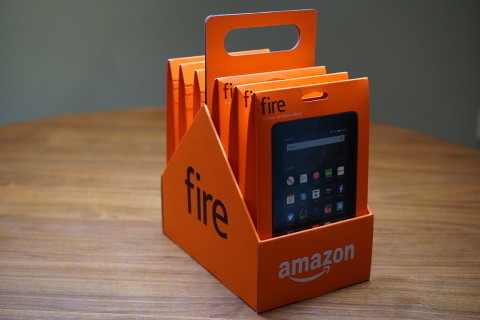 Although Amazon is offering this tablet for $50, they will also be offering it in a unique six pack. The six pack will retail for $250 meaning that those who opt to purchase the tablet in bulk will be getting one tablet for free. This could be an amazing deal for a family or even those purchasing for educational purposes.
The device will be available to buy from September 30.
Source: Amazon