At the ongoing CES 2023 event, it was AMD's time to shine today. The company had a bunch of announcements to make regarding both new CPUs as well as GPUs.
We start off with the most interesting demo that was shown off today in the form of a Blender performance demonstration using the BMW scene. In this, AMD showcased its new Ryzen 9 7940HS from the new Ryzen 7040 series lineup (codenamed "Phoenix") beating the Intel Core i7-1280P and the Apple M1 Pro by 45% and 30% respectively. You can see in the screenshot below how the new AMD chip is waiting for Apple and Intel to finish up.
Although it is impressive, bear in mind that these are last-gen products from the competition that AMD compared its new 7940HS with. Here is a performance slide showing Ryzen 7040 series will stack up against Intel and Apple.
Aside from Ryzen 7040, AMD also presented the Ryzen 7045HX series which is codenamed "Dragon Range". The HX goes above and beyond 55W and brings in twice the cores over Ryzen 7040. This means Ryzen 7045HX goes all the way up to 16 cores and 32 threads, while Ryzen 7040 series tops out at 8 cores and 16 threads. The 7040 series, however, does have an advantage over 7045HX series in terms of graphics. While the former packs the new RDNA 3-based graphics, the latter comes with RDNA 2. It also features new dedicated Ryzen AI technology, which is the first of that sort in x86 CPUs.
AMD claims its latest and greatest Ryzen 7045HX SKU is up to 169% faster than the best Intel 12th Gen laptop chip.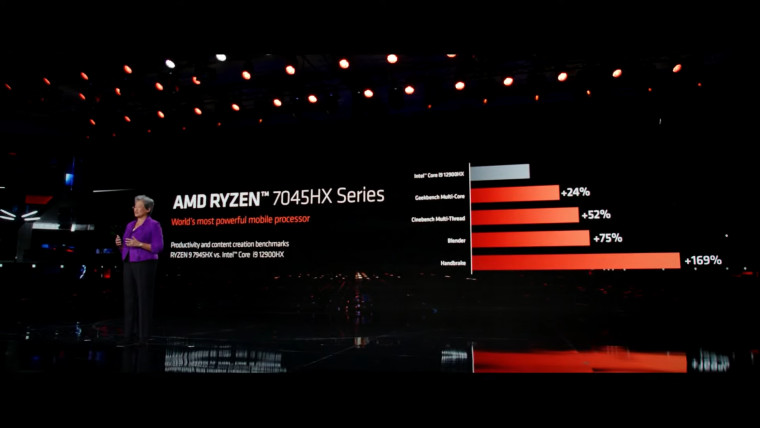 On the mobile front, AMD had another announcement to make in the form of discrete GPUs. The company released its new Navi 33-based 32CU RX 7600M XT built on RDNA 3.
AMD says that the 7600M XT is up to 31% faster than the Nvidia RTX 3060 for 1080p gaming and 26% faster than its own last-gen stuff on average.
AMD also announced Radeon RX 7700S and Radeon RX 7600S discrete graphics which are meant to be integrated into thinner and lighter notebooks.
AMD Advantage laptops, which will combine the new Ryzen and Radeon chips, are expected to be available starting next month.
Moving on to the desktop side, AMD revealed its Ryzen 7000X3D lineup headlined by the 7950X3D. This time AMD has gone beyond the 8 cores on last-gen 3D V-cache part as 12 cores and 16 cores now get 3D V-cache as well.
In total, AMD will have three 7000X3D chips, the 7950X3D, the 7900X3D and the 7800X3D: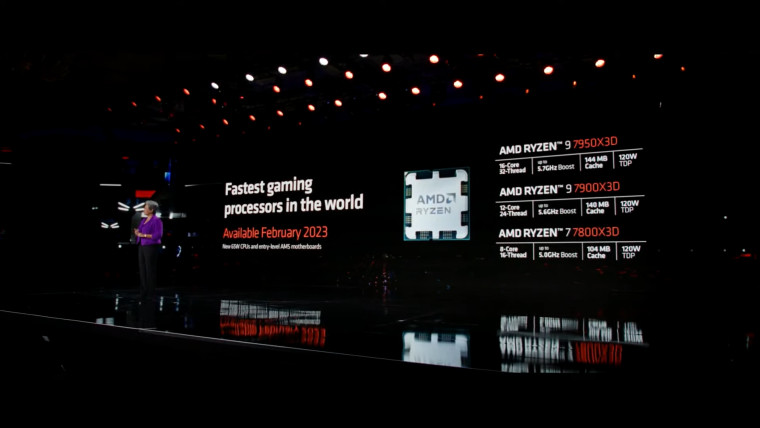 AMD also provided some performance numbers for its new X3D parts.
AMD claims gaming leadership again with its new Ryzen 7950X3D chip over Intel's Core i9-13900K. Meanwhile, the 7800X3D was compared against the 5800X3D, and once again, there are some impressive gains here too.
Perhaps the biggest good news today was the promise of more affordable socket AM5 motherboards and 65W Ryzen 7000 chips, which will help budget shoppers move on to AM5.