When Lenovo announced the ThinkPad X1 Fold at CES this week, it confirmed that the foldable PC will run Windows 10 Pro, with a Windows 10X version coming later. Naturally, Lenovo doesn't want to wait for Microsoft to get the new OS ready, but it's also important to maintain compatibility for older businesses; that's why the Windows 10 Pro model will not be discontinued when Windows 10X is out.
I got to try out the Windows 10 Pro version earlier this week, and while it was impressive, there was something missing. Windows 10 Pro simply isn't made for devices of this form factor. At the Lenovo booth at CES though, the company actually had a Windows 10X model that I got to play around with.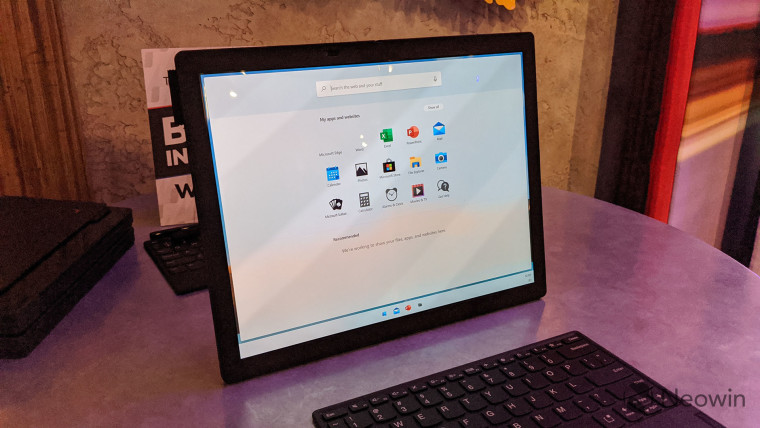 Here's the deal. Windows 10X isn't done; it's not even close to being done. Lenovo had a glass display showing off a demo of what the OS will look like, but I had to ask specifically to use this one. Moreover, this is actually going to run a custom version of Windows 10X, which is built for dual-screen devices, not foldable screens.
The version that I got to see is that was referred to as "vanilla" Windows 10X, or the one that you'll get to see on the Surface Neo. Honestly, there's not a whole lot to see. You can see the new Start Menu in the image above, but most of the apps are the same that you'll currently get on Windows 10. That Start Menu can be launched by clicking on the gray Windows icon, which turns blue after you press it. You can also access it by swiping up from the bottom of the screen, similar to how Chrome OS works.
Except File Explorer, of course. Now, there's another thing you'll notice from this image, which is that there are only buttons to minimize or close the window. Windows 10X does not, and will not, support freeform windowed apps, at least as far as what I've been told by the Lenovo representative at CES. You can get fullscreen or split-screen, but that's it.
Like how the Start Menu can be activated by swiping up, the Action Center can be activated by swiping in from the bottom-right corner. As you'd expect from Microsoft's history of touch-centric UIs, swipe gestures are a big part of Windows 10X, although for the most part, they shouldn't be unfamiliar swipe gestures.
The Settings menu UI is pretty much the same, although I didn't get a lot of time to dig through it and see what the different options are. I did note that it felt smoother to use, and was told that that's because Windows 10X is so much lighter than Windows 10 Pro.
I did, of course, get a screenshot of the About page. The edition is WindowsCore, meaning Windows Core OS. There's no model number for the CPU, which is common for Intel products that haven't been formally announced yet, although it will be a Lakefield SKU.
This above image was on the demo unit that was behind the glass, and it's what Windows 10X will look like when it's running properly on the ThinkPadX1 Fold. Another thing it will do is actually be able to tell when the magnetic keyboard is placed inside there, and adjust the OLED display accordingly. Windows 10 Pro can't do that.
There's a lot more to come when it comes to Windows 10X, so don't judge it based on what's available now. This thing still has a long road ahead of it, and the modern version of Windows looks pretty cool from what I've seen so far.