In November 2014, Microsoft said that "there will be Windows 10 upgrades for all Lumia Windows Phone 8 devices" - a fairly unequivocal statement that leaves no doubt that all of the company's devices released with WP8 onwards would be upgraded. But details now provided by Microsoft on its website suggest that availability of Windows 10 Mobile will be limited to only certain devices - at least at first.
The worldwide product homepage showcasing Windows 10 Mobile for consumers on Microsoft's site states:
The following Lumia smartphones will receive a free upgrade when available: Lumia 430, Lumia 435, Lumia 532, Lumia 535, Lumia 540, Lumia 640, Lumia 640 XL, Lumia 735, Lumia 830, and Lumia 930.
Now, there are two possible ways to read that: either that list represents the devices that will get Windows 10 Mobile at launch ("when available"), and other handsets will follow later; or that's the full list of Lumia phones that Microsoft plans to update.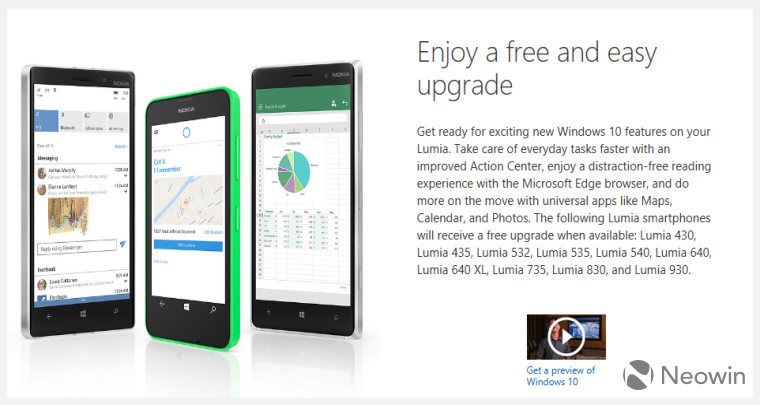 Notably absent from that list are devices with just 512MB of RAM, such as the hugely popular Lumia 520 and Lumia 630/635. But another very significant omission is the Lumia 1520, the 6-inch Windows Phone flagship. It's very hard to imagine Microsoft not upgrading its top-of-the-range handset to the new OS, especially when it also plans to upgrade the Lumia 930, which shares many key specs with it.
That might be a clue that suggest that the company plans to stick to its promise, and upgrade all devices (eventually), but we're attempting to get clarification from Microsoft on this, and we'll let you know if we hear anything back.
Update: A Microsoft spokesperson has contacted Neowin to clarify that the handsets listed will be the first to be upgraded, with others following later. You can find out more here.