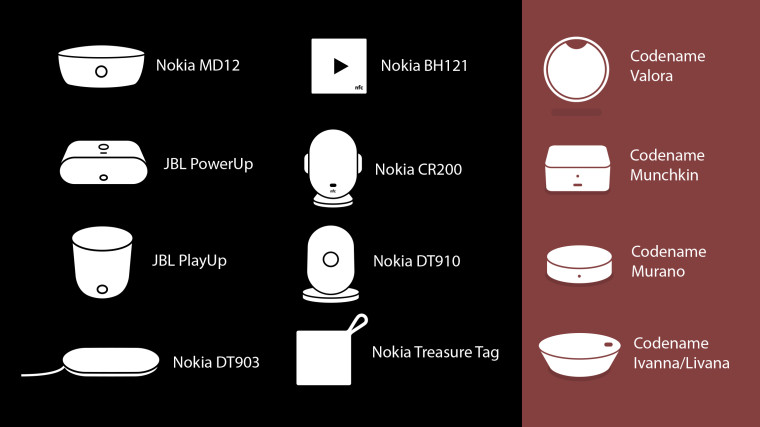 Though the release of Windows 10 Mobile is a bit out of the way, we are now getting some details on some of the accessories we can expect to join the new phones it has planned. Codenamed "Cityman" and "Talkman", representing two future Windows Mobile flagships, are now joined by "Munchkin", "Valora", "Murano", and "Ivanna/Livana". Microsoftinsider.es who uncovered the codenames, even got ahold of a graphic, shown above to help explain the functionality and features each device will offer.
The most interesting of the codenames is "Munchkin", which Windows Central confirmed to be a dock-like accessory for Windows 10 Mobile devices that will allow you to utilize the new Continuum for Phones feature. Microsoft previously demoed Continuum working wirelessly with a Miracast display and Bluetooth mouse/keyboard setup when they first announced the feature. This new accessory will reportedly act as a hub with connections for USB and video output for people that don't have a compatible wireless display or those that wish to use a wired keyboard or mouse.
Of course, all of this is dependent on the user having a compatible device, as the Continuum for Phones features will need special new hardware. This means that Continuum will not function on the current flagships, the Lumia 930 and 1520.
Additionally, it looks like Microsoft is planning to release an updated version of the Nokia Treasure tag (image above) along with new tracking capabilities. The Treasure Tag is a simple tracking device designed to notify the user when his/her phone and the object the Treasure Tag is (if you will) "tagged" to become to far from each other. This new version, codename "Valora" is rumored to take this a step further with a new feature dubbed "Motion Guard" which will notify the user when an object moves at all, in addition to its current functionality.
Finally, the last two accessories Microsoft reportedly plans to introduce will be a new Miracast adapter and Bluetooth speaker, represented by codenames "Murano" and "Ivanna/Livana" respectfully. Microsoft has release two Miracast devices so far, one designed to be paired with Lumia phones and the other, aptly named the Wireless Display Adapter aimed at professionals. There aren't any specific new features mentioned regarding these devices unfortunately, but it is still early as Windows 10 Mobile and its accompanying devices won't be arriving until this Fall.
It appears that Microsoft may be seeking a fresh start with self-branded accessories when it launches its new mobile devices later this year. This is not all surprising as Nokia would pair the releases of new mobile devices with new accessories (such as the MD-12 speaker and the Lumia 930). Of course, we can cite accessories like the unreleased 'Moonraker' smartwatch that was supposed to join the Lumia 930 as evidence that these leaks may never materialize into actual released products.
Source: MicrosoftInsider.es (Spanish), Translated (English) Via: WindowsCentral