Just before April Fools Day in 2019, Microsoft sent out a memo to the company's teams. It asked them not to create any April Fools jokes, stating, " . . . data tells us these stunts have limited positive impact and can actually result in unwanted news cycles". Since then, the company has decided to no longer participate in this "holiday". Other major tech companies, in particular Google, that in past years have created April Fools Day jokes, have joined Microsoft in not participating in the event.
While it is perhaps for the best, we can't help but look back at some of Microsoft's previous April Fools Day jokes. Most were making fun of Microsoft itself, but one of them referenced a rather controversial (at the time) decision that the company made (more on that later).
Shake to Save
In 2015, the OneDrive team posted a new feature on its Twitter account. Instead of tapping a touchscreen to save a file to the cloud, you could shake your phone to send your prized photos and videos to OneDrive. This actually could work in real life. Some smartphone apps actually do let you shake your phone to create a screenshot. However, you still would look silly.
Microsoft SkyCMD
Back when OneDrive was called SkyDrive, Microsoft announced SkyCMD on April 1, 2012. It turned the cloud service into a old-fashioned command line prompt user interface that was "faster", As we stated in our article 11 years ago:
Once there you log in to the service with your real Windows Live password (you have to tell your web browser to not block pop ups first) and then you ready to explore SkyCMD. You can even turn the commands green to really get that early 1980's MS-DOS look and feel.
Microsoft even released the source code for SkyCMD on GitHub (long before the company actually bought it) but it's no longer available on that site.
Clippy returns
We posted an article recently on Clippy and how the former, and annoying, Office Assistant avatar slowly became a more popular mascot for Microsoft. On April 1, 2014, Clippy made an appearance on the former Office Online, making fun of its own tendency to show up when he's not wanted.
MS-DOS Mobile
Back when it was trying to beat Apple and Google in the mobile OS space, Microsoft launched "MS-DOS Mobile" on April 1, 2015 for Nokia's Lumia phones in the Windows Store. The app let users view MS-DOS UI on their smartphone, with a number of different fun features. Sadly, that app is also no longer publically available.
Office for Cats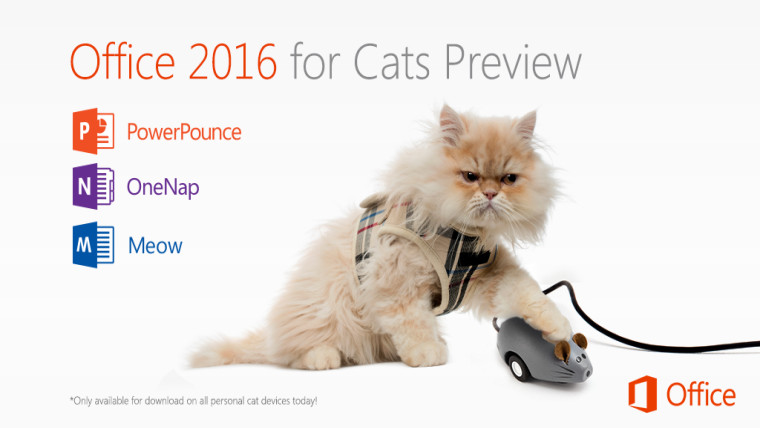 Also on April 1, 2015, the official Microsoft Office Twitter account announced Office 2016 for Cats. There were three apps announced: PowerPounce, OneNap, and Meow. Ok, that joke is a little lame, but it involves cats so we will allow it.
The Do Not Tracksuit
This is one of Microsoft's April Fools Day jokes that needs a bit of historical context. In 2012, Microsoft generated some controversy by declaring that its Internet Explorer 10 browser would have a "Do Not Track" setting in place as the default. That made lots of companies that used websites for advertising very unhappy at the time.
On April 1, 2013, Microsoft made fun of that stance by announcing the Do Not Tracksuit. Microsoft said its new clothing creation would keep its wearer safe from being tracked in the real world. At the time Microsoft stated:
Using a combination of NFC, RFID, Bluetooth 5.2 and infrared emitter technology optimized in our labs, the Do Not Tracksuit is smart enough to detect specific device/app vectors and neutralize them in accordance with the wearer's intent. It doesn't simply block all social media behavior in its proximity. Using proven SmartScreen technology, the suit can tell the difference between your mom tagging a great churro in Foodspotting and a frenemy tagging your photo in Foursquare.
The image of the Do No Tracksuit showed that the first version would be made of polyester, and version 2.0 would have a "luxurious velour" material. Honestly, we would have loved to see a version of these tracksuits made in the real world.
While April Fools Day jokes may never come back at Microsoft, it's great to look back and take a look at its previous attempts to celebrate the holiday and also check out some of the company's past technology milestones as well.