We've seen what you thought was most interesting to read in 2019, as well as the most commented, and even top reviews of the year. So what exactly am I doing with this post, you say. Well, the 2010s, as weird as that sounds to say, are in fact ending, so why not have a peek at what the top posts were for software releases and news stories for each of these 10 years?
There's not much left of 2019, so let's get cracking before all the "this took a decade to read" observations start coming in.
2010 was quite a while ago, so long in fact that the article you thought was most interesting that year contained an infographic about the number of servers each company had.
Intel supposedly had over 100,000, followed by Microsoft, Amazon, and eBay with about half that. Google however, was above all them with an estimated server farm in excess of 1,000,000. At the time, that was speculated to be around 2% of the servers in the world.
February of 2010 brought with it the release of Mozilla's Firefox 3.7a1, which was more or less the exact same thing as 4.0. The former was dropped from the company's roadmap, with the focus being squarely on the UI overhaul that would be tested over the five alphas, 12 betas, and two release candidates of the browser.
Though the UI overhaul was most noticeable, the browser also brought improvements to window management, performance, and overall stability.
In 2011, if you really wanted to check out someone's photos, but you weren't friends with them, there was an app for that. Or rather not an app, an exploit, which relied on some URL tampering and made creeping around trivial.
Of course, this was hot on the heels of Facebook adding support for HTTPS, which made your creeping more secure. That's got to count for something.
The year's most viewed piece of software was Stardock's - see here for Neowin's relationship with Stardock - WindowFX 4.01. For those not familiar, this allows you to add various effects to your windows - hence the name -, including the ability to tweak animations, window management features, and more.
This release in particular added a friction slider and made it easier to distinguish between active and inactive (or background) windows.
As you are well aware, in 2012 the world ended. Or rather, not the world, but the Mayan calendar, in all its circular and thus cyclical glory. Because of this, guides were rather useful for people to prepare for the end of times, and really what would be more useful than a guide on what all the memory and storage in a smartphone is all about.
You didn't want to get your RAMs and your ROMs mixed up, nor did you want to succumb to death by SD card lettering, and thus, you made it the most popular news item on the site that year.
Mirroring what was happening on the news side, the software section was also host to a guide, which again, was quite the popular choice among folks at the time.
It wasn't about memory but PDFs, and how one could go about editing, converting and if possible, even creating such files. Though it contains a mere three choices, it was more than enough as a starting point, with folks also suggesting alternatives in the comments.
Six years ago, Microsoft thought that folks on pre-Windows 8 versions of its OS really could make use of a tool that mounted ISO files, much like Alcohol 120% or Daemon Tools. To that end, it decided to release such a tool, dubbed Virtual CD-ROM Control Panel.
Though it was useful, and an actual official release from Microsoft, the company was quick to point out that it won't be supporting it and that users should install it at their own risk. If you like living life on the edge (no, not the browser), you can still download this software today.
If the built-in Windows Media Player didn't really float your boat, there was always the option for third-party software from VLC to RealPlayer - yes, it's still around today. For those who liked the name but not the functionality or look, there was an option too.
Media Player Classic-BE is an open-source and newer variant that combines elements from Media Player Classic and Media Player Classic Home Cinema. The BE stands for Black Edition, which is the colour of the UI. Adding dark mode before it was cool, so to speak.
On the off chance that being creepy in 2011 wasn't really enough, 2014 gave folks the ability to look at somewhere in excess of 70,000 IP cameras on this pretty unassuming website.
Insecam, according to its admin, was set up to demonstrate the problem with leaving your default password and username untouched. According to a statement at the time, only going this route "can prove the scale of the problem."
Java, a word that for some brings up images of the eponymous Indonesian island, and for others visions of getting as far from an IDE as possible.
Regardless of which camp you fall into, this took the top spot at the time in terms of most-accessed software releases. Though released at the beginning of the year, its popularity might've been somewhat increased by Microsoft's $2.5 billion acquisition of Mojang.
Back in September of 2015, a mere two months after the RTM of Windows 10, it came out that Google was apparently circumventing adblockers and that this resulted in users being forced to watch full-length YouTube ads without the option to skip them.
Rob Wu, developer of the Chromium project later clarified that this was unintentional and that it resulted from fixing a previous security issue. The workaround there was to either whitelist YouTube or uninstall the YouTube "app" in Chrome.
Sitting at the top of the software release pile of 2015 was DmitriRender 2.0.0.3, a DirectShow filter which allowed you to watch movies with interpolation, which was being done in real time.
Just because it was only 2015, it didn't mean you'd have to suffer through low framerates and other such unpleasant movie-related aspects. Best of all, it was free.
By far and away the biggest news of the year, at least in terms of popularity, was the unveiling of the fact that the voice for Star Trek's Library Computer Access and Retrieval System (LCARS) - namely Majel Barrett, wife of Gene Roddenberry - would be preserved. Roddenberry for those unaware, was the creator of the original Star Trek TV series, as well as its The Next Generation spin-off.
Barrett's voice was preserved in phonetic recordings, which, according to the Roddenberry Twitter account, could be "used for things such as Siri."
Perhaps expected perhaps not, the most sought-after software release of 2016 was in fact a proxy solution for bypassing censorship and presumably geo-blocked content.
The particularly interesting thing about UltraSurf was that it required not installation and came pre-configured with settings for IE. Using it with Firefox and Chrome was possible, though manual configuration was necessary.

2017 was when porn really got out of hand, especially on mobile. Specifically, this was to do with fake PornHub apps, and the spread of them via APKs. Since Google doesn't allow this type of content in its Play Store, folks were forced to look around for a solution.
Some of the solutions though weren't brilliant and as ESET found at the time, these fake apps would not only lock users out of the app itself, but would also request ransom money to unlock access to the device. One of the more popular scams at the time was the "police ransomware", which demanded $100 for your device's freedom. At least it wasn't asking for Bitcoin.
Like the year prior, UltraSurf was at the top of the software pile of news in terms of sheer number of views.
Also like the year prior, it still allowed you to use it to circumvent censorship and came pre-configured for Internet Explorer. Much like its predecessor, manual configuration was required for Chrome and Firefox use.
Last year (or maybe two years ago by the time you're reading this), the most popular news story involved a set of cumulative updates of all things.
Builds 15063.1112 for Windows 10 version 1703 (Creators Update), and 14393.2273 for Windows 10 version 1607 (Anniversary Update) were the subject of this post-Patch Tuesday set of updates, with fixes for BitLocker issues and VM configuration being addressed. A reliability issue with the creation of shielded VMs was in there as well.
That's indeed accurate. In 2018, the most popular post in the software section did involve version 67.0.3396.99 of the Chrome offline installer.
Why this one in particular and not some other variant is still a bit of a mystery, especially since the offline installers do not include an automatic update feature.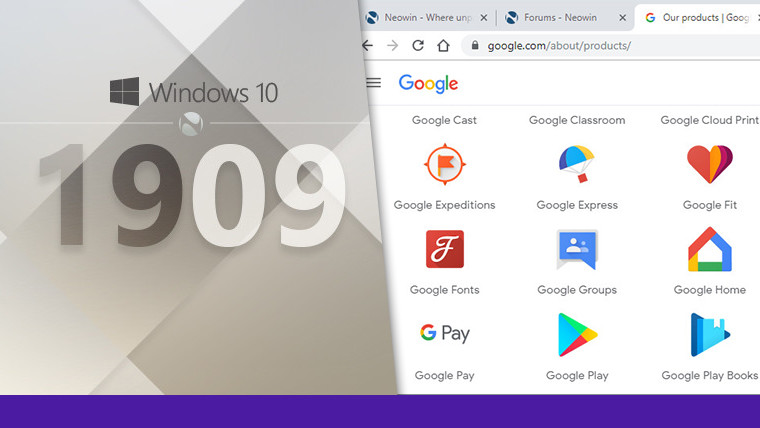 This one is a bit of a spoiler if you haven't already seen the most viewed posts of 2019 article, but nevertheless, it's better to have everything in one place. We are, after all, covering the entire decade, not just parts of it.
Sitting at number one in terms of popularity was the guide to everything Windows 10 1909, which detailed the improvements to the way notifications are handled, as well as some miscellaneous, quality of life improvements.
Much like in 2018, the reason behind why version 74.0.3729.108 of Chrome's offline installer in particular became this popular is not quite clear.
It may well be that someone is collecting all these installers and, like any good collector, it's of course required that you catch them all. Or maybe that was Pokémon.
---
And that folks really is the end of it. Not just of the compilation posts for the year, but indeed the end of the year itself and of the decade. A very big thank you for all the comments, suggestions, views, and contributions over the last 10 years, and here's to 10 even greater ones.
Happy New Year, and welcome to the 2020s!