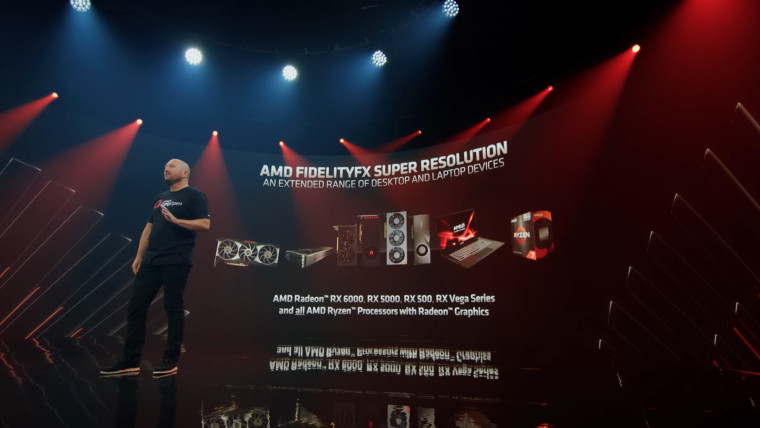 A few days ago at its Computex presentation, AMD finally shared more details about its long-anticipated DLSS alternative, the FidelityFX Super Resolution (FSR). And for those looking forward to the support for the technology on the consoles, there's good news as a Microsoft spokesperson today has confirmed to IGN that the Xbox will be getting AMD FSR support.
"At Xbox, we're excited by the potential of AMD's FidelityFX Super Resolution technology as another great method for developers to increase framerates and resolution. We will have more to share on this soon", the Microsoft spokesperson has said.
AMD's FSR, like Nvidia's DLSS, is an image upscaling technique meant to improve the performance and framerate output in games, but unlike the latter, FSR will not require dedicated Tensor cores as the implementation of the two techniques are fundamentally different. This means that the Radeon team is able to add support for FSR across a wide range of hardware. This includes older GCN-based Polaris architecture all the way up to the latest RDNA 2-based RX 6000 series.
And while AMD seemingly forgot to mention FSR support on the original Polaris RX 400 series, its Community Manager Mickey Molad later confirmed on Reddit that the RX 480 and the 470 are included in the FSR support list too. In fact, even Nvidia non-RTX cards will work as well. You can find all the details about AMD's FidelityFX Super Resolution here.
This means that the current-gen Xbox Series X|S, as well as last-gen Xbox One X|S, can technically support FSR, although it remains to be seen if the company would be willing to bring the technology to older gen hardware.
Back in April at the Microsoft Game Stack keynote, the Redmond giant announced that it was adopting FidelityFX for game development on the Xbox. So it was kind of expected that Super Resolution, once out, should also be in the support list as FSR is also a part of AMD's FidelityFX suite.
Source: IGN