The last time Motorola made a flagship smartphone was in mid-2017 with the Moto Z2 Force. The following year, the company launched the Moto Z3 with similar specs alongside a 5G Moto Mod; using older specs allowed the company to introduce a 5G handset at a lower price point than competitors. But before all of that, the last time the company introduced a premium device that felt complete without a modular accessory was the third-gen Moto X in mid-2015.
Enter the Motorola Edge+, which was announced last week. Reentering premium territory was something that the Lenovo-owned company didn't take lightly, and frankly, it didn't pull any punches with this device. As Motorola puts it, it has the largest battery on a 5G smartphone, the fastest connectivity, the highest resolution camera, and more. It's a delightful device with a pretty design, a gorgeous display, and fun Moto features.
There's one major caveat that's a deal-breaker for many though, and I won't make you read on to find out what that is. The Motorola Edge+ is exclusive to Verizon, and it's not sold unlocked. If you're on any other carrier, you'll have to wait for the Edge that's coming later this year, although it has a third of the RAM, a Snapdragon 765, and a couple of other lower-end specs.
Specs
| | |
| --- | --- |
| CPU | Snapdragon 865, single-core 2.84GHz, triple-core 2.42GHz, quad-core 1.8GHz Kryo 585 |
| GPU | Adreno 650 |
| Body | 161.1x71.4x9.6mm, 203g |
| Display | 6.7 inches, 1080x2340, OLED, 90Hz, 90-degree Endless Edge |
| Camera | 108MP f/1.8, 16MP f/2.2 ultra-wide, 8MP f/2.4 3x zoom, ToF, Front - 25MP f/2.0 |
| Video capture | 6K - 30fps, 4K - 60fps, Front - 1080p - 30fps |
| RAM | 12GB LPDDR5 |
| Storage | 256GB UFS 3.0 with Turbo Write |
| Battery | 5,000mAh, 18W TurboPower Wired Charging, 15W Wireless TurboPower Charging, 5W Wireless power sharing |
| Colors | Smokey Sangria, Thunder Grey |
| Price | $999 |

Day one
Design
The Motorola Edge+ is a pretty phone; in fact, I'd go so far as to say that it's one of the prettiest phones on the U.S. market. It comes in two colors: Smokey Sangria and Thunder Grey. Honestly, I think Smokey Sangria is the one you'll want, but my Thunder Grey review unit surprised me.
For me, when I hear the color gray, it's like I almost tune out. My expectations are immediately lowered, with my mind going straight to images of bland gray laptops. The Edge+ is different though. It's a metallic gray color with darker gradients, and yes, Motorola actually managed to make gray sexy.
One little thing that caught my eye is the Motorola logo right in the middle. It looks like it's etched into the glass but it's completely smooth. It's a nice touch, and these minor pleasantries are what makes the Edge+ stand out among the pack.
The camera lenses are aligned vertically in the top-left corner of the device. Interestingly, there's a bump for that vertical strip, and then each sensor sticks out a bit beyond that. It's an odd choice, and I found that the size of the camera bump actually interfered with wireless charging. I had to charge it with the camera hanging off of the pad, and it made me wonder how a case would affect wireless charging. Sadly, I was unable to obtain a case since this phone isn't out yet.
On the top of the device, there is a 3.5mm headphone jack. This was an easy way for Motorola to stand out from its competition, since Apple, Google, Samsung, Huawei, and pretty much everyone except for LG has removed the port. And while we don't talk about it so much anymore, it's really nice to have, with the simplicity of simply plugging in a pair of headphones to listen to audio.
On the bottom of the device, there's a USB Type-C port for charging, a nano-SIM slot, and a stereo speaker grille. These speakers are no joke. Motorola didn't just focus on specs with the Edge+; the company actually focused on the user experience, and audio is part of that. The audio is tuned by Waves for deeper bass, better clarity, and of course, more volume.
Finally, on the right side, there's a power button, and above that, a volume rocker.
There's a lot about the Motorola Edge+'s design to love. It comes in two stunning colors, it has a headphone jack, and more. And that's just the start.
90Hz OLED display
Like I've said previously, this really is a beautiful device, and the screen is no different. Let's be clear about something; the display is probably the most important part of a smartphone. It's the thing you interact with on your most personal computer.
Over the last year, we've seen higher refresh rates on smartphone displays, and more quality OLED screens. Motorola went with a 90Hz FHD+ OLED panel, and it has what the company calls a 90-degree Endless Edge. It's actually very similar to the Huawei Mate 30 Pro, except of course, you can buy it in the U.S.
Curved-edge displays have taken a lot of heat recently, because they're simply harder to use than a flat display. Motorola said that it put a lot of work into grip and touch detection, and I didn't have any issues. However, you can actually turn off the edge display with Edge Touch (more on that in the Moto section).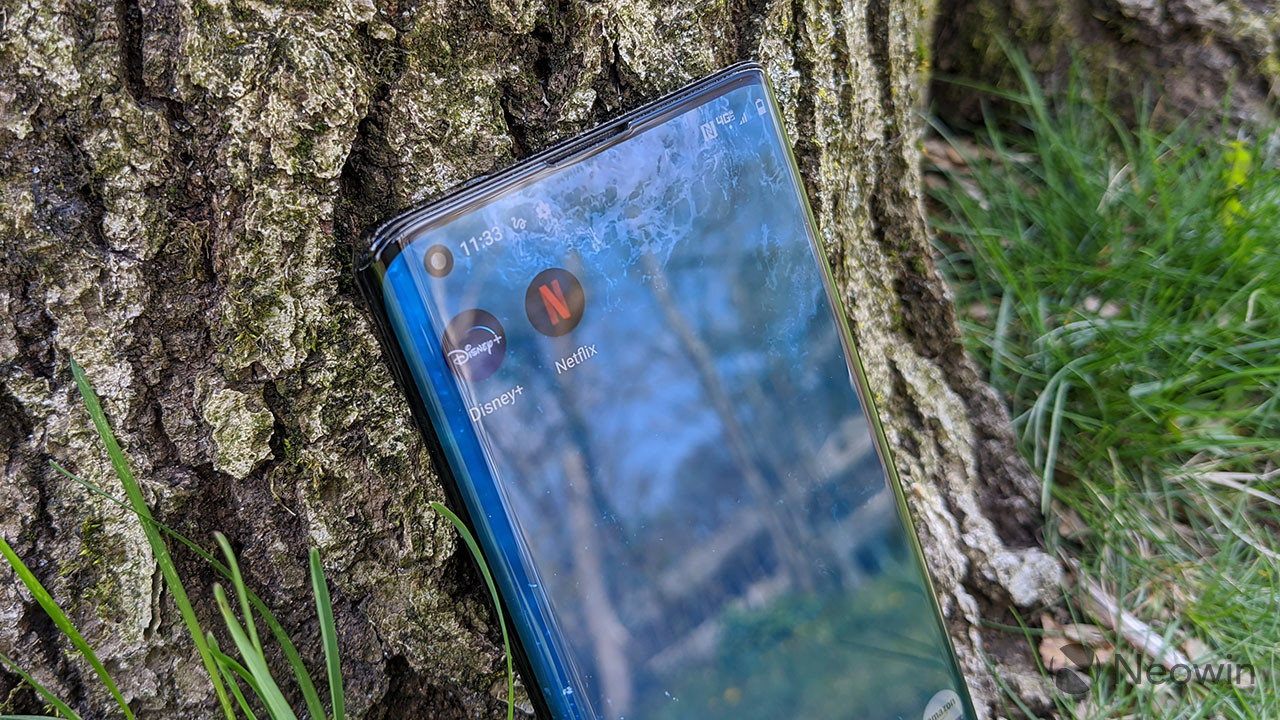 With the 90-degree Endless Edge, the display just sort of falls off on the sides, so there are no visible bezels. There is a bit of display distortion though, which is actually a nice touch. It sort of feels like the screen just fades away as you move toward the edge. There's also a small hole-punch cut-out for the front-facing camera, so there's no notch either.
The 90Hz refresh rate makes for a smooth experience all-around. It's great for gaming, but it also makes navigating through the device a more pleasant experience. Add that on top of the vibrant colors that come with an OLED screen like this, and it's a real winner.
Moto
Ever since Motorola was owned by Google and it introduced the first Moto X, one of my favorite features has been the Moto app. Sticking to nearly stock Android (despite a ton of bloatware from Verizon), and additional settings and customizations can be found in this app.
One of those features is called Edge Touch. It's a little bar that sits quietly on the side of the screen, and you can swipe in from the side for some app shortcuts. You might want to move it from the default spot, which you can do. I ended up trying to use the back gesture a few times and ended up launching Edge Touch.
Double-tapping on the Edge Touch bar can do one of two things. It can turn the edge display on or off, or it can switch to the last app you were using. You can also set it so that swiping up or down on it will open the app tray or notification shade, respectively.
Then there's Edge Lights. This lights up the edges of the display when the phone is facing down and you receive an alert, a call, or when it's charging.
The other key new feature in Moto is called Moto Gametime. Like the rest of the Moto offerings, this is completely customizable, but it's a nice and easy way to shut off notifications while you're playing a game. You can also do things like add left and right trigger buttons to the edge display while in landscape.
And of course, all of the old favorites are there too, except for Moto Voice, which was killed off years ago in favor of Google Assistant. No, I will never let that go. But I digress...
Peek Display is another element of Moto Display that lights up your screen when you pick it up to show notification badges and such. You can also drag a notification badge to expand it. There's a bunch of stuff you can do with Moto Actions as well, such as the three-finger screenshot and more.
Camera
The Motorola Edge+ has a 108-megapixel main camera that uses quad pixel binning for 27MP photos. And to be clear, you can't change the resolution, only the aspect ratio. Motorola says that this is the highest resolution camera on the smartphone, and that's accurate. Only the Samsung Galaxy S20 Ultra also has this high of a resolution.
The other two sensors are a 16MP ultra-wide and an eight-megapixel lens for 3x zoom. The company said that it had a big emphasis on the camera this time around, and that's pretty clear.
As for video capture, Motorola opted out of 8K video recording, something that a few Snapdragon 865 devices have included already this year. What it did include, however, is 6K (6,016x3,392) capture at 30fps. I'm not sure why Motorola opted for 6K instead of 8K, but I'm guessing that it wanted to use quad pixel binning, and wouldn't have been able to with the 33MP needed for 8K (6K is about 20MP). If you're a fan of 60fps video like I am, you can still go the 4K route. Oddly enough, the 25MP front camera is still limited to 1080p 30fps.
There's some good and some bad in the images above, and most of the bad can be worked out with some software updates. It's worth noting that the daytime pictures of flowers were taken on a fairly breezy day, so they're actually sharper than I expected them to be. You can notice some blurring around the edges of certain subjects though.
Low-light is a mixed bag. Focusing is an issue, although Night Vision can make a big difference. There are three images from the woods behind my apartment, which is my new favorite spot for low-light testing, partially because we're not allowed to go out at this time. The difference with Night Vision is clear, but you can also see that the ultra-wide lens is very dark, and you actually can't use Night Vision with the ultra-wide sensor.
In my opinion, this is a big misstep for Motorola's camera efforts. It's not uncommon at all for an ultra-wide sensor to not have low-light performance on par with the main sensor, but with most device, you can compensate by using night mode. Not on the Edge+.
Those last two photos of my dog show some key benefits to Night Vision though, since that was an actual low-light setting, meaning it's not a pitch black setting where I'm trying to see how far a camera can go. The woods behind my apartment make for a great control environment, but that picture is more along the lines of real life. There's a lot more color in the one with Night Vision.
Performance, 5G, and battery life
Like I've said, Motorola really tried to pull out all the stops for the Edge+. It uses the top-end chipset with the Snapdragon 865, it has the most RAM with 12GB, and it has the fastest storage with UFS 3.0 with Turbo Write. It doesn't get any better than this.
Motorola is also promising the fastest connectivity with 5G speeds that can go up to 4Gbps. I was told that this is why it's a Verizon exclusive, on top of the fact that Motorola has had a long history with Verizon. It supports both mmWave and sub6 5G, although Verizon doesn't have sub6 5G just yet.
5G is a mixed bag though, at least when it comes to millimeter waves. They only work outdoors, and you have to be in line of sight with a base station. If there's a piece of paper blocking you, you won't get the signal. In fact, you can actually run a speed test and watch the device getting those gigabit speeds, and place your hand between the phone and the base station to watch that speed fall.
Millimeter wave 5G affects battery life too, which is why it's good that this thing has a 5,000mAh battery. The good news is that you won't be using mmWave 5G much, since it won't even connect to it while it's in your pocket. Most of the time, you'll just be using this as a 4G LTE smartphone, at least until Verizon's sub6 5G network launches this year.
Motorola says that that 5,000mAh battery will get you two days of battery life, a bold claim with a device that has a 90Hz display, mmWave 5G, and a powerful chipset. It's more or less true though, unless you're on mmWave 5G frequently. If you're the type to charge your smartphone overnight, you'll never run out of power. And if you do, the company offers 18W wired charging and 15W wireless charging.
For benchmarks, I used Geekbench 5, AnTuTu, and GFXBench. First up is Geekbench 5, which tests the CPU:
The score here is almost identical to the one I got from the OnePlus 8 Pro, which is no surprise since it has the same chipset. Let's move on to AnTuTu, which tests a bit of everything.
This actually came in over the OnePlus 8 Pro, which scored 576,696. It came in on top in every category except for UX, where the OnePlus 8 Pro scored 87,392.
Conclusion
I absolutely fell in love with the Motorola Edge+, and frankly, a big reason for that is because it reminds me so much of the Huawei Mate 30 Pro. The 90-degree Endless Edge display is just such a good look, and a pretty device makes for a pleasant experience. The Motorola Edge+ simply feels good to use.
There are a few key downsides though, the biggest one being that this thing is tied down to Verizon. It's a real shame too, because I'm confident saying that I'd buy this as a daily driver if I could actually use it with my own carrier, and I'd be confident in recommending it to you. Another issue is the wireless charging issues that I described earlier. It's strange that I couldn't get wireless charging to work when it was lying flat on a Qi charger, and I do worry if it will work with a case.
The wireless charging issue, as well as what I noted above about not having Night Vision on the ultra-wide sensor, are fairly minor issues. And if you're not on Verizon, I'm honestly surprised that you made it this far into the review. Verizon exclusivity didn't factor into my review score either. It's a nine out of 10 if you're on Verizon. Naturally, it's a zero if you're not.
Because if you're on Verizon, this is a wonderful smartphone. Motorola didn't mess around with its glorious reentry into premium smartphone territory. The company made a beautifully designed handset with the specs to match. It packs 12GB of RAM, 256GB of storage, a 5,000mAh battery, and a 108MP camera. Hello Moto, welcome back.
Pros
Overall excellent device Beautiful display Pretty gradient design Moto Headphone jack
Cons
Wireless charging issues Verizon exclusive No ultra-wide Night Vision