Intel wants to launch its "Druid" family of discrete GPUs as early as in the year 2025 according to Intel ARC Community Advocate Bryce Furuya. From his Twitter handle with the username "Bryce_GfxDriverGuru", Furuya has stated:
If all goes well, that [2025] could be when Intel ARC 'Druid' cards come out
The portion of the exchange between Bryce and another Twitter user has been given below:
If all goes well, that could be when Intel ARC 'Druid' cards come out... game on 🎮😉

— Bryce_GfxDriverGuru (@theBryceIsRt) November 23, 2021
If you are wondering why we are referring to a 2025 launch as early, it is because Druid will be Intel's fourth generation of Intel ARC discrete graphics cards and the company hasn't even launched its first-gen "Alchemist" ARC GPUs yet.
Alchemist is planned for launch next year in 2022. This means Intel is planning to go through three families of GPUs within a three-year time frame. This kind of launch cadence has been unheard of recently from AMD and Nvidia.
At its Architecture 2021 Day, Intel unveiled more details about its ARC discrete GPUs which will be based on its Xe HPG architecture and its following iterations. Fourth gen Druid is expected to feature the "Xe Next" architecture according to the company roadmap.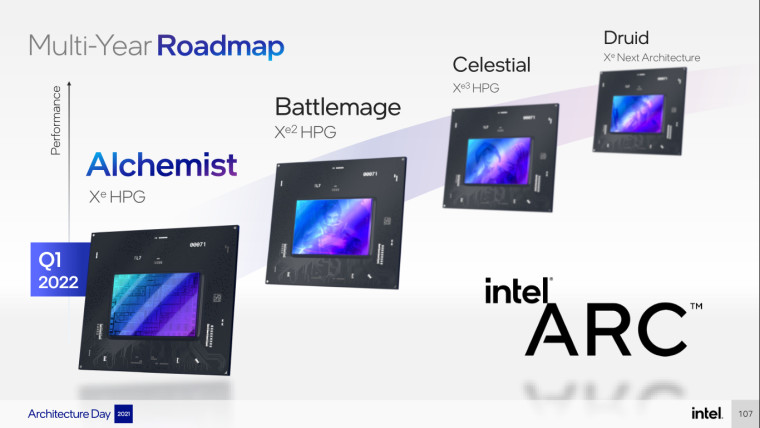 An earlier leak suggested that Intel is naming the different generation's cards alphabetically just like its architecture codenames. Hence, the Intel discrete graphics cards that launch in 2025 with Druid inside could feature the "d-series" moniker.
via SunaPana007 (Reddit)