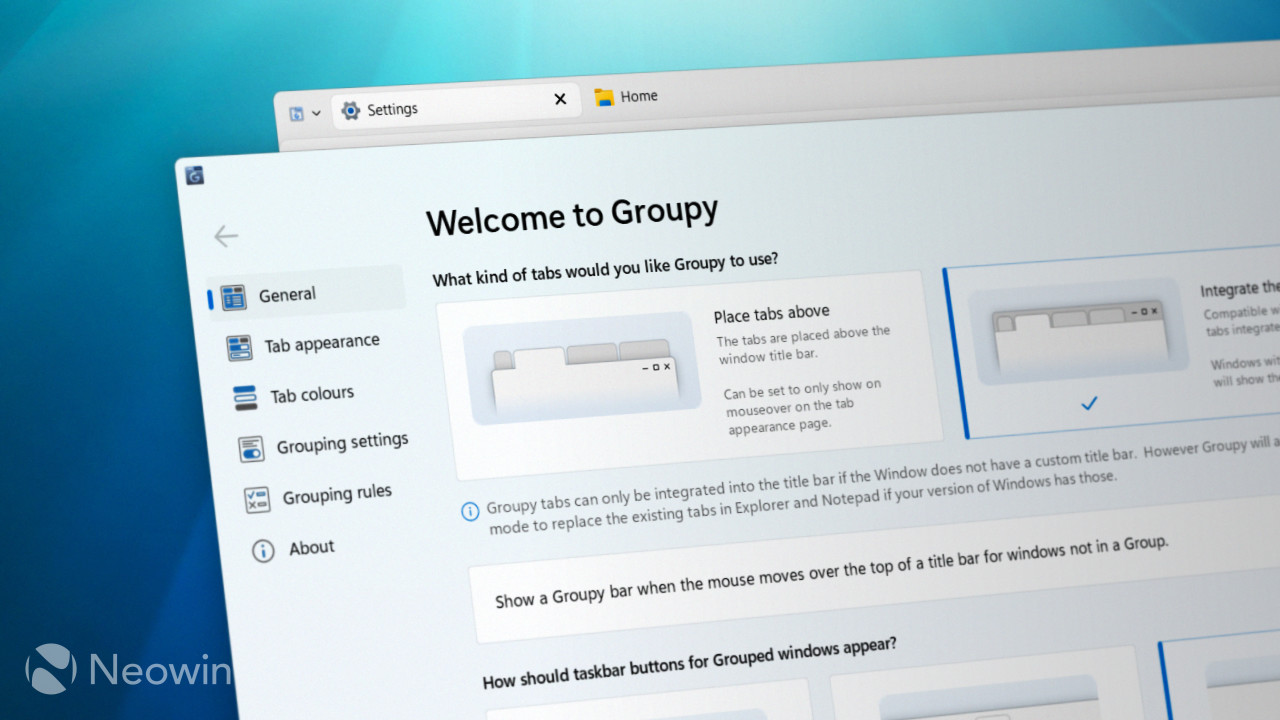 In late 2017, Stardock announced the app called Groupy. It allows grouping apps in a single window using tabs—just like you do with webpages in your preferred browser. Unlike Windows Sets, a similar feature Microsoft wanted to add to Windows 10, Stardock has not abandoned the project.
Today, it announces the public availability of Groupy 2 with new features, Windows 11-like UI, improvements, and more.
Groupy 2 takes the original idea and supercharges it with new capabilities. With the latest version, you can create app groups, pin them to the taskbar, and launch them with a single click. Groupy 2 also combines applications on the taskbar, so apps inside a single window take less space and let you see the grouped programs at a glance.
Another new feature in Groupy 2 is Accents. It allows coloring your tabs for improved accessibility and association with specific tasks or applications.
With Groupy 2, you can customize the looks and behavior—select where the tabs appear, switch between the traditional and rounded variants, personalize taskbar grouping, customize backgrounds, and more.
The app matches Windows 11's aesthetic (and works fine alongside native tabbed apps like File Explorer and Notepad), so your tabs will offer you native-like visuals for a seamless experience.
Since launching the Beta just over a month ago, Stardock has added even more features listed below:
Added option to enable the Mica-effect for focused and unfocused windows
Added support for Cntrl+N to open a new doc/app
New UI option to make tabs square for those who prefer that look.
New drop-down menu in the tab bar makes it easier to group applications
Option to hide left side Groupy icon added to advanced UI settings
And lots of other tweaks to the UI
In addition, Stardock let us know they have also launched Groupy 2 for Business. This SKU of Groupy 2 features enhanced deployment tooling and centralized licensing management for $14.99.
Groupy 2 for consumers is now available on Stardock's official website. You can get the app with a one-time purchase for $9.99, and those owning Object Desktop from Stardock can download Groupy 2 for free. Finally, there should be an upgrade discount if you have the original standalone Groupy.
Disclaimer: Neowin's relationship with Stardock