Smartphone buyers have no end of options to choose from these days, and that means that smartphone manufacturers are trying out just about anything to help grab the attention of consumers, and sell more devices.
For example, Sony has opted for an Ultra HD/4K display to make its new Xperia Z5 Premium stand out; Samsung's unusual 'edge' displays are undeniably distinctive; and LG has also tried out some... different approaches to help boost device sales. It looks like LG hasn't stopped experimenting yet, as the company's latest high-end handset apparently includes a rather unusual feature.
The device was spotted while passing through certification at Chinese industry regulator TENAA - although the web page was later pulled. The photos show LG branding on the front (although barely visible in the image above), and a 'V10' logo on the rear, along with a fingerprint scanner just below the main camera.
But that's not what makes this device so intriguing. According to Evan Blass (better known as semi-retired leakster @evleaks), the V10 will feature a secondary 'ticker' display, positioned just above the main display on the front of the device.
As you can see in Blass' image above (which he's enhanced to make certain features more visible), this secondary display will apparently sit to the right of the front-facing camera, taking up almost three-quarters of the handset's width.
As Engadget points out, this isn't a completely original idea. In 2010, Samsung released the Continuum, a Verizon-only variant of its Galaxy S, with a ticker display positioned below the main OS navigation buttons. However, it was a bit of a fake-out - the device only had one physical display, which Samsung had cleverly divided to make it look like two separate screens, with a dedicated ticker 'zone' at the bottom.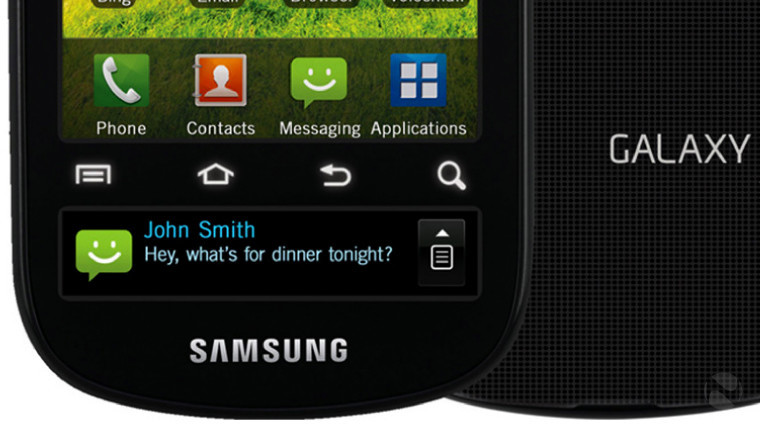 It appears that the auxiliary display on the new LG V10 will actually be a separate unit, which raises some interesting questions. What will its resolution be? Will it be full-color, or perhaps an ultra-low-power e-ink display? And what will LG actually use it for? We don't have answers to these questions just yet - but we do have some idea of what the rest of its spec sheet should look like.
According to Blass, the V10 will be a flagship-class handset featuring a 5.7-inch display with Quad HD (2560x1440px) resolution, a Snapdragon 808 processor, 3GB of RAM, 64GB of storage (plus microSD slot), 16MP rear camera and a 5MP selfie-cam. It's said to be lined up for launch in October, but details of pricing and availability around the world remain a mystery for now.
Source: TENAA / @evleaks ( 1 / 2 ) via Engadget | Top image via TENAA