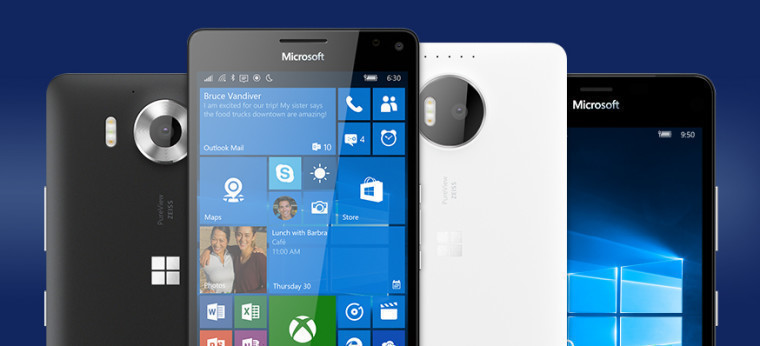 If you're in the market for a new smartphone, and you happen to live in Canada, or the US, Microsoft has an offer on hand that might be too good to ignore. The company is offering a free, black Lumia 950 to its customers.
Of course there is a catch to this deal, as you'll first need to buy an unlocked Lumia 950 XL, the top-of-the-line Windows Mobile handset. But if you do decide to purchase the XL you'll also get the black version of the 950 for free. That's a discount of CAD $749 when you essentially buy two devices. And yes, the Lumia 950 you get for free is also unlocked and contract-free.
As a recap here are the two device's specs:
| | | |
| --- | --- | --- |
| | Lumia 950 XL | Lumia 950 |
| Screen | 5.7" WQHD display with Gorilla Glass 4 screen | 5.2" WQHD display |
| Processor | Octa-core processor | Hexa-core processor |
| Camera | 20MP camera with ZEISS optics | 20MP camera with ZEISS optics |
| Storage | 32GB storage/expandable to 200GB via microSD | 32GB storage/expandable to 200GB via microSD |
| OS | Windows 10 Mobile | Windows 10 Mobile |
This offer is a really enticing one, and as Microsoft points out, it's time-limited, though it's not exactly clear when it will expire. The offer started today and ends on May 1st, though availability may run out at some point. So if you're looking for a new Windows 10 Mobile device, you might want to jump on this sooner rather than later.
Curiously, the terms and conditions on the Microsoft Store Canada site states that the offer is valid not just in Canada, but also "in the United States (including Puerto Rico) - but at time of publishing, Microsoft had not updated its US Store listing with details of the offer.
Check out the offer at Microsoft.
Update: The offer has now gone live on the Microsoft Store in the United States.
---
Editor's Note: The article was updated shortly after publishing to specify the start and end dates of the promotions and the fact that it also available in the US.