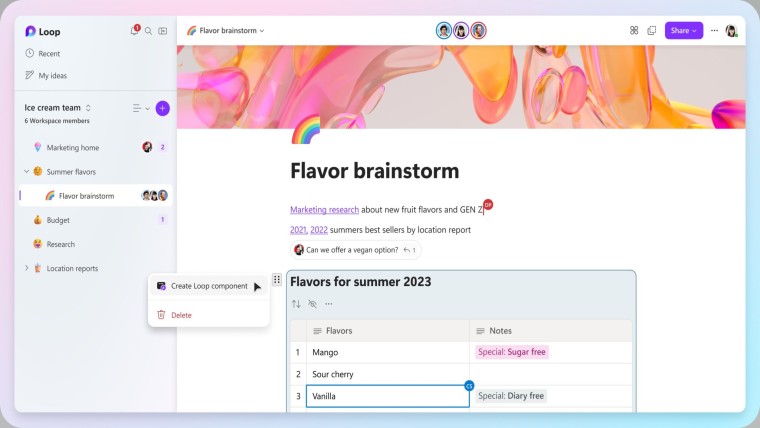 It's been a long time coming, but now Microsoft Loop is available to try out for anyone who wants to use it. After a teaser on its Twitter page earlier this week, the Microsoft Loop collaboration app is now available in a public preview. The app was first announced in November 2021 and entered private preview testing in late 2022.
In its official announcement, Microsoft outlined the basic premise of the Loop app:
With all the tools, documents, files, and links that your team needs, it's easy to feel overwhelmed. Microsoft Loop helps you organize everything you need for your project into a single workspace and even does the searching for you to kick it off. Simply add a workspace title and any other relevant keywords, and Microsoft Loop will suggest the most relevant pieces to add to your workspace. Choose which ones to add and create your workspace—content will be organized into pages that you can easily view.
The app includes templates that can be used as the foundation for the shared workspace. Team members can use Loop's insert menu to add a label, table, or even fun things like emojis into the workspace with no interruptions. Anything on a Loop page can be turned into a component that can be shared on Microsoft 365, Teams, and more. Notifications can help users keep track of any changes on both the web and mobile apps.
In the future Loop will even support the recently announced Microsoft 365 Copilot. Microsoft says:
Copilot combines the power of next-generation AI with your Microsoft 365 apps and data. Copilot in Loop gives you AI-powered suggestions to help transform the way you create and collaborate. It guides you with prompts like create, brainstorm, blueprint, and describe. Or simply type in a prompt, like "help me create a mission statement."
You can check out Loop now for web-based users, or you can download the mobile apps for iOS and Android devices. The mobile apps are just for Microsoft 365 work accounts at the moment, but personal account support is coming soon.