The usual assortment of end-of-year lists would be woefully incomplete without us acknowledging what is one of the most important parts of Neowin: the community. To that end, we've put together a compilation of news stories that had the most user interaction in 2018.
Not taking into consideration giveaway posts – that'd be cheating -, reviews, or editorials, here are the 10 news stories which made you most eager to express an opinion: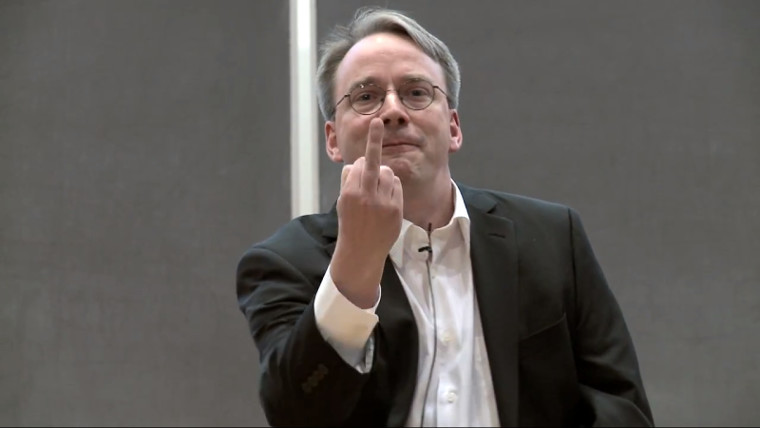 Hot on the heels of the reveal for the trio of processor vulnerabilities known as Spectre (v1, v2) and Meltdown, Linus Torvalds was not at all impressed with Intel's handling of the situation.
User Noir Angel was on Torvalds' side, saying:
Glad to see that there's someone in the tech industry not falling over themselves to kiss Intel's rear end.
On the other hand, Fahim S. had this to say:
Ha! OK. Non-commercial guy tells a commercial company how a business should be run.

Damage limitation is key when something like this is discovered. The PR machine goes into overload because if shareholders are not assured the wheels aren't falling off, the stock price will tank, and then the wheels really will fall off.

Obviously, it is easy to throw stones when you don't have to deal with this, and can be a 'hippy' as Torvalds is.

There was a small window of time in which Microsoft was considering 'Spring Creators Update' as the official name for Redstone 4. It thankfully settled on the more sensible April 2018 Update denomination later, but we didn't know that at the time.
Unsurprisingly, users weren't impressed. For example, samw61 said this:
Oh ffs, I thought we established this last time that this makes little sense to literally half the world! As far as I know, months are the same the globe over, so maybe, just maybe, stick to that...
slamfire92 was in favor of something much simpler:
Windows 10 Update 1, 2, 3, etc....

Why the hell does it need to be more complicated than that? There is nothing "Creators" about any of these updates!

Around the release of the April 2018 Update, build 17133 was present in the Release Preview ring, which usually meant it had a good chance of being made available to non-Insiders. However, due to an issue unknown outside of Microsoft, 17133 lost its RTM designation and was subsequently replaced by 17134.
Breach saw this development in a positive light:
As with all bad bugs - better catch 'em late than later...
However, mzta cody wasn't too pleased with it:
They were barely able to get 1709 finished 9/17, now this. 17133's Buggy reveal highlights, and choice of background apps running in background resets with every reboot among what I am sure are other problems, just serves to illustrate MS needs to scale back to once a year. The reality is twice a year is just too fast for them to put out a reliable product, without being willing/too cheap to pay an army of actual testers.

On top of the other documented bugs, some users were even experiencing lack of audio with the latest Windows 10 feature update.
Darrian had better luck, though:
I guess I got lucky. No issues on either my Surface Go or my desktop.
Raphaël G. thought the discussion about whether this is a driver or Windows 10 issue was missing the bigger picture:
Audio driver issue or Windows 10 issue: useless discussion! The Windows 10 feature update model is the culprit. Why? Potentially breaking updates should be optional. The vast majority of users fires up its computer to get things done. Not to install updates. And especially not to resolve issues caused by a breaking update. Forced updates should be small and safe.
As it turned out, the issue was with the Intel Smart Sound Technology driver v9.21.0.3755, and it was finally fixed two weeks later.

According to a report, the Redmond giant was thinking about abandoning EdgeHTML for a Chromium-based variant of Edge. It turned out to be true, as the firm opened registrations for the Edge Insider Program.
Cocoliso welcomed this change of direction:
As a web developer this is good news. Edge was always behind anyways it makes no sense to put effort on having your own rendering engine when there are much better options which are free to use.
sharpdesigner wasn't anywhere near as happy about it:
Unfortunately, this will make web *standards* a one trick pony now. People will forget FireFox and it will die its own death while keep making Chromium only or optimized for Chromium web apps. An extremely sad situation

A couple of weeks ago, a former intern on the Edge team claimed that Google had sabotaged Redmond's browser. In response to this, here's what a couple of our readers had to say:
TrekRich opined that this was simply Microsoft getting a taste of its own medicine:
Microsoft got a taste of some of their own tactics from days past!
FunkyMike on the other hand hoped a certain feature would be present in the new browser too:
"our fairly state-of-the-art video acceleration put us well ahead of Chrome on video playback time on battery" Hope they carry this over
Google, of course, denied any wrongdoing in this situation and stated that it doesn't go out of its way to break optimizations made by other browsers.

A bug with activation servers meant that a number of Windows 10 Pro users had their copies deactivated, with the troubleshooting wizard detecting a Windows 10 Home license instead.
lxion had this to say about the matter:
Same here, two different PCs both running Windows 10 Pro both were part of the free upgrade program.
br0adband was, understandably, not too impressed and said this in part:
Congratulations, Microsoft, you're now screwing around with consumers and commercial customers that have legitimate licenses and it's causing issues for said consumers and commercial customers.
As stated by the firm, the issue was eventually resolved two days later.

In August, Alex Jones, the man behind InfoWars, had his pages taken down from YouTube, Facebook, iTunes, and Spotify.
Concerning the ban, Xenon stated:
Well he broke the services TOS. So I don't see a problem with it.
seta-san wasn't as big of a fan:
people here are all so myopic. First, way to prove a conspiracy theorist right by having most major platforms attack him within a few hours. Second, how long will it be before they come for you and your favorite people you follow.

After skipping the Release Preview ring, the October 2018 Update (or version 1809) was released to the public. That turned out to be a terrible choice, as a number of severe problems were soon uncovered. One of them, a file deletion bug, had even been upvoted in the Feedback Hub a full three months prior to 1809's release. Microsoft had no choice but to pull it from update servers.
Our very own Steven P. said:
Skipping Release Preview ring was stupid. I was surprised actually at how quick this got released, considering how long it took them to push the April 2018 Update out to production.
Vesselin found the reliability of this update particularly worrying:
For the amount of new features (almost none) in this release, it is plagued by defects - almost unreal. Is Microsoft slowly giving up on Windows also? Should we start switching to Macs or Linux boxes for professional work? I'm a (.NET) software engineer by profession so full blown computers are going to be it for me until I retire. And Microsoft really has me worried lately about my professional choices going forward. Windows has been slowly becoming a steaming pile of poo as far as reliability goes lately
NightSt@lk3r was apparently among the folks who didn't experience any bugs with 1809:
Guess i was one of the lucky ones then, suffered none of these issues.

The advent of what is currently dubbed 'Windows Core OS' and its desktop-targeted variant, Polaris, was the most discussed news story of the year.
cybersaurusrex wondered why the company hasn't brought out its supposedly unified OS out sooner:
Hasn't Microsoft been working on this unified OS for about a decade now? What's taking them so long?

Additionally, I don't think offering two different OSes is going to solve anything. They've already tried that with Windows RT and Windows 10 S. The public just isn't interested in a watered-down OS.
Liberi_Fatali was briefly excited about Core OS:
"executing that vision is called 'Windows Core OS', which aims to turn Windows into a more modular operating system"

Ohhhh neat! I am def game for that.

"...it will be based entirely on the company's UWP platform"

OH F THAT!
Despite all of this, Dutchie64 had this to say:
I don't get all the negative comments.

There's a good reason iOS and Android is used by so many: simplicity.

'Regular' Windows is too cumbersome to use for 99% for all people using it, so stripping away of those layers is a good thing. Only a subgroup of people likes to control what they're doing on the PC. That's us mostly, and for that Win10 desktop is still here.

I've locked down a handful of family members machines only to (mostly) use Store apps and very limited user control. I had -zero- support calls over the last year, so simple = better for them. ;)
---

As we've done in the previous post detailing the 10 stories that received the most traffic, we're also mentioning a story from the software side of the site. This time, it's about a new version of Winamp, specifically version 5.8 beta.
enroh had this to say:
Been a user since day 1. Love my Winamp. It really does kick the llama's ass.
Human.Online also praised the venerable player:
I still absolutely swear that Winamp has the best library interface of any player I have used.
---
That about wraps up our look through the most commented news posts of 2018. Big thanks for visiting, and even bigger thanks for choosing to engage with the content.
Have a great New Year!